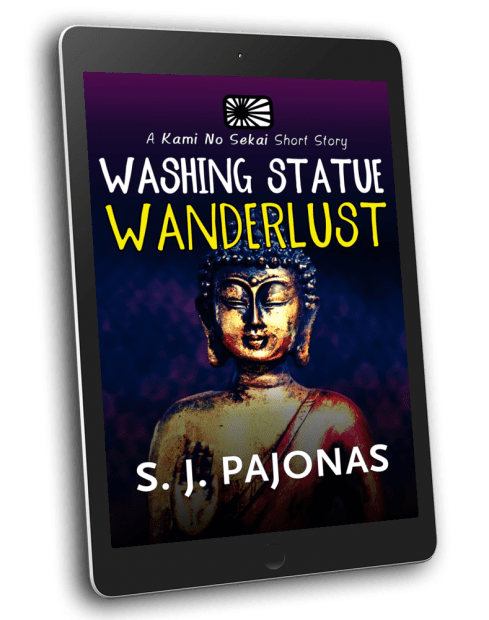 This statue doesn't want to sit around.
Can it persuade someone to take it on a holiday?
No longer available as a single title...
About Washing Statue Wanderlust..
Shhh… Listen To The Gods.
The Japanese believe the gods live in all things. Trees, appliances, animals, buildings — they all have a spirit living within them. Maybe, if you listen carefully, you can hear them too.
This statue doesn't want to sit around. Can it persuade someone to take it on a holiday?
Yuki has been wishing for good health her whole life, and now she has the chance to get that wish fulfilled.
Genre: Magical Realism / Paranormal & Urban Fantasy / Coming of Age
Series/Book Number: Kami No Sekai / Story 2
Rating: Rated PG-13 for language
Publishing Date: April 23, 2015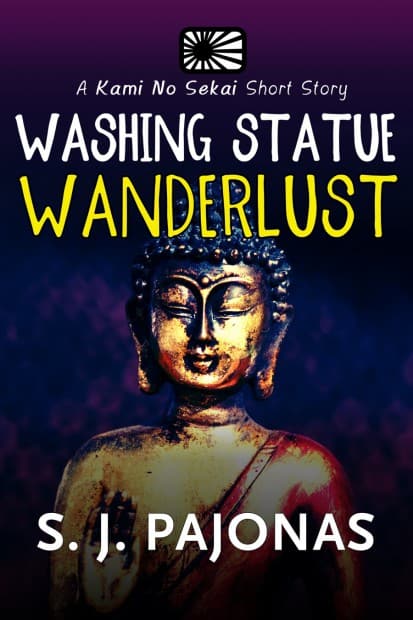 "These books are so fun, they are a quick read, but still long enough to tell a story. I liked the characters in this book and could relate to them. There's even some character development going on which was nice to see. There is some information about the world building added, but in a really low key way that fits the story." – Lola, Lola's Reviews
"This was another delightful story in the Kami no Sekai series. Wanderlust is a relatable thing, because who hasn't wanted to travel all over the world? Having Yuki have to contend with her health gave the story a real-life feel, even though she was interacting with a statue. I highly recommend this story, and this series if you haven't checked it out. It's fun, it's quirky, and even thought-provoking." – Brianna, Biblio Belles
"The second short story in the Kami No Sekai series does not disappoint. Pajonas gets into the head of the statue, and you forget this is not a person. Her writing style is beautiful, and her characters are so realistic. A fantastic read." – Amazon Customer
"I purchased Washing Statue Wanderlust after reading the first short story, Rice Cooker Revenge, in the Kami No Sekai series. Sweet story, relatable characters, and a statue who just doesn't want to stay in one place. The author does a great job of giving the statue their own personality and voice, so much that I see them as a living being not just an object. Love it! Super fun and a positive ending. Just what I needed for a pick me up." – Christina Adcock, Amazon Customer
"If ever a statue to be loved, this one would fit the bill…. super cute and fun story…" – Aisha-Kimberly Hashmi, Amazon Customer
"Yuki has been visiting the washing statue for many years, praying to it for good health. When the wanderlust stricken statue asks something of Yuki, she's game for trying to make it happen. A quirky little read, and well worth it. I love the concept of gods living in regular objects. Just the right length and left me with deeper thoughts than I expected." – Katie, Amazon Customer
S. J. Pajonas is a participant in the Amazon Services LLC Associates Program, an affiliate advertising program designed to provide a means for sites to earn advertising fees by advertising and linking to Amazon.com.