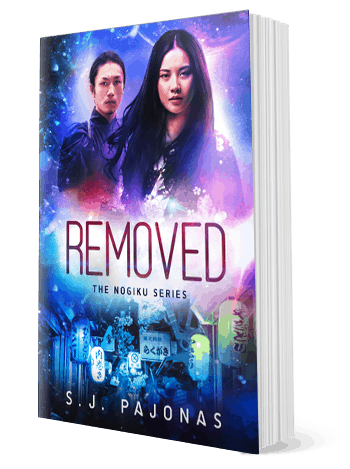 Duty knows no family. Love has no price. Secrets can cost you everything.
Start your journey with Sanaa and Jiro today! Walk the streets of Nishikyō with the geisha, carry a sword, and watch your back.
"If you're looking for something unique and imaginative to read, you should give this first book in the Nogiku Series a try, and I'm quite certain you'll be glad you did." – P. K. Hrezo, Author of Butterman (Time) Travel
Download for Free on…
Amazon Apple Books Nook Kobo Google Play
Save on the whole series!
Use this 25% off coupon in my PayHip Store to get 25% off any of the Nogiku Series books, the box set or omnibus!
Coupon Code: 0UVXTR4EWD
Buy Direct via PayHip



Have questions about buying direct?
Can she piece together the truth before Earth's last city tears itself apart?
It's easy for Sanaa to ignore the first signs of trouble. After all, she's living her dream with a job and life she loves. But when she's reassigned as a data analyst for a mysterious, well-connected man, she starts to piece together the alarming reality. Corrupt clans vie for control of the city, desperate for a ticket off the dying planet.
As war looms between the clans, Sanaa's new boss sends her to train with Jiro, an expert swordsman. Forbidden to share the dangerous secrets she's learned with her family, she confides in Jiro, bringing them closer with every word, strike, and parry. Together, they realize that Sanaa's boss is keeping secrets of his own.
When the truth comes to light, the war and Sanaa's world could be changed forever. To save her family and forge a new peace for her city, Sanaa has no choice but to risk her life for the human race.
Removed is the first installment in the Nogiku Series, a saga of post-apocalyptic sci-fi romance novels set in future Japan. If you like tenacious heroines, sizzling chemistry, and unique post-apoc settings, then you'll love S. J. Pajonas' dystopian adventure.
Download for Free on…
Amazon Apple Books Nook Kobo Google Play
---
S. J. Pajonas is a participant in the Amazon Services LLC Associates Program, an affiliate advertising program designed to provide a means for sites to earn advertising fees by advertising and linking to Amazon.com.