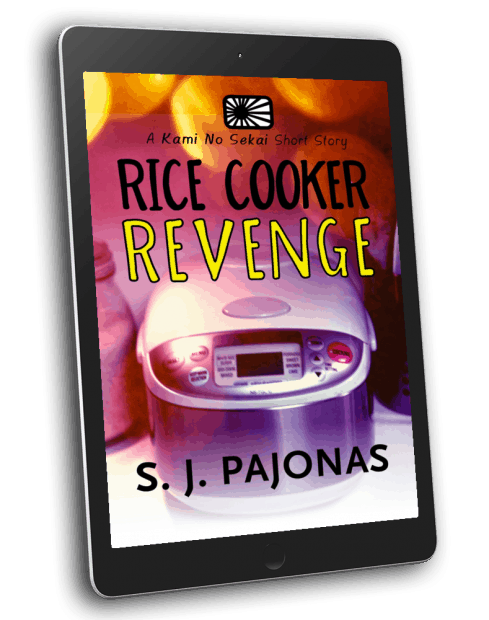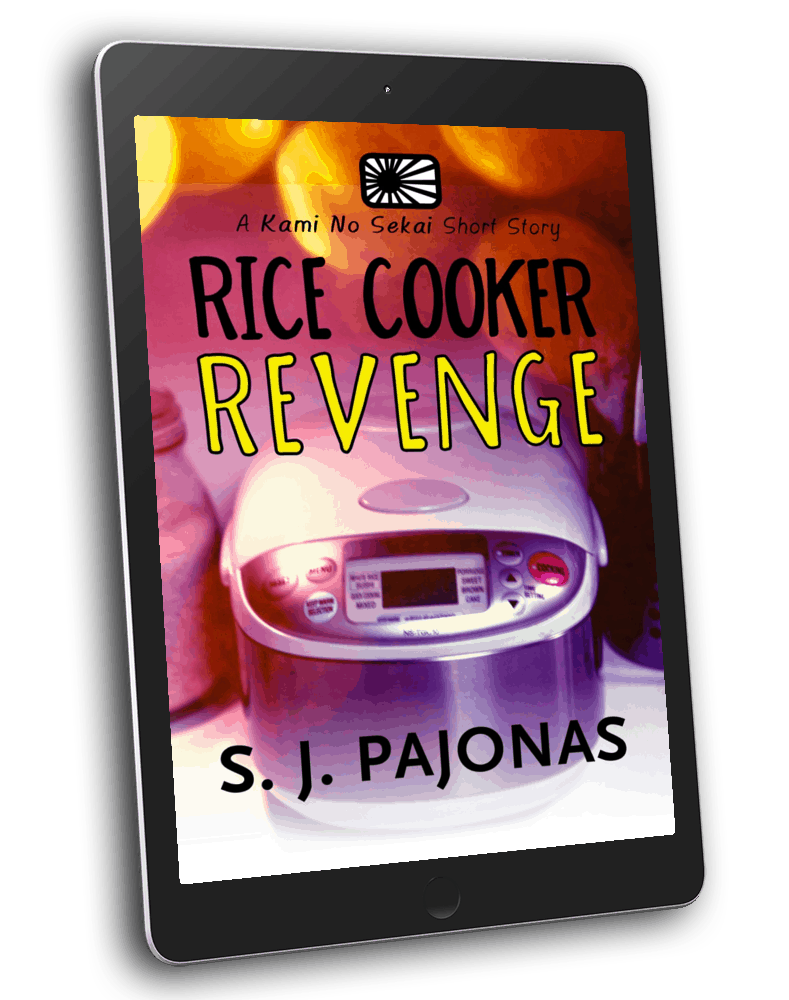 It sits there on the counter, quiet and contemplative.
Who knew rice cookers could be so vengeful?
About Rice Cooker Revenge...
Shhh… Listen To The Gods.
The Japanese believe the gods live in all things. Trees, appliances, animals, buildings — they all have a spirit living within them. Maybe, if you listen carefully, you can hear them too.
It sits there on the counter, quiet and contemplative. Who knew rice cookers could be so vengeful?
Ryu must decide whether to stay or leave The Chef's kitchen, so he turns to an unlikely ally for help.
Genre: Magical Realism / Paranormal & Urban Fantasy / Coming of Age
Series/Book Number: Kami No Sekai / Story 1
Rating: Rated PG-13 for language
Publishing Date: March 20, 2015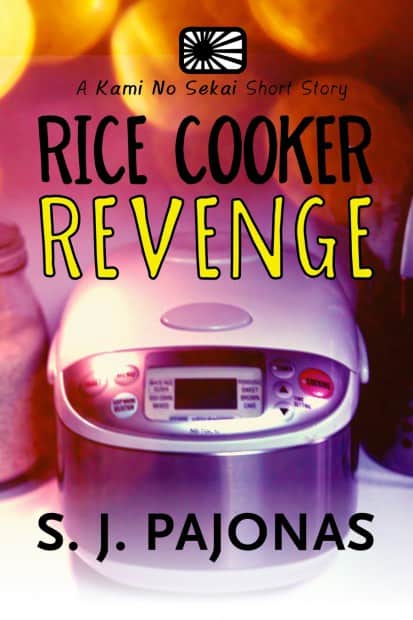 "The idea of a vengeful rice cooker is fun enough as a concept, but Pajonas' execution and follow-through of the story bring it to life — almost literally. The story will have readers looking at everything around them differently, wondering about the gods living in them and the spirits inhabiting them." – Northwest Asian Weekly
"The main characters (and yes, I consider the rice cooker a character) were likable, and the plot was immediately interesting. It was light, unique, and a nice little story. If you're looking for something different, I highly recommend you check this out!" – Brianna, Biblio Belles
"I loved this little short story about the revengeful Rice Cooker. It is fun and put a smile on my face, it's one of those books that made me happy just because it's such a fun book. Both the Rice Cooker and Ryu are interesting characters and I liked following their story and seeing them become friends. It thought it was fun we got the perspective of the Rice Cooker as well. And I can't wait to read the next short stories in this series!" – Lola, Lola's Reviews
"This was such a great little story. I've read the author's previous work and this was completely different! It was not at all what I expected. It was hilarious and fun, quirky and original. I didn't fully realize that the rice cooker would actually be a main character, but it totally works! Very well executed. If you're looking for a quick, fun read, I highly recommend this one." – Laura Taylor "bookgrl", Amazon Customer
"OMG! This was hilarious! It was also touching at the same time – I loved it! The rice cooker was feeling a bit abused by the Chef, and it noticed Chef abused his trainee as well! Hmmm…! The rice cooker certainly didn't get mad – it got REVENGE! … with a little help from Ryu, the trainee cook. I can't say more or you won't get the full impact from this story! This was a beautifully written story about how an abused appliance responds to just a little gentle treatment and care. Pajonis has definitely made me feel glad that I am indeed gentle with my crock pot and coffee maker! I would just HATE to see them get ideas from this rice cooker! :)" – Julie Blaskie, Amazon Customer
"After I finished this story I went to the kitchen and cleaned my rice cooker. I talked to it the whole time I was cleaning it! My rice cooker is about 40 years old! It deserves my love and respect. It came to me via Taiwan as a gift from a college friend. I loved this story!" – Teri Miller, Amazon Customer
"This book was a really good quick read; it was so cute and I loved the perspective from an inanimate object. I can't wait to read more; it makes me think about things more now; what would "this object" have to say if it could talk. Or….maybe I don't want to know ;-) LOL" – UNCAngel08, Amazon Customer
"Who makes a cooking utensil a main character? S. J. Pajonas. That's who. Once you accept the rice cooker is sentient and talkative and treat it like a sentient creature matters go well. I loved this story. It's short and adorable, and now I want my own rice cooker, but only if it will converse with me and my dog." – Liza O'Connor, Author
"This was a quick, unique and fun read featuring Rice Cooker and Ryu. I loved reading Rice Cooker's POV and rooted for him and Ryu throughout this enchanting tale. I wasn't sure what to expect but within the first few pages, I was hooked and knew I had to know what happened next. The ending was extremely satisfying and I had a huge smile on my face when I finished the last page. S. J. Pajonas writes extremely well and I love her imagination. I definitely recommend this short story!" – Karen, Amazon Customer
S. J. Pajonas is a participant in the Amazon Services LLC Associates Program, an affiliate advertising program designed to provide a means for sites to earn advertising fees by advertising and linking to Amazon.com.