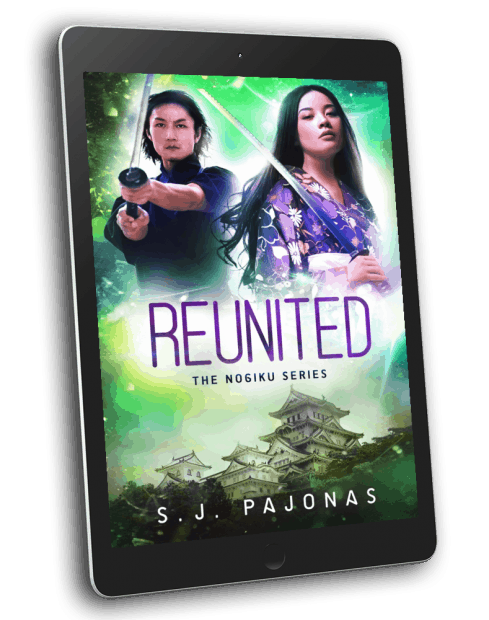 The Nogiku Series saga continues on Yūsei...
As Sanaa and Jiro grapple with a mysterious planet and deadly enemies.
Yūsei has surprises for Sanaa Itami.
The long trip across the stars ends with Mark Sakai delivering bad news from orbit over their new home, and there's no turning back or moving on. Despite all their misgivings, this is where they will have to stay.
Sanaa, Jiro, and the rest of Earth's settlers move into a coastal town and stick to their plans to live the colonization life they dreamed of. But Sanaa's existence won't be kept secret from her enemies for long. Kazuo promised he would see her in another life, on another world, and he aims to keep his word. Now she will face those who want their revenge and make new enemies while dispensing with old ones on her journey across the fascinating and unfamiliar landscape of Yūsei.
Reunited is the third installment in the Nogiku Series, a saga of post-apocalyptic sci-fi novels set in future Japan.
Genre: Adult Science Fiction / Post-apocalyptic Science Fiction
Series/Book Number: The Nogiku Series / Book 3
Rating: Rated R for violence, language, and sexual situations
Publishing Date: August 14, 2014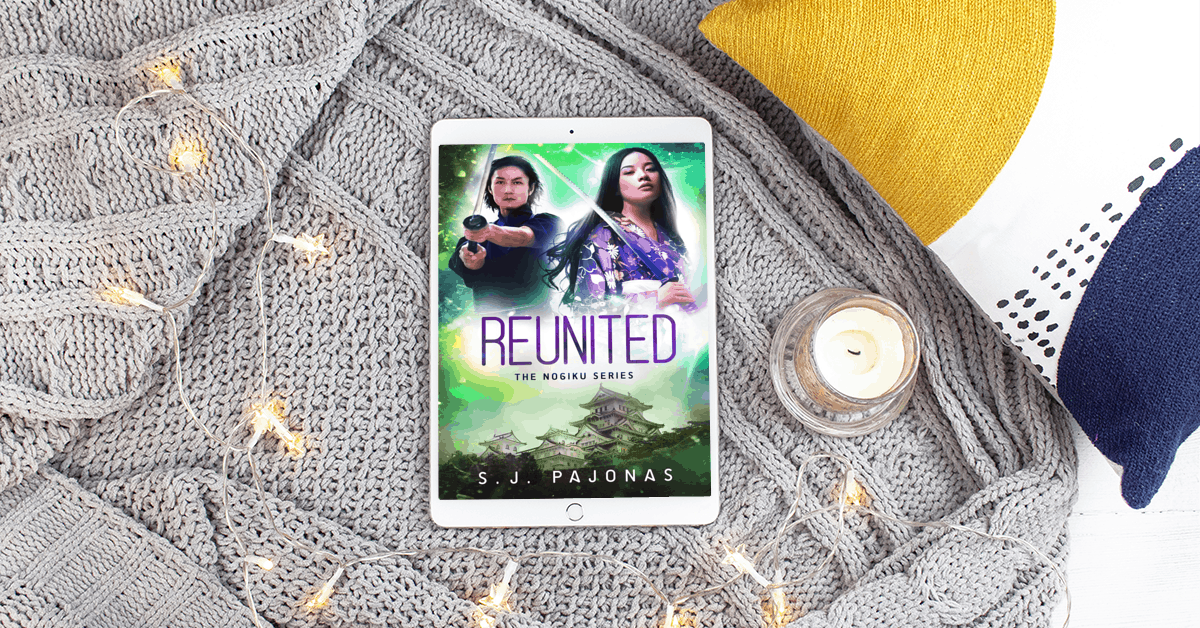 My alarm chimes at 07:30, and I roll over in an empty bed to turn it off. Yesterday, I proposed plans for an electronic warning fence around the perimeter of our town, plans that took me several days and very late nights to put together. I was exhausted in the evening, and I don't remember falling asleep in bed.
Jiro takes me outside every night to sit under the stars, to watch them climb the night sky, and just be alone together. The first time he pulled me out to the garden was breathtaking. The two moons were above us and the entire estate was bathed in a glow that made everything fuzzy around the edges. Both moons are similar to Earth's moon, but the major moon is almost twice the size. The minor moon sits low on the horizon, a little brother off to the south of its larger brother, a huge crater punched into the center of its equator. After sunset, they are a wash of blood reds and fiery ocher, slowly fading to pure white as they climb higher in the sky.
Jiro and I chat about our days, I fold my fingers in the space between his, and lay my ear against his chest to listen to his heart. I am savoring every moment of my life, afraid my existence will be cut short along the length of my enemy's sword. Lying with Jiro each night under the stars is the only time I feel safe and alive. I often fall asleep on him, and he carries me in to bed when he can't rouse me.
The warm bed threatens to pull me back to sleep. I don't want to get up. Getting out of bed means I have to get dressed, have to eat breakfast and begin a day filled with fear, deceit, and uncertainty while my friends build their new lives and never give two thoughts to who else shares this planet with us.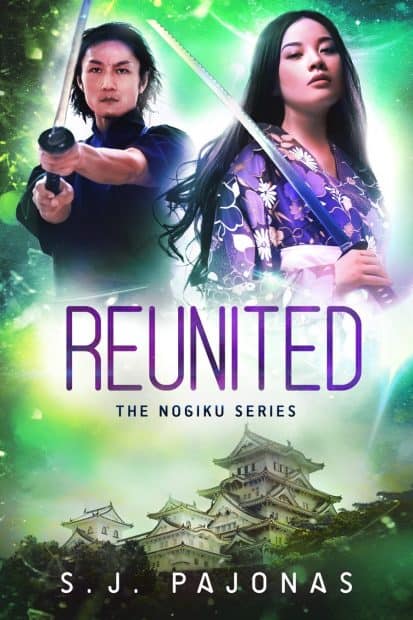 "There is plenty of action in book 3 – including katana fights, ninjutsu, kidnappings and escapes. The pace in this book is much better than book 2… I found the plot much more focused and streamlined in a way that made for enjoyable reading. There is also romance, but it was tastefully done while at the same time giving that heat which romance readers crave. We also get to see a side of Jiro I'm sure some fans were craving. Although the entire series is a recommended read, book 3 was exceptional, and I am waiting on pins and needles for book 4!" – C. E. Kilgore, Tracing The Stars
"The plot of this book was crazy. There was intrigue, exploration, adaptation to a new world, friendship, and romance. Once I started this book, I couldn't put it down. I had to try and remember things from earlier books, but once I got into the swing of things, I couldn't stop reading. In the end, I think that this is probably my favorite book in the Nogiku series." – Brianna, Biblio Belles
"I loved Reunited just as much as the previous books and this series keeps continuing to surprise me. I just wanted to keep reading and figure out what would happen next. I really liked how the character grew and changed in this book and I loved the animals! The first half of this book there isn't so much romance, but there's a bit more in the second half. I can't wait to read the fourth and last book in this series, although I can't believe it's the last book already!" – Lola, Lola's Reviews
"I really enjoyed this third book and reading about the characters' new home and challenges that they faced. When I wasn't reading the book, I found myself thinking about the story – a true sign of a good read! This series leaves you in love – with Sanaa and Jiro, the rich world they live in, and the book itself." – Jen C, Amazon Customer
"What's completely fascinating about book #3 is the world building. Even though this is Sanaa's first time moving to a new planet, as readers we've already been dropped into Pajonas' amazing world building in her earlier books. If you haven't had the chance to read the earlier books in The Nogiku Series, get on it so you can read REUNITED–you're going to love it!" – Kimberley Sabatini, Author of Touching The Surface
"The romance in this book is still as sweet as the first two books. Mind you, the book isn't centered in Jiro and Sanaa's love story. This series brings more to the table. I can't wait for the next book to come out, because that ending just makes you want to grab it now. Sadly, it will be the last book. SJ Pajonas is now one of my favorite authors. Her stories are quite unique, and I love that she incorporates Asian cultures in her books. If you want diversity, well, Nogiku Series is one of those series to get into!" – Dre Wolf, Sporadic Reads
S. J. Pajonas is a participant in the Amazon Services LLC Associates Program, an affiliate advertising program designed to provide a means for sites to earn advertising fees by advertising and linking to Amazon.com.