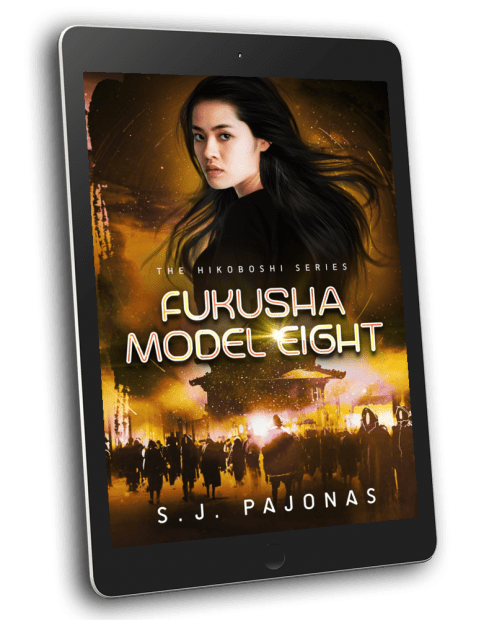 Being undercover is going to get Yumi killed...
The Southern Continent is a dangerous place, and the yakuza and the Fukusha Model Eights are on Yumi's tail.
About Fukusha Model Eight...
"Being human is the apex of life. It's the top, not the bottom."
Yumi is pretty sure someone's trying to kill her… and she can't remember who. Undercover and alone in one of the most dangerous cities on the Southern Continent, she's struggling to live through every day until she can find her new allies and get back to Rin. But when the mission goes wrong and Rin is kidnapped and held for ransom, Yumi must act fast. Not only are the yakuza on her tail, but the fearsome Fukusha Model Eight androids are after her too. With her short-term memory failing and war just around the corner, she can only stay alive by determining who's telling the truth and who will do anything to lie to her and steal everything she has, including her life.
Fuskusha Model Eight is the third book in the fast-paced Hikoboshi Space Opera Romance Series. If you like high-tech futures, mind-bending intrigue, and character-driven action, then you'll love S. J. Pajonas' thrilling sci-fi adventure romance.
Note: THIS SERIES MUST BE READ IN ORDER. It is a true series and plot elements carry through every book, from beginning to end. You will miss too much by reading this series out of order or skipping around. This series contains a slow-burn romance, profanity, and sexual situations.
Genre: Science Fiction Romance / Science Fiction Action Adventure / Space Opera
Series: The Hikoboshi Series
Rating: Rated R for language (profanity), sexual situations, and violence.
Publishing Date: May 18, 2018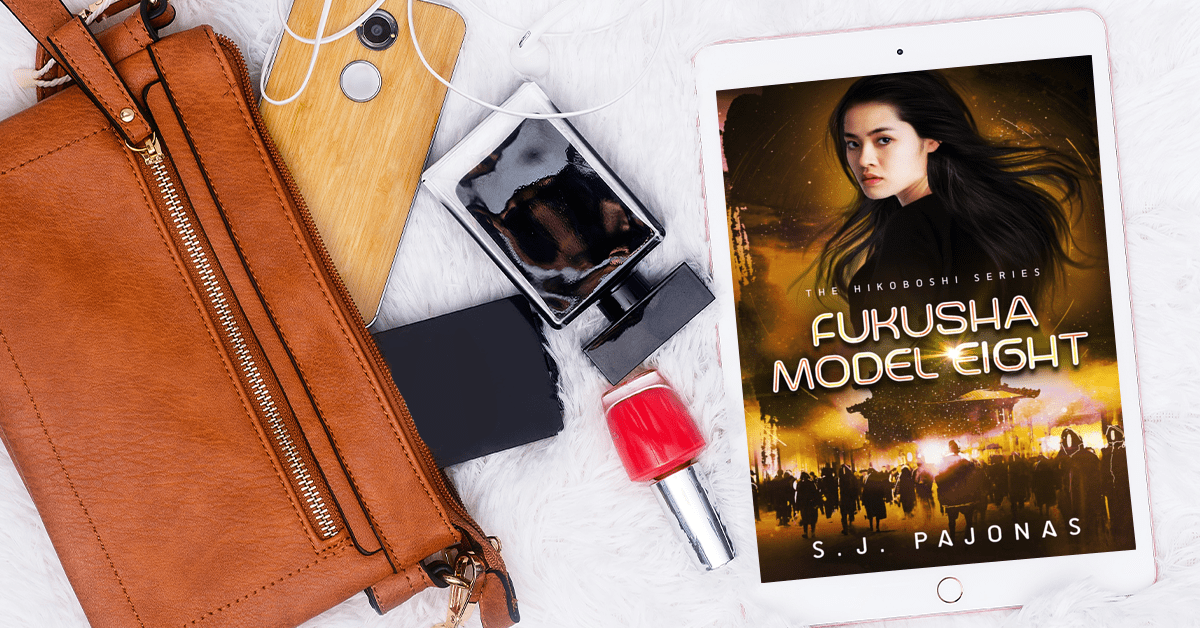 Chop, chop, chop.
I learned a lot from Kay, the android metronome, at K&G Noodles.
Saki and I stand next to each other and chop vegetables for tomorrow's shift. Better to stay late and prep for the next day rather than come in early. The lunch and evening shifts were hectic, and my feet hurt standing in the clogs I bought in Shin-Osaka. I pause, looking past my pile of carrots on the counter to my shoes. Where did I buy these again? I had been fed up with Kotashi and Gina, and I went on a spending spree, but I remember nothing about the store I shopped in.
"What's up?" Saki asks, also pausing. She picks up her beer and takes a generous gulp. "You look confused. Missing something?"
"Yeah. Memories. I've noticed parts of my shorter-term memory are fading." I grab my beer from next to the pile of unpeeled carrots. "I think I'm a little young to be dealing with memory loss."
Saki shrugs. "Maybe you're becoming senile in your old age."
"If twenty-six is old, then you must be ancient."
She laughs, throwing back her head. "I walked straight into that." She returns to her pile of green onions. "I wouldn't worry too much. It probably has something to do with lack of sleep and a poor diet."
I want to argue with her, tell her about the three concussions I've sustained in the last year, the crippling migraines, and how the crazy weather systems here fuck with my head. But I can't tell her any of that. Every time I've had a migraine here in Kitakyushu, I've called in sick to work and dealt with it on my own. Well, I had Ninjin's help, but he's not as attentive as Kazuo or Rin. I was docked pay for the days I couldn't come in, but my boss is flexible and hasn't threatened to fire me yet.
"Yeah, you're probably right," I say, grabbing a handful of the carrot scraps. Out the back door, I take a break with my beer and feed Ninjin his daily supply of carrots.
"I promise to buy a bag of dog food tomorrow," I remind him as he rests his head on my lap. "It's been two weeks, so I think I can get away with it."
Atsumi locks up my funds every week because I'm supposed to be poor. It seems immoral to starve my dog because I have to keep up with appearances, but that's why he comes to work with me. No one cares if the scraps end up in his belly or in the compost.
The back door opens again, and the rest of the kitchen staff joins me. They're a nice group of people to work with. I have no complaints except that I still feel lost here every day. I'm not supposed to be slinging noodles and waiting tables. I'm supposed to be finding Shiroi Nami or hoping they find me. I'm supposed to be taking care of my people. I'm supposed to be with Rin. Where is he?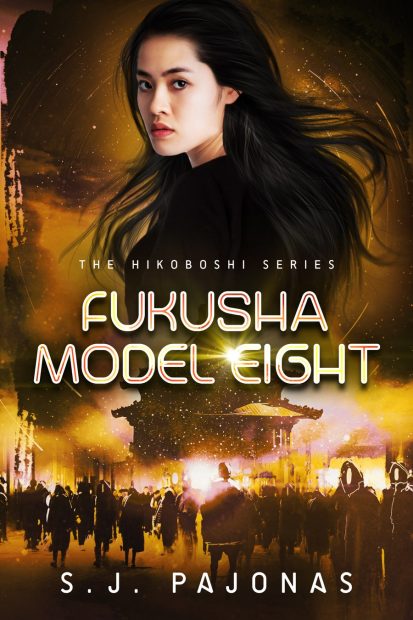 "After Chaos in Kadoma Ward I wasn't really sure what to expect but my gut was telling me to just jump in… and I'm sooooo glad I did! I wasn't expecting what I found in Fukusha Model Eight and it was on a totally new level. It was the same incredible Japanese culture, corporatocracy, android filled world building. Rin was the same imperfect, perfect love interest that you hope with your whole heart will never hurt Yumi… And Yumi herself was still the empowered, smart and headstrong journalist… but this time she was in the worst of the worst of situations…I seriously enjoyed Fukusha Model Eight and the action packed, roller coaster emotional ride that it takes me on." – Dani, Perspective of a Writer
"How much do I love this series? SOOOOO much! Do you love Blade Runner? Altered Carbon? SF that makes you think, as well as having gripping characters, fantastic world building, and non-stop action? This series is for you." – Carysa Locke, Author
"This was another awesome book in this series. It's full of twists and reveals and a strong story. The story kept my attention from start to finish and I just wanted to keep on reading. I liked reading about Yumi and how she handles everything going on. Although I did feel sorry for her at times and she goes through so much, both mentally and physically and at times it almost felt a bit much. But I do like how realistic these books are and there are no instant recoveries or medical issues that suddenly disappear. I loved the addition of Yumi's dog Ninjin in this book, he was such a good dog and I liked how well he took care of Yumi and she of him. I also love the romance in this series, Rin and Yumi are great together, although they also have some obstacles to overcome together I do feel like their relationship is even stronger at the end of the book. With the way things end I am very curious to see what will happen in the next book!" – Lola, Lola's Reviews
S. J. Pajonas is a participant in the Amazon Services LLC Associates Program, an affiliate advertising program designed to provide a means for sites to earn advertising fees by advertising and linking to Amazon.com.