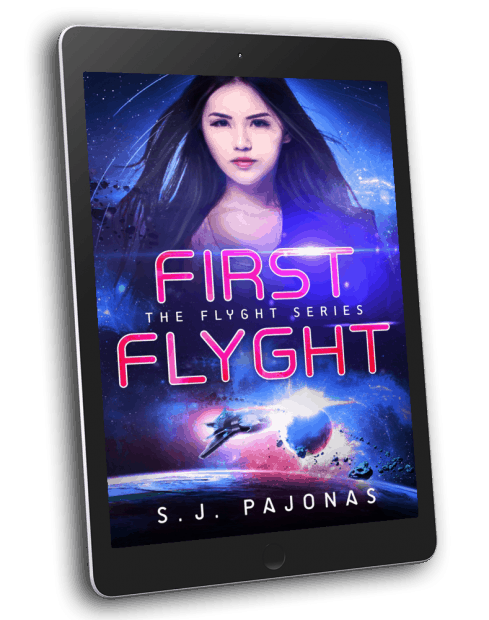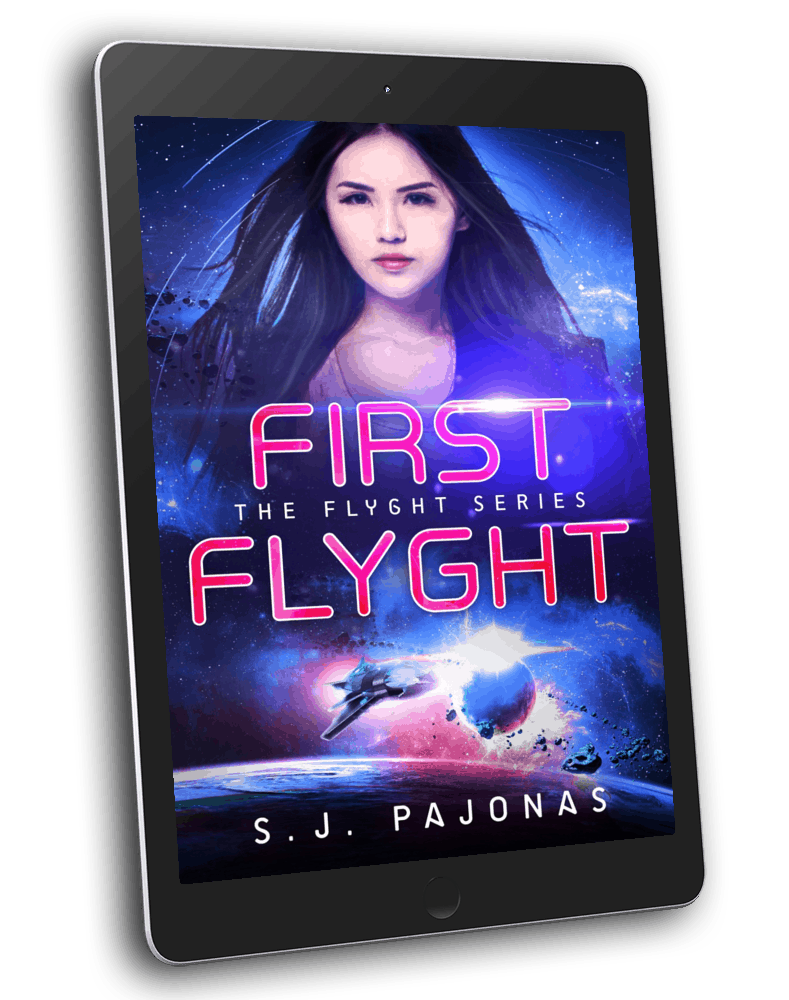 Vivian Kawabata is ready to take on the world...
Until her brother steals the family fortune and leaves them all in ruin.
Betrayal will send her back to him. Grit and determination will forge her future.
Vivian Kawabata is ready to claim her birthright and ascend to the head of the family empire, but that dream ends when her brother stabs her in the back, draining the accounts and leaving her unable to pay for so much as a pair of shoes.
But she's not giving up without a fight.
To stand a chance of restoring her rightful place in the universe, the rule-following Vivian may have to break a few intergalactic laws. After how she's been treated, it's a price she's willing to pay.
With an old starship she secured from her aunt, she takes on two new roles: a sexy heiress collecting eligible bachelors and a hard-nosed captain rebuilding a lost fortune by any means necessary.
Completely out of her depth, she'd be sunk without the help of a relationship broker, a handsome ex-boyfriend, a hacker with a heart of gold, and a host of other romantic partners she meets along the way.
With a business that runs the razor's edge between trade and smuggling, the former high-society socialite will have to choose between love and business if she's to rebuild her empire.
First Flyght is the first book in the Flyght Series of star-spanning sci-fi romance. If you like action-packed space operas and a universe full of twists, then you'll love S. J. Pajonas's interstellar adventure.
Please note: THIS SERIES MUST BE READ IN ORDER. It is a true series and plot elements carry through every book, from beginning to end. You will miss too much by reading this series out of order or skipping around. The Flyght Series is complete at six books. This is also a slow-burn romance series that contains profanity and sexual situations.
Genre: Science Fiction Romance / Space Opera / Science Fiction Reverse Harem
Series: The Flyght Series
Rating: Rated R for language (profanity), sexual situations, and violence.
Publishing Date: September 6, 2019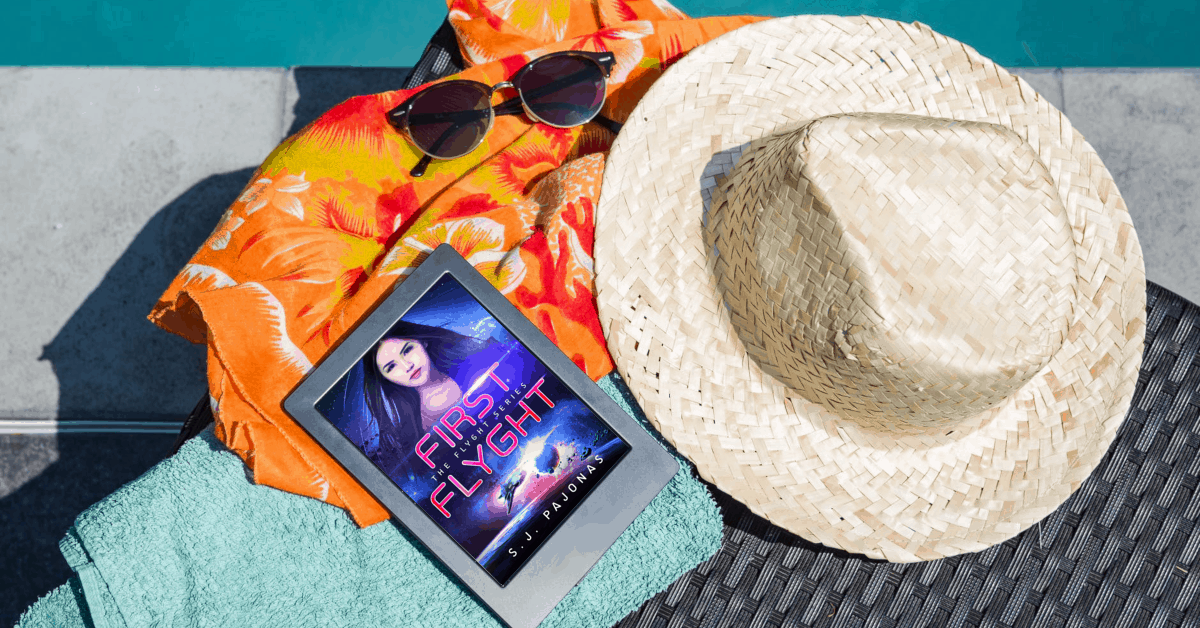 I look at myself in the mirror and assess the damage school has brought. I'm skinnier and softer than I used to be which is not a good look for someone as tall as me. Lots of walking to and from classes and to and from trains has kept my calves in shape, but my arms need muscle. My face is thin, and my hair is lackluster. But the shoes bring my whole body to life.
I must have them.
"What do you think?" Heidi asks as I walk a circle around the couch.
"I think… I think I'll take them." A smile brightens my face.
"Excellent! That was my easiest sale of the week," she says, laughing and winking at me.
I flash forward to graduation day, me walking in these beauties, getting my diploma and hearing my name called for the honor roll. I worked my tail off for that one moment. I hope it was all worth it.
As I sit down, I access my wristlet, and my bank account while I'm slipping back on my wholly inadequate old shoes. Bye-bye hard earned credi…t..s…
What the…?
Balance, zero.
My face heats to inferno levels, and my heart races as I stop to access it again.
Zero.
Zero? How is this possible?
I swallow hard watching Heidi package up my shoes. My lines of credit, which are small and I only use in an emergency, are fine, but my bank account is completely tapped out. I scroll through the transaction report, my fingers massaging the air through the projection. Is Hecate down? Has it been hacked? I can't remember the last time there was a problem with Hecate and the duonet, so… F*ck. There it is. All seven thousand, six hundred and thirty-two of my credits withdrawn earlier today.
I jump to my feet. "Ummmm." My mouth dries as I sift through my options. Buy the shoes on credit? Come back later?
Shit. I've been robbed.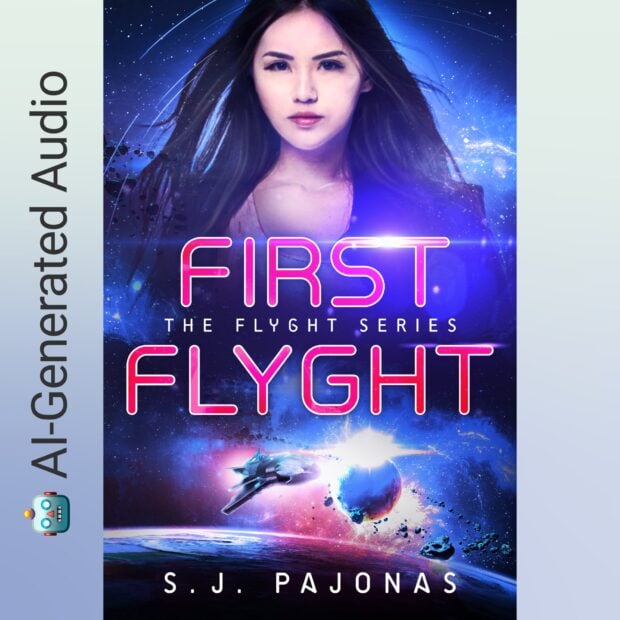 This book was made using Amazon Web Services' Polly AI-Generated Voices. The entire book was proofed by a human, and all pronunciations and presentations were corrected to give you a fantastic listening experience. To hear a sample of this book before purchasing, please visit https://soundcloud.com/spajonas/first-flyght-intro-and-chapter-1-sample or listen below!
There are NO REFUNDS OR EXCHANGES on digital products, so please listen to the sample first before purchasing.
Want to listen to this book in its entirety for free? You can listen to it on YouTube! Only this first book of the Flyght Series will be available for free on YouTube. If you want a version that you can download and take with you, purchase it below.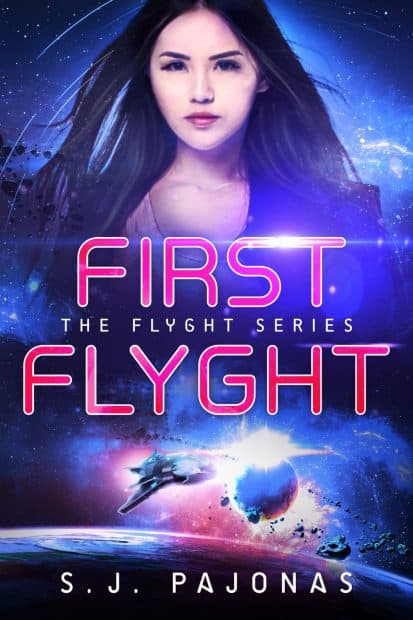 "First Flyght is an exciting start to this new series… I don't fully feel the romance yet, but I am hoping that will change in the next book. And I am looking forward to see which other men Vivian will meet. I love what we've seen from the world so far and can't wait to learn more in future books. It ends on a hopeful note and I can't wait to for book 2 and see what comes next!" – Lola, Lola's Reviews.
"I'm always on the lookout for new Space Odessey romances. This is a new Author for me, and I decided to give her book a try after a Facebook post she'd made regarding this book in particular. I am not disappointed!! This book has a great feeling to it for the beginning to a new series. A lot of great world building, and character development on the lead MC… The supporting characters also bring a lot to the story, and the AI is promising to be a great deal of fun. I hope she continues in the storyline. Definitely pickup this book if you love SyFy, Romance, Reverse Harem, and the Space Odessey feel!" – Amor, Booksprout.
"I loved this and keep thinking I have more to read and I don't and I'm sad!" – Laura, bookgrl.
"Great series opener. A must-read for space opera fans. The narrative is like a breath of fresh air. This author can really write and it feels so effortless. Bravo! I can't wait to see where the series goes from here." – J.A. Afzelius, Amazon.
"I love everything SJ Pajonas writes, but if you've never read anything of hers before, this is a great place to start! In this new SF series, the author introduces us to a far future where an imbalance in population has led to a society where women — at least on the surface — run the universe. But don't let that fool you, the men are every bit as strong and powerful, and their actions can make or break the businesses and family units headed by the women in their lives… A really fun read with several surprises. I adore Vivian and her entire crew, and I can't wait to get back into this world in the next book (already preordered)." – Carysa Locke, Author
"I loved this! Fantastic characters, really cool plot and amazing world building. This is intelligent and unique and a great read all around. Can't wait for book 2." – Amazon Customer
"Vivian seems to carry the weight of her family's, especially her mother, expectations to extricate the entire family from the wreckage cause by Tomu's actions. I felt sorry for her at times, but then she would make me laugh. Actually all of these characters are well written, unique, and made me laugh at times. Wonderful world building, unexpected, and surprising twists. I couldn't put this book down, and I think it is a must read. Fantastic book, I loved it." – Laure Eccleston, Amazon
"I honestly cannot say enough good things about this book. The writing is witty and engaging and the characters are relatable and nuanced." – Jennie K., Amazon
S. J. Pajonas is a participant in the Amazon Services LLC Associates Program, an affiliate advertising program designed to provide a means for sites to earn advertising fees by advertising and linking to Amazon.com.