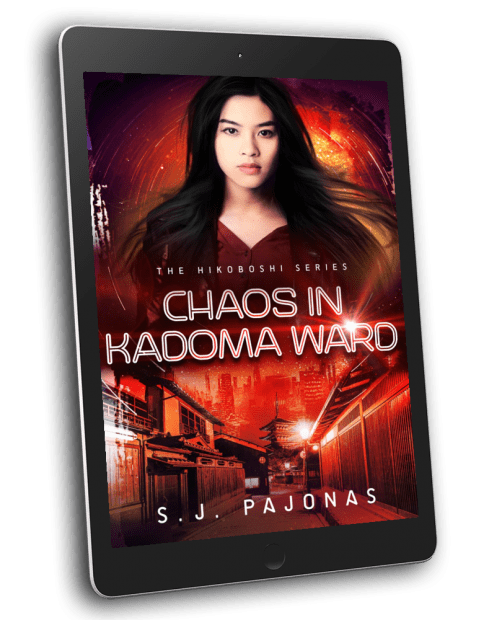 A futuristic caste system and standings based on your merits...
Yumi has no place on Hikari and enemies on her tail. How will she survive this new world and society?
About Chaos in Kadoma Ward...
Contract by proxy — Yumi is owned by a corporation.
Forced into a new life on the planet Hikari, she has two objectives: find a job and get along with Rin, the man holding her life in his hands. But with her occupation missing from this planet and her enemies looking for her, she must intrude on the kindness of reluctant strangers to stay out of harm's way. Rin's ex-wife wants Yumi gone, and a judge threatens to deport her if he catches her loitering about town with no job. Her desire to bolt grows stronger daily.
But Rin won't let her go. He's fascinated with the stories she brings from home, stories that promise to save him from the madness they all live in, a meritocracy with low birth rates and malfunctioning androids. As they build a tenuous friendship, and something more, Yumi has to face her fears, her inadequacies, and her lack of control. A headstrong journalist, she's pushing her luck on Hikari every day as the society turns bored, restless, and finally rebellious. War is coming, and Yumi and Rin are right in the middle of it.
Chaos in Kadoma Ward is the second book in the fast-paced Hikoboshi Space Opera Romance Series. If you like high-tech futures, sizzling romance, and character-driven action, then you'll love S. J. Pajonas' thrilling sci-fi adventure.
Note: THIS SERIES MUST BE READ IN ORDER. It is a true series and plot elements carry through every book, from beginning to end. You will miss too much by reading this series out of order or skipping around. This series contains a slow-burn romance, profanity, and sexual situations.
Genre: Science Fiction Romance / Science Fiction Action Adventure / Space Opera
Series: The Hikoboshi Series
Rating: Rated R for language (profanity), sexual situations, and violence.
Publishing Date: November 15, 2017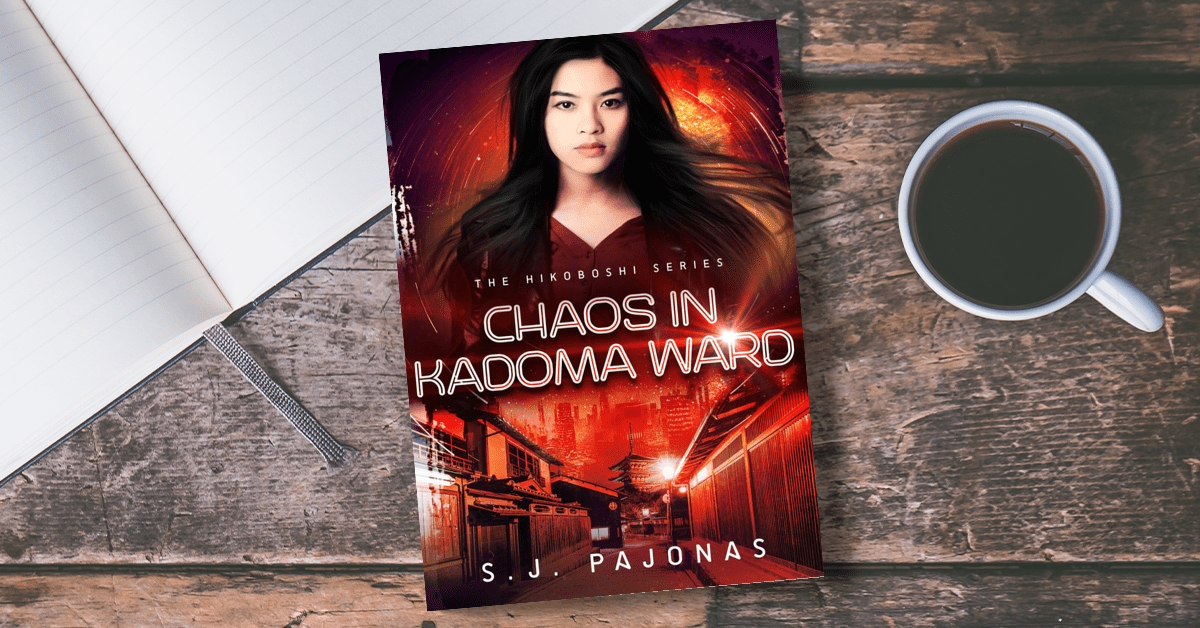 A soft, low chime rings through the room, and a disembodied female voice declares, "You have a visitor. Atsumi Sekino requests access to the apartment."
"What the hell is that?" I ask, looking around.
Rin's jaw tightens. "Atsumi? What does she want now?"
He stalks out, and I follow him to the front door. The door has changed, a screen overlay showing Atsumi standing in the hallway. I recognize her face from the photo, but she's dressed for business in a smart suit with her hair down around her shoulders. Rin taps on the screen.
"Atsumi, can it wait till tomorrow? I just got home."
"Rin, we have to talk now. I know Yumi Minamoto is in there with you."
Rin lets out one of his weary sighs, and it's ten times worse than what he uses for me. Now I know where this habit comes from.
As he reaches for the door, I hurriedly smooth myself out, patting down my ragged hair and weeks' old clothing. I don't know why I care, but I'd like for us to get along.
"Thanks. I know it's getting late," Atsumi says, barging in like she owns the place. She sets her bag to the side and slides off her heels. "But we have things to discuss tonight, and I needed to see this Minamoto in person."
She looks right through me as her voice registers in my head. I've heard it before.
"Really, Rin? This?" She gestures to me. "I saw the photos, but I didn't believe them."
"Excuse me?" I say, holding back my temper. Barely.
"Yumi Minamoto, this is my ex-wife, Atsumi Sekino. Atsumi, Yumi."
We stand, soldier-straight.
"You will bow. I'm at least six levels above you," Atsumi demands.
"Atsumi," Rin growls. "Is this necessary?"
I bow anyway, confused as to how this introduction went off the rails so quickly. What have I done?
"Good," she says, a huff in her voice. "Rin is neglecting to tell you I'm also his boss." Ah-ha. That's where I've heard her voice, when I've eavesdropped on Rin in his bedroom back at the temple on Kurai. "We've been divorced for over a year. I'm long past ex-wife status." She peers around me to take in the rest of the apartment. "I see nothing's changed, though. We should sit down."
"Not a chance. You're not staying. I just brought Yumi home. I'd like her to get settled in."
"How gallant of you." Atsumi's voice is a river of sarcasm. "But don't get too comfortable." She bends over and retrieves her tablet from her bag. "Do you have any idea the kind of hell you've put me through for the last two weeks?"
"Nooooooo." Rin drags out the one syllable into ten or more. "I spoke with you last week, and you didn't mention anything. What's going on?"
"Narumi Ogawa, that bitch of a boss from Aoi Uma, has been petitioning for the removal and disposal of Minamoto for" — she scrolls through something on her tablet — "excessive property damage, illegal termination of ten androids, arson of Shiroi Nami's temple…" She looks up from her tablet at me. Blood from my brain is sinking to my feet. "You must have friends in Shiroi Nami because they went to bat for you on that charge, but the district judges let it stay." She clears her throat. "Breach of contract, and on and on. What the fuck were you thinking?" Atsumi spits at Rin.
Rin stiffens. "We're not married anymore. You can't talk to me like that."
I take a small step back, running through possible scenarios in my head. I can run. I can hide out.
I can do so little.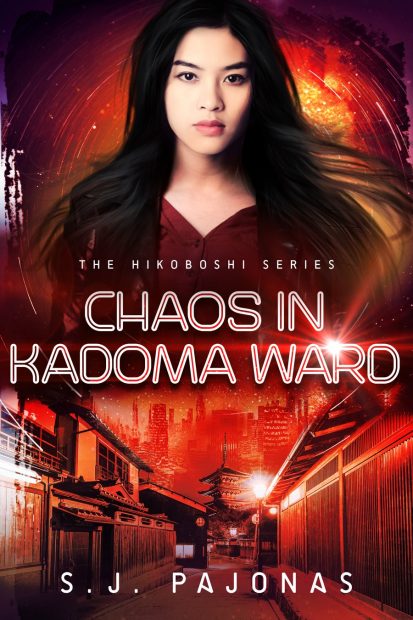 "The world building is so, so, sooooo incredible in this series… Something that S.J. Pajonas excels at is putting her empowered, accomplished and curiously smart journalist protagonist into situations that show off her vulnerable side. It makes for a complex and well rounded woman that deserves to fall in love. And that is what we explore in Chaos in Kadoma Ward, even as we learn more about the increasingly dangerous world that Yumi finds herself in and as that unstable society rocks until it finally explodes!" – Dani, Perspective of a Writer
"In this book, we get to know Rin better, his deepest desires–for freedom and for Yumi. Can he have both? But when war comes, they must survive first. We see a different side of Yumi. She's vulnerable, scared–strange sensations for her. This action-adventure space opera hits that spot where all looks lost but leaves the reader with hope. The next book in this series can't come out soon enough." – Diane Burton, Author
"Chaos in Kadoma Ward was awesome! I loved it and had trouble putting the book down. I got caught up in Yumi's story and I loved discovering this whole new world together with Yumi and Rin. I also liked how realistic the whole book is written, there are good moment, but also bad ones and Yumi does get down about her situation at times. I was hoping for some romance in this book and I am happy to say we got that. I loved all the little moment and gestures between Yumi and Rin as they grew closer. The world building was so well done, the world really came alive and I could vividly imagine how everything looked like." – Lola, Lola's Reviews
"The absolute best thing about the books in this series is the worldbuilding, and that was no different in this second installment. I love how Pajonas created a world built on and governed by corporations—in this world, your importance and your value as a person are dictated by your employment… Overall, this was an excellent read. I give it 4/5 stars." – Nicole Hewitt, Feed Your Fiction Addiction
"In my opinion, these books/series deserve more recognition. They are exciting and fun reads that superbly blend genres and I think have a wide appeal. They are excellent science fiction but it is very grounded in reality and is quite accessible; the setting is a brilliant and well-researched Japanese society of the future so there are all kinds great Japanese cultural references; there are lots of well done action and martial arts scenes which I particularly like; and finally there is a healthy dose of romance with some touching and well-done love stories, but that are not too over-bearing… This series deserves more recognition! So good!" – Kensei, Amazon Reader
S. J. Pajonas is a participant in the Amazon Services LLC Associates Program, an affiliate advertising program designed to provide a means for sites to earn advertising fees by advertising and linking to Amazon.com.