I do not provide support for this pattern. Please do not contact me if you need help. This pattern is merely published here as a convenience.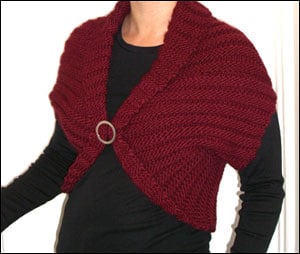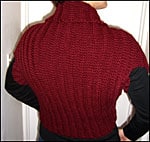 Materials
Lamb's Pride Bulky 4 (5, 5, 6, 6, 7) skeins, 1 pair US10.5 needles
Measurements
Bust: 34" (36, 38, 40, 42, 44)
Width at narrowest part: 13".
Width at centre wide part: 26" (see image for example using smallest size)
Abbreviations
St – stitch
beg – Beginning
Gauge
3st/1".
1 repeat/1".
Make sure to do a swatch with at least 2 repeats of the main pattern to get gauge. Let swatch lay naturally so that ribs close up before measuring.
Pattern
Casting on
Unless using the thumb method in casting on, work into the back of all cast on stitches to produce firm edges. Cast on 40st.
Main Pattern
(These six rows form the pattern and are repeated thru-out)
Row 1: knit
Row 2: purl
Row 3: knit
Row 4: knit
Row 5: purl
Row 6: knit
Work 12 (13, 14, 15, 16, 17) complete patterns.
This should measure about 12 (13, 14, 15, 16, 17) inches. Work the first three rows of pattern.
Cast on 40st at beg of next row (use cable cast-on for a neat edge for seaming) and work across all the 80st in pattern.
Work the 5th and 6th pattern rows.
Work 14 (15, 16, 17, 18, 19) complete patterns, casting off 40st at the beginning of the last row (same side as the 40st previously cast-on.)
Work a further 12 (13, 14, 15, 16, 17) complete patterns.
Work the first, second and third pattern rows. Then cast-off.
Block by dunking in cold water, ringing it out gently by hand, roll it in a towel to squeeze out any extra water, and then laying it flat on a towel.
When dry, fold over centrepiece made by the 40st, cast on and off. Fold over each end as illustrated and seam stitch end of work invisibly to each side of centrepiece thus forming armholes. Do not press.
Tip:
Lamb's Pride is a yarn that is mostly wool with a little mohair in it. Instead of joining in the ends by using the standard k2tog technique, felt the ends of each skein together using a little water and rubbing the ends together vigorously between your two palms. This way the only ends you'll have to weave in are the ones left over from seaming.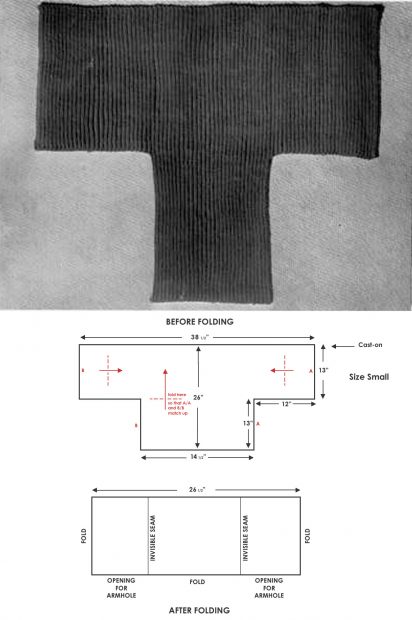 Compiled by Stephanie Pajonas from Yesterknits Pattern.