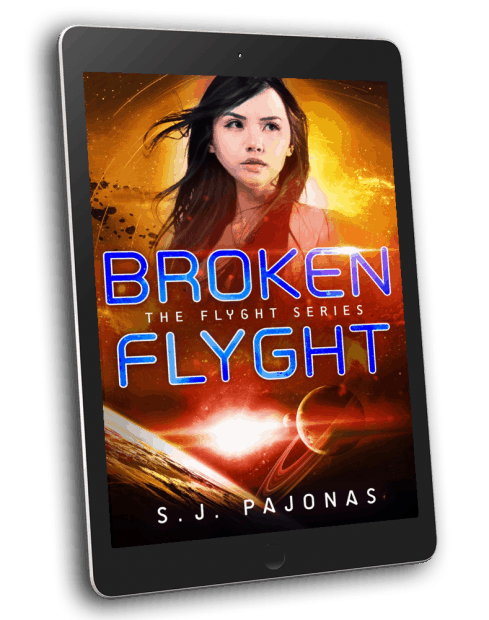 With a broken spirit, Vivian must soldier on...
But how far can she go before she breaks?
Fallen heiress, ship's captain, entrepreneur — Vivian will do whatever it takes to restore her family's empire, even if it means sacrificing her own happiness…
With her ship secure and her old boyfriend back in good graces, Vivian Kawabata only needs one thing to move forward: money. Money, though, is hard to come by when you're an infamous disgraced heiress. Vivian's only move is to enlist the help of her matchmaker, Marcelo, and find another wealthy man to add to her relationship network. He not only has to be a master in the bedroom, but he must be a pro with ships, too. Her ship needs a mechanic before they start taking on real clients for Flyght, the lucrative ship-sharing startup.
On their way to Rio to follow the trail of Vivian's deceitful brother, Marcelo presents Vivian with two eligible bachelors, Sean and Jinzo. The vetting process is rocky from the start; Sean is stand-offish and distant, and Jinzo doesn't make a good first impression. Despite this setback, Vivian is determined to make something work because if she's doesn't, she's dead in the water.
After their first romantic escape, Vivian is knocked backwards by her feelings for Jinzo (first impressions aren't everything). But he's not as eligible as he first seemed to be, and the realization throws her whole world into chaos and a new possible scandal. Every decision Vivian makes puts not only her own future on the line, but that of her crew and her family. Will she play it safe, or risk everything – including her heart?
Broken Flyght is the second book in the Flyght Series of sci-fi reverse harem romance. If you like action-packed space operas and a universe full of twists, then you'll love S. J. Pajonas's interstellar adventure.
Note: This is a slow-burn romance series!
Genre: Science Fiction Romance / Space Opera / Science Fiction Reverse Harem
Series: The Flyght Series
Rating: Rated R for language (profanity), sexual situations, and violence.
Publishing Date: October 4, 2019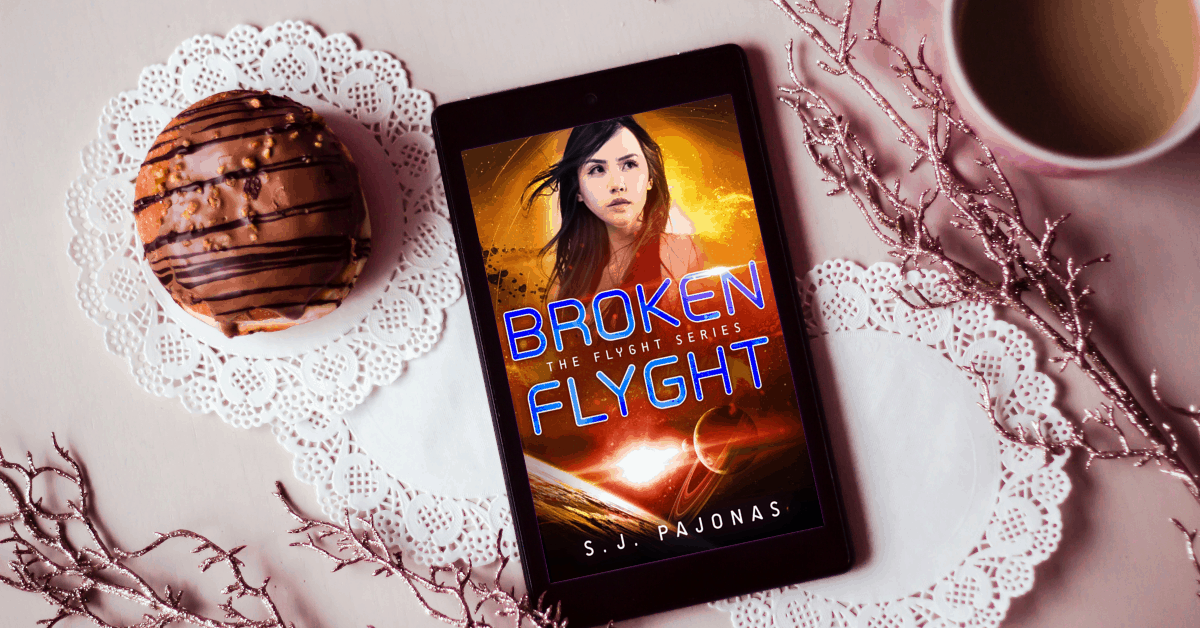 The sun dips over the horizon, coloring the sky in dark reds and golden rays of sunshine. I catch my breath as I stand on the train station platform and gaze out over the farmlands with Marcelo by my side. Our drop-off in Mayashu was uneventful. We unloaded our freight, including the cryocontainer that I was happy to see go, took on the new animals, and Skylar gunned it for the Eastern Continent.
Home.
This is my home, and it always will be.
"Remind me of where your family lands are?" Marcelo motions for me to lead the way around the other people who exited the train with us at Sagae, my hometown. I try to keep my calm as I walk past the underground bicycle storage. That bicycle is long gone now. Probably sold off to some kid who needs to get to and from the station, just like I did.
I point off into the distance, away from our town.
"Go three kilometers this way and turn left. We had everything for eight square kilometers."
I sigh as I step onto the soft and springy roadway. My kimono keeps my stride shorter than usual. I'm not used to it. Kimonos were never meant for tall people like me.
"But that's not all. We owned ten square kilometers to the south of Sakata City and two stations on the Western Continent as well."
Marcelo whistles low as he steps next to me on the road. We both turn our faces to the setting sun and take deep breaths of fresh air. It's a luxury after being on the Amagi for several days in a row.
"That's a lot of land."
I nod as I turn towards town, away from home. "A lot of land, a lot of employees, a lot of blood, sweat, and tears." My chest constricts, like my rib cage is suddenly three sizes too small and my lungs have nowhere to go. "A lot of history. It's the third largest landholding on Ossun. My family has owned it since planetfall."
Marcelo rushes ahead, and I try to keep up before he realizes I have to walk slower. Between the kimono and the sandals, my pace will be glacial this evening.
"Sorry." He flicks on his wristlet. "I don't want us to be late, but we have time."
Other people who disembarked from the train at the same time as us walk towards town or their homes in the opposite direction. A few glance my way and whisper behind their hands. Two young girls giggle as they peel their eyes from me and shuffle off in their kimonos. The situation grates on my nerves, and my shoulders tighten. I wish Skylar was here, but she's off visiting her dad.
"Pay them no mind," Marcelo whispers as I stalk off and huff under my breath. I catch him transitioning his outstretched arm to tucking his hand in his pocket. Was he offering to escort me? Maybe if I could learn to control my temper, I would see these opportunities before they're gone.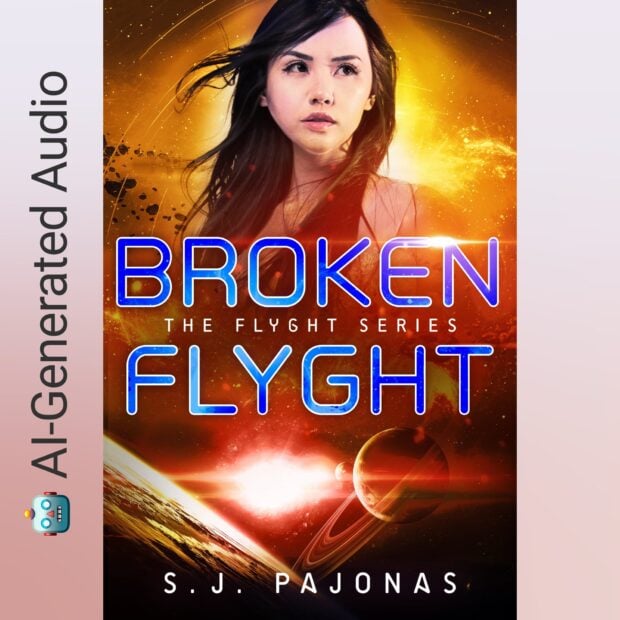 This book was made using Amazon Web Services' Polly AI-Generated Voices. The entire book was proofed by a human, and all pronunciations and presentations were corrected to give you a fantastic listening experience. To hear a sample of this book before purchasing, please visit https://soundcloud.com/spajonas/broken-flyght-intro-and-chapter-1-sample or listen below!
There are NO REFUNDS OR EXCHANGES on digital products, so please listen to the sample first before purchasing.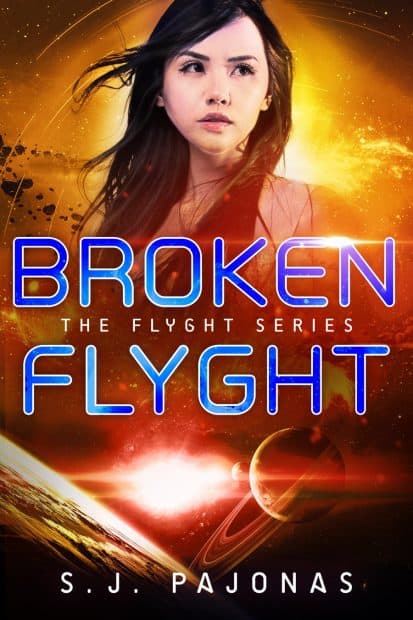 "I love this new series by S.J. Pajonas! It was romance, a great plot line with some twists, some well done world building and a fantastic cast of characters. I've already grown quite fond of this world and characters and this sequel was really good. In this book we don't see as much of Ken, but instead the romance focuses on Vivian's developing relationship with Jinzo. I loved Jinzo, he's a great character, so sweet and helpful and he's perfect for Vivian. It's a solid basis for the reverse harem aspect and I am looking forward to see how things go in book 3 when the two guys meet…" – Lola, Lola's Reviews.
"I knew I would suck this book down in one go and I wasn't wrong. Now I'm sad as I have to wait for the next book. Man was this so good. The pages just flow like liquid gold of a story so rich and vibrant it's transcendent. The tapestry of Vivians life and all that she's going through feels so real and textured. The characters are so three dimensional that you can easily tell who's who and remember their character specifics. I'm totally loving this story and cannot wait for the next one. Beyond epic and amazing read! Top notch MUST READ SERIES!!" – Kimberly Johnson, Reviewer
"Oh, wow! I raced right from book 1 to book 2 and wasn't disappointed. Just like the 1st book, Broken Flyght is packed with high-intensity action. A real page-turner. What more trouble can descend on Vivian? If it's available, it's hit her and/or her crew. Vivian grows in this book. She starts to listen to her suitors (former boyfriend Ken and a new guy, Jinzo) who calm her down and help her see reason. The 2 men get along remarkably well. But then if you're raised in an environment where women are in the minority and definitely rule. They own the land, enterprises, corporations. They marry (or take consorts) to strengthen their networks. By her expert world building, Author Pajonas makes the reverse harem situation seem reasonable. Can't wait to read what happens next." – Diane Burton, Author.
S. J. Pajonas is a participant in the Amazon Services LLC Associates Program, an affiliate advertising program designed to provide a means for sites to earn advertising fees by advertising and linking to Amazon.com.