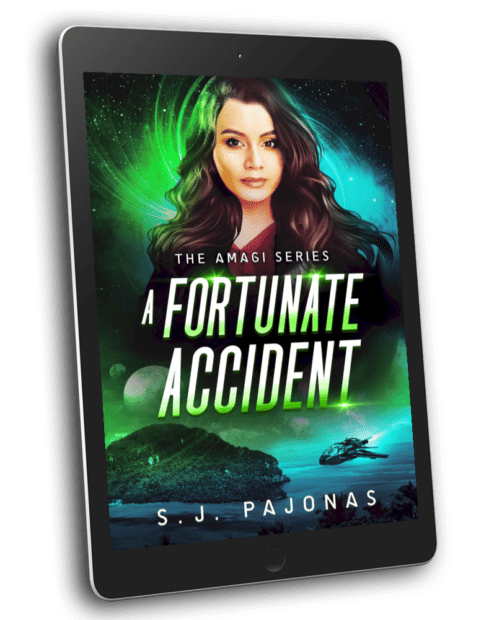 Skylar just wants to fly her ship through the stars...
But funds are tight and the Amagi can't fly without fuel
About A Fortunate Accident
An impending lawsuit. A dangerous job. A love from her past…
Life is starting to make sense for Skylar Kawabata. She can finally see a path forward with her ship, her crew, her family, and her new suitors. Walking that path, though, is the hard part.
Skylar's mother is threatening to sue her for the ownership of the Amagi, and it leaves Skylar teetering on the edge of a cliff. She must get all her evidence in order and keep her mother's consort from harassing her crew or worse. Funds are tight, so it's a blessing she's been offered a new job in the jungles of Rio. It will be lucrative… only if she can arrive there in one piece.
When her previous flame, Kalvin, shows up out of the blue, the tenuous balance in her network disintegrates. Kalvin is a high-flying rogue pilot and his presence, while exciting, throws a wrench in Skylar's carefully crafted plans. And now that they're in the jungle together, she'll need to figure out how Kalvin will fit into her life. Will he brave both the terrifying creatures of Rio and Skylar's broken past, or will he disappear just like he did when they first met?
The pressure of holding everything together is too great, and when Skylar cracks, her confidence in her own memories is at stake. Can she hold her new job and network together long enough to fight for the Amagi? Or will she lose everything she has, including her life, to the jungles of Rio?
A Fortunate Accident is the second book in The Amagi science fiction romance series. If you like capable heroines, insanely hot men, and thrilling world-building, then you'll go crazy for S. J. Pajonas's daring action-adventure.
Note: This is a slow-burn romance series!
Genre: Science Fiction Romance / Space Opera / Science Fiction Reverse Harem
Series: The Amagi Series
Rating: Rated R for language (profanity), sexual situations, and violence.
Publishing Date: February 15, 2022
He spreads his arms wide and puts on a dashing smile. "Skylar, don't be mad. I had a lot of shit going on at home. I saw you two on the gossip sites, and I knew you were okay." He gestures to Marcelo. "Plus, I was in contact with him. I figured I would take care of my family and meet you wherever you were."
The clunk of the fuel and air hoses disengaging from the Amagi echo through the cargo bay.
"I didn't think I'd make it by the skin of my teeth, though."
I inhale and lift my shoulders. "Well, as you can see, I need to get ready for departure. Why don't you two get settled in, and I'll get us underway?"
"I'm going to —" Marcelo jerks his thumb at his shuttle.
I nod. "Meet me on the bridge?"
Marcelo considers this for a moment before inclining his head and leaving to return to his shuttle.
I want out of here as quickly as possible.
"Sure. Where can I stay?" Kalvin asks, hoisting his bag on his shoulder.
I point to the rear of the cargo bay. "There with the sheep and the chickens."
He tilts his head and narrows his eyes. "I'm allergic to wool."
"Sucks to be you."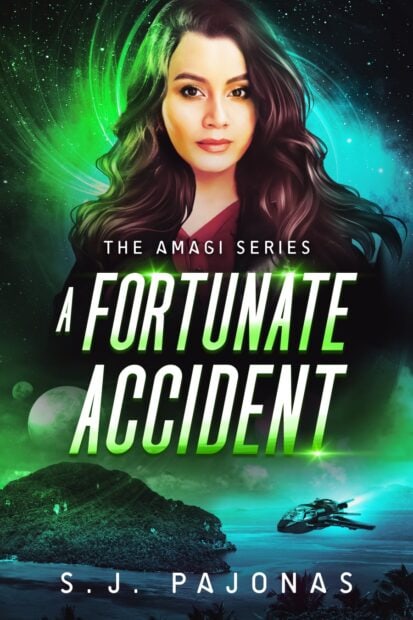 S. J. Pajonas is a participant in the Amazon Services LLC Associates Program, an affiliate advertising program designed to provide a means for sites to earn advertising fees by advertising and linking to Amazon.com.