The Sunday Post is a weekly meme hosted by Kimba @ Caffeinated Book Reviewer. It's a chance to share news. A post to recap the past week, showcase books and things we have received and share news about what is coming up for the week on our blog.
---
This was another crazy busy week. I feel like they're all crazy busy now as we ramp up work at the Future Fiction Academy and we get more students daily. I taught twice this week and I edited several other labs. (Today, I have to edit the lab that I taught yesterday.) I don't have any days off anymore and it's a little hectic and draining, but I am having a great time, which is important. I just need to find some down time soon.
It rained a lot in the last week. It shouldn't be news, but it is. You should have seen the footage from Manhattan and Brooklyn on Friday. Nuts. They got a stupid amount of rain. We got it too and thankfully we mostly stayed dry. There was a little water in one part of our basement, but it was fine. We didn't have to do anything about it. I'm glad the rain is done for now. It was getting depressing just day after day after day of raining. Lulu doesn't like the rain so getting her outside to do her business was tough. She had two accidents in the house and I couldn't even be mad about it. I felt bad for her.
We have an issue with my electrical hook-up to charge my car. I think there's a short in the system and we need to call an electrician out to deal with it. My car wouldn't charge the other day. The tablet kept saying "Charging, Not Charging, Charging, Not Charging…" over and over again. I thought the problem was the car, but to be sure, I decided to take it over to a local charge spot and charge it there. The car charged with no problems there! So that leaves the problem with our house. At least I now know what the problem is. Hopefully we get it fixed soon.
I had dental work done on Thursday. Normally, I'm okay with the dentist. I've had good teeth my whole life, but I clench my teeth at night and grind them some too. So I had to have two fillings replaced because I had ground them down. That left me unable to eat for hours and kinda down and depressed about it. It's a bit traumatic to be kept in that chair for so long with two people in your mouth and drilling and water and scraping and all the noise. Ugh. So I wasn't in a good mood much on Thursday. I'm glad that's over.
Today, I'm planning on taking a nice long walk since the weather is finally nice again. And I'd like to watch something new at lunch. What to choose?
What have I been reading and watching? I finished reading Carysa Locke's new novella that will be in Pets in Space 8 and I enjoyed it very much! I'm still listening to John Scalzi's newest book, Starter Villain. I listened while I was on the bike on Friday and I had to step pedaling several times because I was laughing so hard. On TV, the husband and I are caught up on Invasion on Apple TV+ and it is still not great. I don't think we'd even be watching if we had something else to watch. I finished the latest season of Call the Midwife on Netflix and it was great. Every episode made me cry. Lol.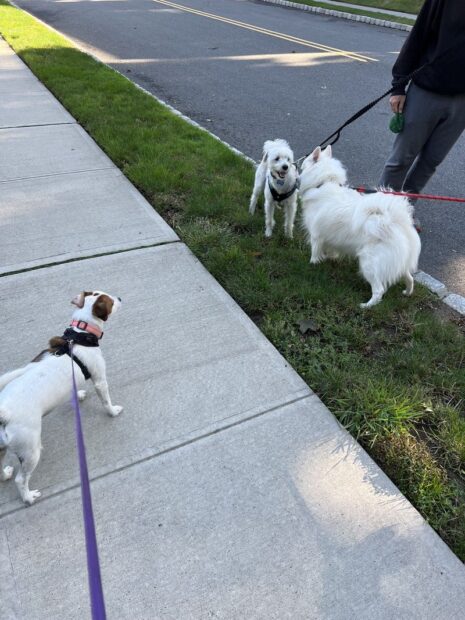 Meeting of the doggie minds. I think it's funny they are all white dogs. That's Walter and Lucky there.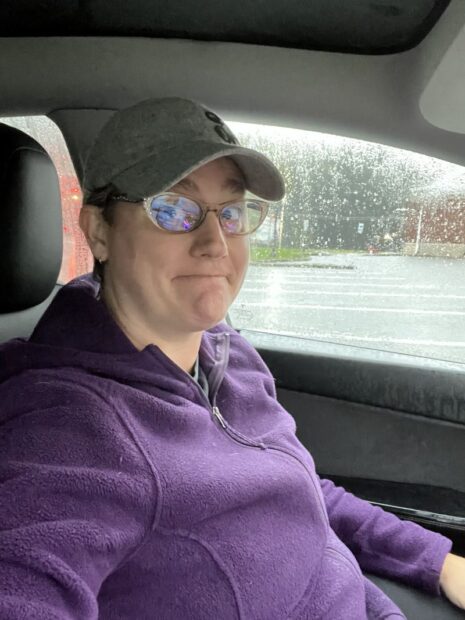 Here I am charging my car at the municipal center in the pouring rain. Another reason I want to have our house charging station fixed, so I don't have to go somewhere in the rain if I don't have to.
Have a great week, everyone! Stay safe and healthy.