The Sunday Post is a weekly meme hosted by Kimba @ Caffeinated Book Reviewer. It's a chance to share news. A post to recap the past week, showcase books and things we have received and share news about what is coming up for the week on our blog.
---
First week of school is done. And what a week it was. There were a lot of emotions in the house the night before school and then throughout the week. And then we had field hockey, band, and other carpooling almost every single night. I am absolutely beat, so I wanted to catch up on sleep this weekend. Nope! I only got four hours of sleep last night because my youngest child watched a scary movie with her friends and refused to go to sleep. So now I suffer because of it. Yay. (She won't be doing that again, I can tell you that.)
In writing/work news, writing on my fantasy rom-com is coming along. I have 15 chapters written now and the story is progressing as I envisioned it. I did a lot of work for Future Fiction Academy this week. I covered another instructor's lab because she was in pain. I edited 4 labs and got them up to Teachable. I realized the other day that I have not taken a day off from work since we went to Europe. I work every day, including weekends. Today, I will be updating this website, I will be making a box set of my Amagi Series, and I will be scheduling posts for SFR Station. SFR Station is winding down and almost closed for business but I have a few books in the queue left to post.
What have I been reading and watching? The husband and I are struggling to find something to watch on TV. Usually in these down times, we watch Stephen Colbert or John Oliver, but with the strike, that's not available to us. I don't know what we'll pick up to watch this week. For reading, I have read the first two stories in Ali Hazelwood's collection of shorter novellas, Loathe To Love You, and I really enjoyed them. So good! I think I'll start on the third today.
The website attacking kept up through the week and stopped abruptly. I think Wordfence must have updated their firewall rules because they all just stopped at some point. Good.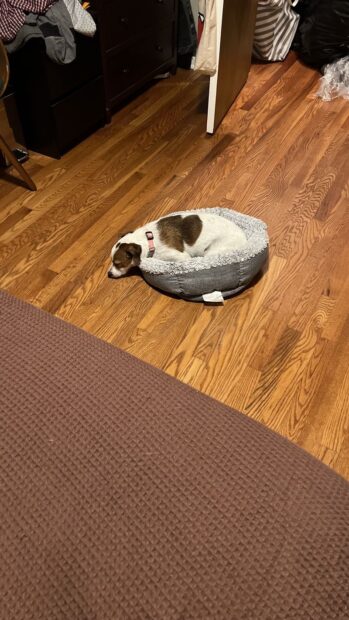 Lulu is stuck to me while my husband is gone. Attached to my hip or sleeping in her bed in my bedroom. Also, there have been a lot of deer in the yard this week. Lulu is unhappy about it.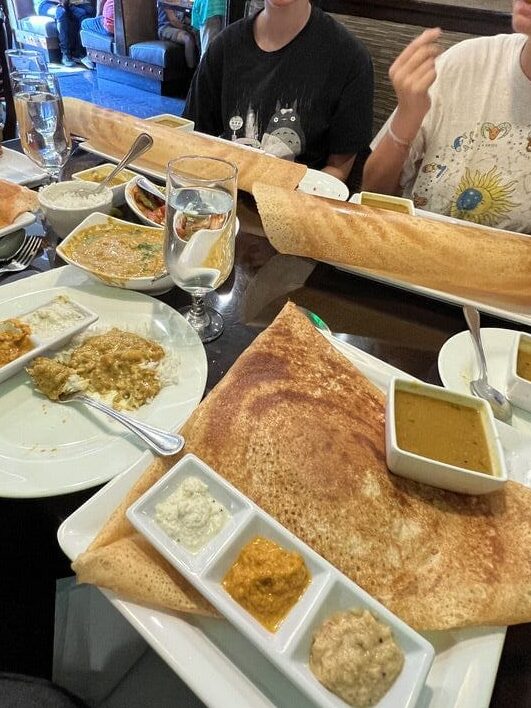 We went out for Indian food last Sunday and ate our way to full bellies in no time.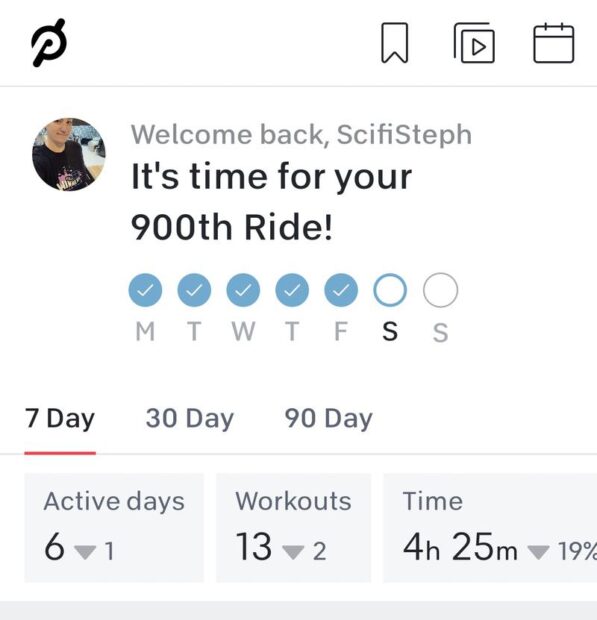 I had my 900th Peloton ride! I'm only 100 away from the comma club!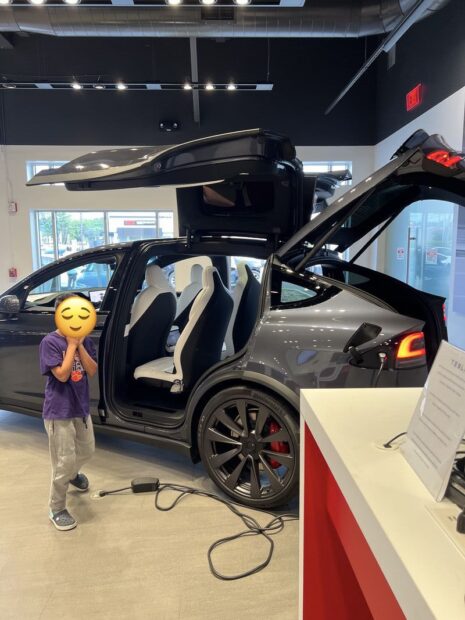 I had to go get a tire replaced on my Model Y on Monday. This was my first experience at a Tesla dealership for Service, and they did a great job. Not only were they done within an hour, but I didn't have to do a whole song and dance and waiting to check out. When the car was done, I was alerted on the app, I paid on the app, and then the app showed me where my car was, handed off the car to me, and I was done and driving away without having to talk to anyone. Freaking brilliant. I took this photo in the dealership. The Model X is still a very pretty car. (This kid walked into the photo right as I was snapping it and it was the only photo I got.)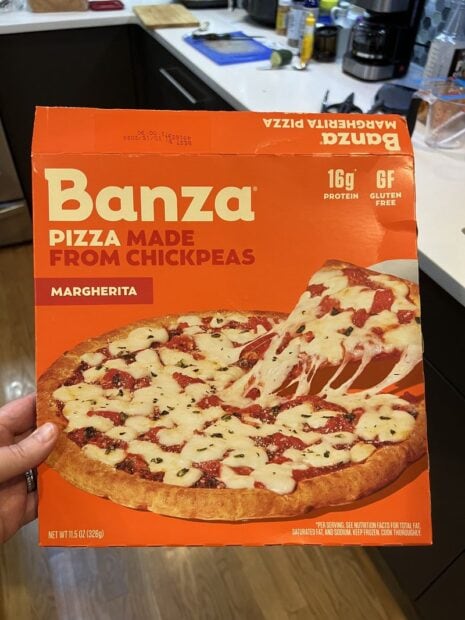 This is my new favorite gluten free pizza. The toppings SUCK, really, which is a disappointment. But the crust is fantastic! So I buy it, put Rao's sauce on it and more cheese, and then it's a fantastic pizza. Highly recommend the Banza pizza if you're GF, but be prepared to modify it.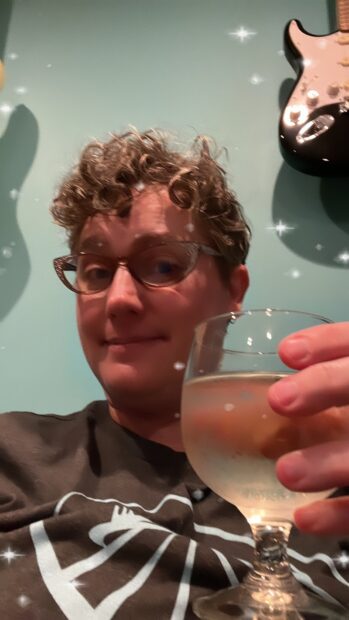 This week led to a lot of drinking on Friday. Amazon added an "AI content" checkbox to the KDP dashboard, and OF COURSE they did not explain HOW the data will be used if you check the box. Authors were speculating all over Facebook. Some were cheering thinking this will be the end of AI content (it won't). Some were angry they have to declare (I understand). Some were happy that maybe this will legitimize the practice (that would be me). Sigh. It's a mess as usual. At this point, I don't have to check anything for my previous books. There was AI assistance in Escape from Shin-Osaka, A Surprise Favor, and the upcoming Tilli's Second Chance, and Amazon says I don't have to declare that. My tools didn't generate content but helped me enhance what I wrote.
But for my upcoming series, I'm doing a lot more work on figuring out how to make the AI generate what I want. You have no idea how many technical manuals I have been reading recently on Temperature, Top K, Top P, Presence Penalty, and etc etc. I know more about LLMs than I ever thought possible. Yes, it's a lot of work and experimentation, but I'm determined to make the AI do what I want with MY ideas. Still, in Amazon's eyes, this will be "Some sections generated with heavy edits." So I will have to check the Yes box on those books.
And I'm saying all of this here, out in the open, because I don't want to hide what I have been doing. There's nothing shameful or wrong with using AI. It's a new tool and we should all learn how to use it. I'm diving really deep so I can teach others. Hopefully other people can respect that even if they don't agree.
That's all for this week! Have a safe and healthy week, everyone. ❤️