The Sunday Post is a weekly meme hosted by Kimba @ Caffeinated Book Reviewer. It's a chance to share news. A post to recap the past week, showcase books and things we have received and share news about what is coming up for the week on our blog.
---
Here we are at the end of August? Have I accomplished all of my goals for August? Not even close. Sigh. I decided to put a lot of my creative writing projects on hold while we are ramping up Future Fiction Academy. I'd love to be able to write more, but not only am I swamped during the day, but I'm also not sleeping well at night. I think I'm entering perimenopause because my hormones feel like they're fluctuating every day. And that's leading to poor sleep. I am seeing my doctor in September though (both the primary care and the gynecologist) so I'm hoping they'll be able to help me.
Still, I have been working a lot. Learning more about AI and writing in general than I ever have! All of it will be applicable when I finally get around to finishing the fantasy romance. I did have a plotting breakthrough for it this past week, though. I had been wondering what to do with Books 2 and 3 in the series, and I figured that out while taking a shower the other day. 10 years as a published author and I still get all my best ideas in the shower. Lol.
This past week was Band Camp! I'm so glad that's done with. It was a lot of driving and hearing about how tired my oldest child was. The youngest got her schedule for school, and after some tears and a few emails to her school counselor, we got a scheduling mishap fixed. This coming week we will be doing school supply shopping. I meant to do it earlier in August, but I've just been swamped.
What have I been reading and watching? Not much on the TV front. We watched a few more episodes of Only Murders in the Building and then we started Invasion on Apple TV+. I finished And Just Like That (Loved it!). I wanted to start rewatching Battlestar Galactica but Peacock took it off their streaming. (BOO!) So I watched Red, White, and Royal Blue on Amazon Prime instead and enjoyed it. For reading, I finished The Love Hypothesis by Ali Hazelwood and LOVED IT. It was fantastic. I tried to read another rom com from an Amazon First Reads and it was terrible within the first 10%. So what did I do? I asked my friends if I would get more of the same from the rest of the series, because that's what I wanted, and they assured me I would. So I bought the next book, Love on the Brain by Ali Hazelwood, and I'm now 50% through it. No complaints from me. I already love it.
Only a few photos this week since I was super busy…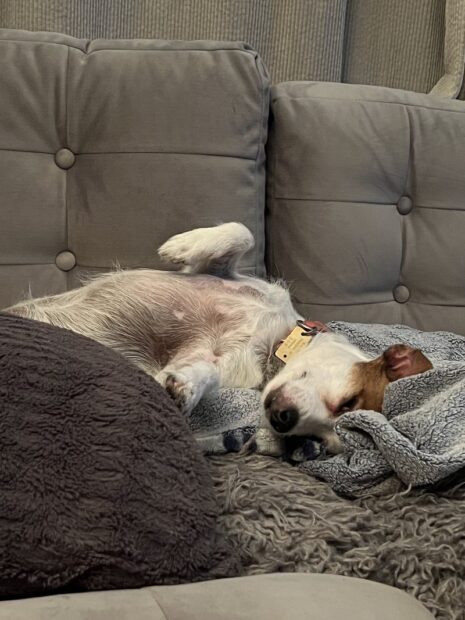 More Lulu since you all love her as much as I do…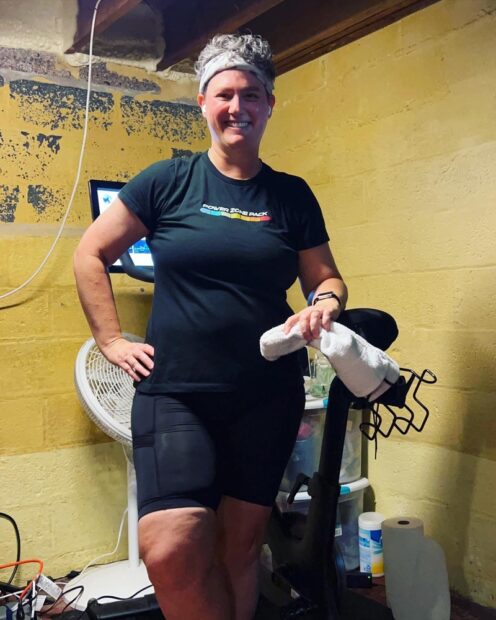 And I posted this photo of me this week. I'm still working out regularly, and I still love my Peloton bike. I may not be the fittest person, and I may have gained weight again, but I'm still working hard at being fit and healthy… except for those Gluten Free Oreos. Yum.
Have a great week everyone! Stay safe and healthy. ❤️