The Sunday Post is a weekly meme hosted by Kimba @ Caffeinated Book Reviewer. It's a chance to share news. A post to recap the past week, showcase books and things we have received and share news about what is coming up for the week on our blog.
---
What a week, people. This was not how I thought my week would go. When I signed off on my last Sunday Update, I did my usual Sunday thing, a nice long walk in the sunshine. I did my brief walk with Lulu and then I went out for the rest of my walk, like usual. When I came home, I was hot, so I sat down in front of the fan to cool down. This was my mistake. Big mistake. As I sat there, my entire lower back locked up and spasmed. Ouch! I thought, That's not good. I should go stretch this out. (I should have stretched right away instead of sitting.) I did go stretch and it really didn't get any better. I showered and stretched more. My family was gone for the day so I just went about my business. I went to bed in some pain but I took ibuprofen. Then I took it again at 4AM. But I woke up on Monday in a bad way. My husband left for work in NYC, and by the time lunch came around I was in 9 out of 10 pain on the pain scale. I could not sit. I could not stand. I couldn't do anything without excruciating pain.
I called my husband home from NYC (he got an Uber because there wasn't a train for a long time) and he took me to the hospital. They determined it was just muscular and I got muscle relaxers, an anti-inflammatory shot, and then eventually tramadol too. I was drugged and finally not feeling pain. I was able to go home with a regimen of meds. Tuesday was still very painful but I took the anti-inflammatories and rested. I didn't take the muscle relaxers until bedtime and didn't need the tramadol again. Wednesday, I could finally hobble around and just take the anti-inflammatories in the morning and ibuprofen at bed. Thursday, finally I was okay, just really sore. I saw my doctor in the morning and he determined it was a shame this happened to me, but he wasn't sure how it could be prevented. If it happens again, we can get imaging done and talk next steps. By Friday, I was able to go for a short walk outside. Saturday, I was on my Peloton with a short, easy ride. I'm feeling almost normal this morning. Still a little sore but okay.
So I didn't get too much done this week. I watched a lot of TV in bed. I did pick up my writing on Wednesday because sitting at the iMac with back support was much easier than sitting on the couch. I published A Surprise Favor on Friday and that went moderately well. It got a few sales and people are already reading it in KU. I didn't make it to my French class on Wednesday, so I paid a little extra to do a 1-on-1 class yesterday with my teacher. That was totally worth it. We breezed through the material together and went over nasal sounds which are hard for English speakers. I missed a few days of Duolingo this week, so I made most of that progress up as soon as I was feeling better.
I joined Mastodon this week. There are times when I miss the microblogging nature of Twitter, but I'm not going back to that hell-hole. You can find me on Mastodon at https://wandering.shop/@spajonas I will update my website with the link sometime soon.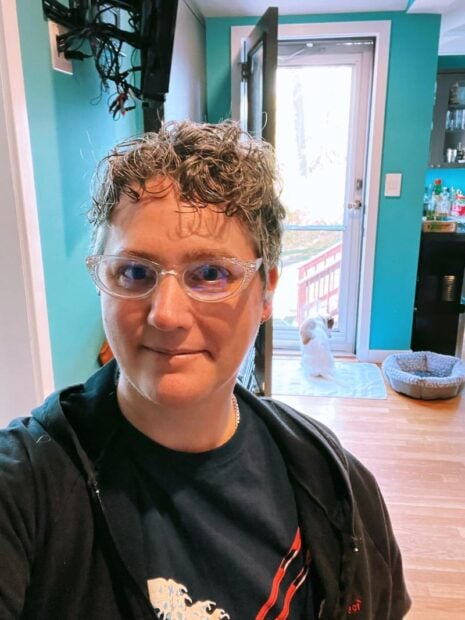 Lulu stuck close by while I recovered from the back injury.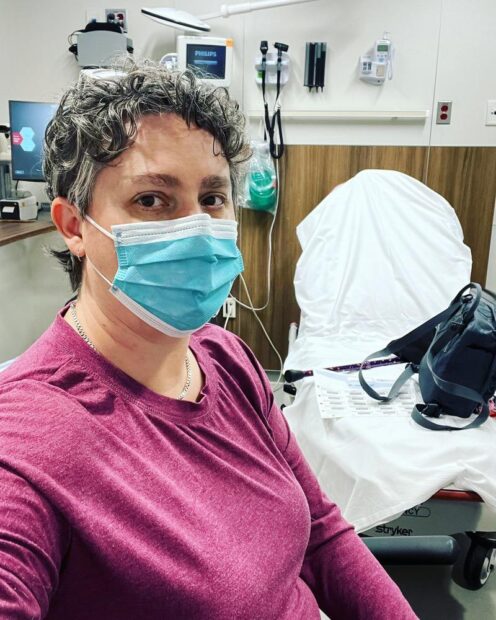 Me, in the hospital, in a lot of pain.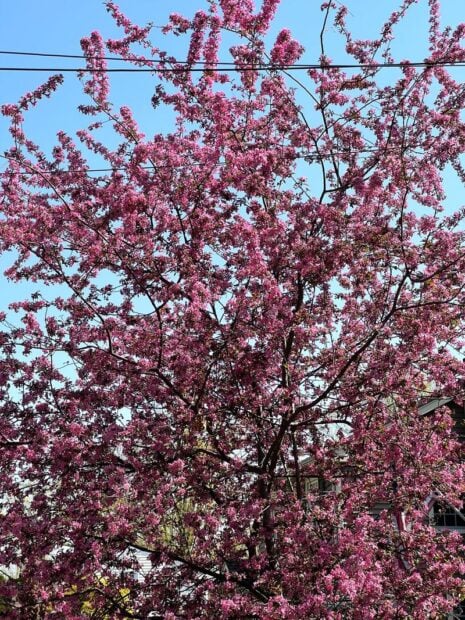 But spring continued outside!!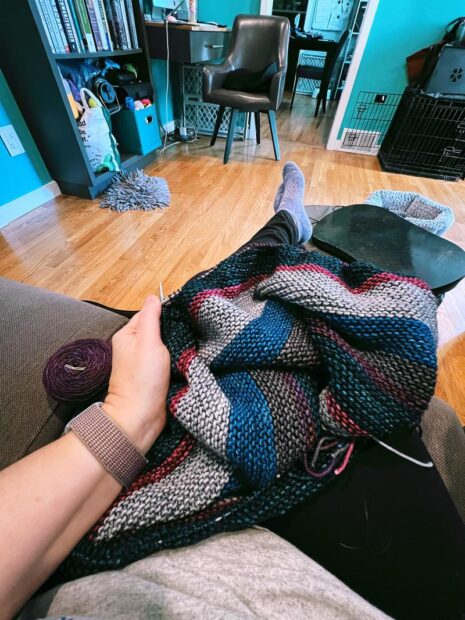 And once I was finally able to relax on the couch without pain, I sat and got some knitting done… which is what I'm about to do after hitting publish on this post!
Have a great week everyone! Stay safe and healthy. ❤️