The Sunday Post is a weekly meme hosted by Kimba @ Caffeinated Book Reviewer. It's a chance to share news. A post to recap the past week, showcase books and things we have received and share news about what is coming up for the week on our blog.
---
We had a busy week here due to my husband being out of town Monday through Thursday. He was off in Seattle, so I had to hold down the fort while he was gone. This meant lots of extra walking for me with Lulu since he usually handles the evening walks. And of course, everything else fell on my shoulders too, including all the driving, cooking, etc. We made it through! And he made it back in time to see my youngest daughter's opening night of Spongebob Squarepants The Musical. They did a great job! And now that's all over too.
In writing life, I finished the edit of A Surprise Favor and now I'm in the proofreading stage that I'm combining with the "create audiobook" stage! Yes, I figured that if I was going to sit and have the computer read the book to me, I might as well make it an AI audiobook too. Two birds, one stone. I should be done with it tomorrow evening! My plan is to then send the ebook to my few ARC readers and my second proofreader, and then have it up for sale direct by Thursday. I would then publish it on Amazon on the 14th.
In other writing news, for the past year I had thought that I might want a change. I'm coming up on my 10 year anniversary as a published author, and I think I need to pivot a little. I thought maybe I would go extreme, start a pen name, and start over. But I don't think I want to do that. I've given it a lot of thought for the past year and I don't think it's the right move. But I do think that I need a change and want to write in a slightly different genre, so I'm working on a fantasy romance idea I have instead. Sci-fi romance and fantasy romance are not all that different in term of genre conventions and audiences, so I think this is a good match for me. Plus, I can still stick with my favorite tropes and themes and not be too off-base. I'm excited about my idea, too! It'll be fun to write. I think I'll get started on it this summer!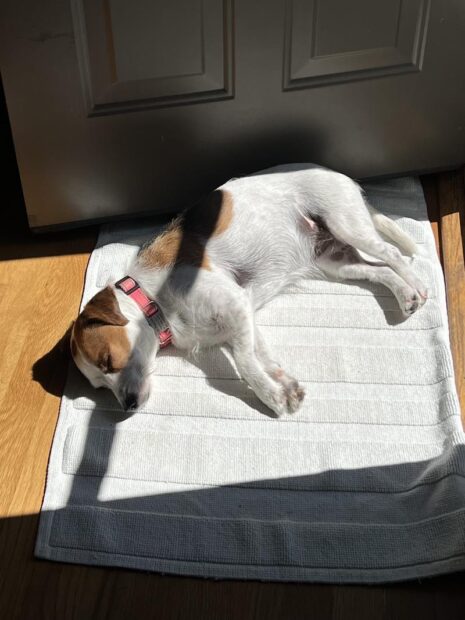 Lots of Lulu this week! She was my constant companion while my husband was out of town. Love the last photo of her being spoiled at daycare with a bed AND a blanket.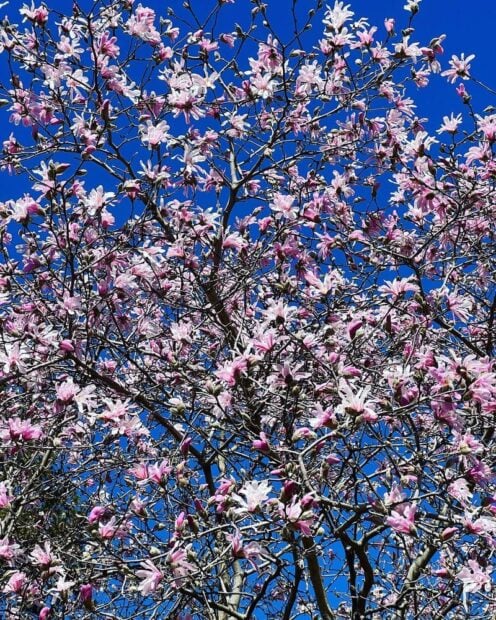 Spring is here!! Everything is starting to bloom.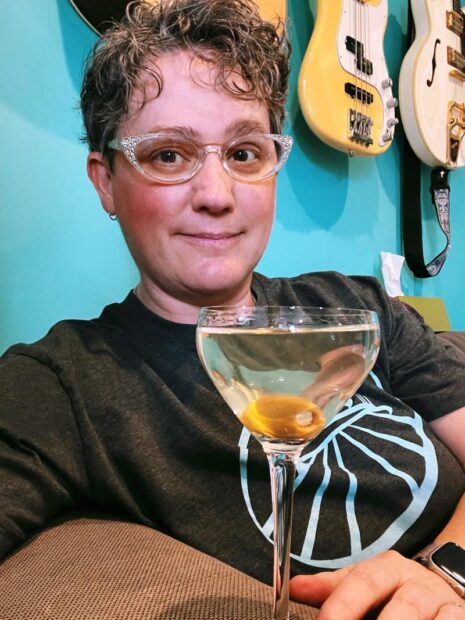 I spend a lot of time on this couch. It's my homebase.
I crossed over the 4K minutes threshold on Peloton this week! Right on track to hit 16K by the end of the year.
My husband made dosas last week. They were soooooo good. Totally nap-inducing.
Spongebob the Musical! That's my child in the center in the pink metallic pants.
Totally random photo. This is not my house. But you know how you live in a neighborhood for a long time and you wonder what the inside of some houses look like? This one is about two blocks away and went on sale a month or so ago. It sold and they put a ton of horrible old furniture out to the curb. Then this week, this pile of hideous carpet was out on the lawn while contractors installed hardwood floors in the place. I had to take a photo! It looks like they murdered Cookie Monster!
Finally, we had a 70ºF day yesterday so I had my afternoon tea on the back deck. Ahhhhh. I love pretty much any season but winter.
Have a great week everyone! Stay safe and healthy.