The Sunday Post is a weekly meme hosted by Kimba @ Caffeinated Book Reviewer. It's a chance to share news. A post to recap the past week, showcase books and things we have received and share news about what is coming up for the week on our blog.
---
It's March already! I swear the years just get shorter and shorter.
Today, we have a family gathering/party to celebrate the life of my uncle who passed away recently. He didn't want a funeral. He wanted a party where everyone would laugh and have fun, so that's what we're doing.
It was a week that seemed to zip on by because we were so busy. We got our first significant snowfall this week! It snowed on Monday night, and we woke up to a few inches of the stuff. My workout for Tuesday was shoveling and taking Lulu for a walk. The kids had a delayed opening for school. Pretty much all the snow is gone now. If that's all the snow we get, that's good by me. It's been a very mild winter this year. I'm happy with that.
The rest of the week was go go go. I had a small freakout moment and got some reassurance from a few friends that I'm doing just fine. My friend Joanna basically said to Keep Calm and Carry On, so I bought a tin sign of that classic British slogan that I can see whenever I'm having freakouts and doubts. There were walks with Lulu, and I took my rest day on Thursday. I'm still pretty tired but at least I'm not EXHAUSTED.
Here's the thing, I cut way back on exercise this year because my body just wasn't adjusting to the efforts I was putting in. 2020, 2021, and 2022 were filled with massive amounts of exercise (for me). Before getting the Peloton, my only real exercise was walking. So I got on a regular exercise program and worked towards becoming stronger and fitter for three years. But at the end of 2022, I had to admit that my body was just not adjusting. I was exhausted, completely wiped, and hurting ALL THE TIME. Like, NO ONE should feel that crappy from exercising. It was really weighing on my mental health to feel that way all the time. So I cut back, and I'm happier for it. I'm still getting a lot of exercise (for me), but I'm not overdoing it. I'm doing 30-min rides instead of 45-min ones. I'm taking a rest day every week. Some days when I'm scheduled to ride, I walk instead because the weather is nice. I like not being in pain all the time. It's nice.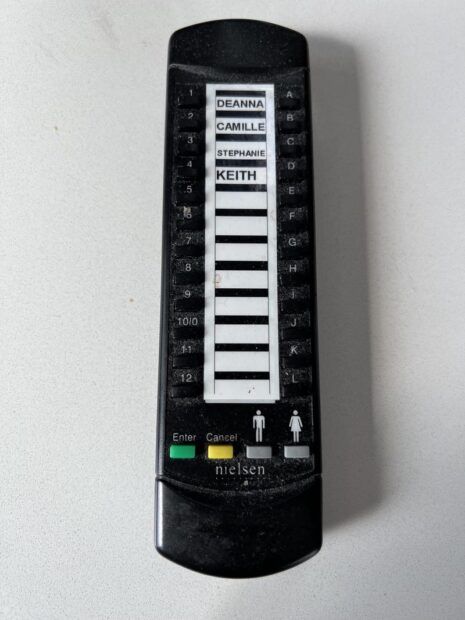 Here's something you didn't know about us! We were a Nielsen family for the last 2.5 years! I wasn't allowed to talk about this but now that the equipment is gone I can.
We were approached by Nielsen out of the blue one day. They showed up on our doorstep with a gift basket and asked us to please let them put their equipment in our home to monitor what we watched. Keith was hesitant but I was excited. I love data, and after years of working at HBO, I knew how important Nielsen ratings were. We said yes.
Installing all the equipment took hours. I remember that day well because we had a bunch of people here getting it done. They explained how it all worked and then took off. Once they were gone, we had to sign in whenever we watched something on our TVs. That bar sitting on the top of the TV (second photo) would show our people-number so we'd always know who was watching. Yes we pressed a lot of buttons over the years.
Now, in the past, I would say to people "I'm not giving that show (or that person) our ratings" and I meant it!! Our home represented something like 10,000 homes. I can only imagine what they thought about us watching Grand Sumo or This Old House. Lol. I was always amazed they wanted us at all.
So this chapter in our life is over but it was cool while it lasted. I will say that Nielsen has a lot of integrity. They really did not influence us in any way. They were neutral and always gathering data about our household, the things we bought, and of course, what we watched on TV. I definitely trust Nielsen ratings after going through this. Now I'm kind of let down that I won't be saying "Hit the Nielsen" anymore to Keith as we sit and watch TV. So long, Nielsen! It was great working with you while it lasted!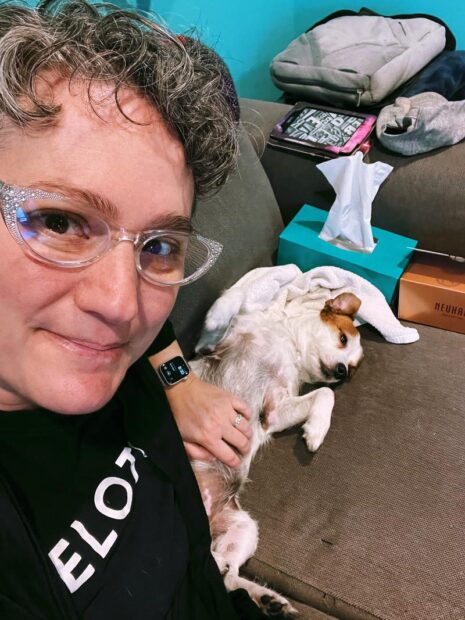 Hanging with Lulu on the couch. I worked on my taxes this week! I certainly needed that martini by Friday. Hoo boy. What a week.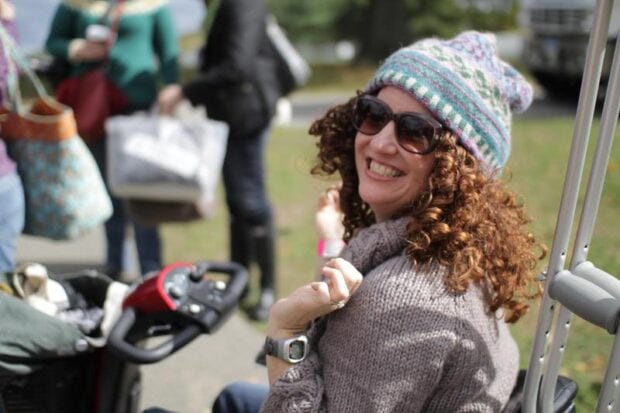 And finally, I'm sad to report that my dear friend Stacey Simpson Duke passed away this week. She was a wife, mom, pastor, knitter, and an all-around wonderful person among many other things to many, many people. She spent the last 5 years at war with Stage 4 leiomyosarcoma. She was strongest person I have ever met. A true warrior in every sense. Please keep her family in your thoughts. We were long-time knitting and blog buddies, and I will miss her.
This is the third person cancer has taken from my life since 2023 began.
If you have a moment, please read this important blog post she wrote many years ago that's still relevant today. Seriously, reading this could save a life someday.
Have a great week everyone! Stay safe and healthy.