I have a whole host of important updates so I'll keep this brief.
All of my books are now in Kindle Unlimited
All of my books are now in Kindle Unlimited which means they are no longer available for sale on other stores. In the end, this was an easy choice for me to make for a few reasons. I made less than 30% of my very small income from stores other than Amazon, and I have to spend a lot on ads to get those sales. Then I have to spend extra time uploading and formatting for those stores, which I no longer want to do. Sometimes these chores would take up multiple days of my time.
Then I found out that Kobo had sent my books to a bunch of their partner stores and never updated them. These small partner stores in Mexico, Canada, etc. never updated covers or prices AND THEN they even had books that I had delisted years ago. Unacceptable. When I put all of my books into Kobo Plus, I thought I would get some money from there, but I never got more than $30 in an entire year because they let people read for the first month for free and they don't pay us for that. So, I'm not sure I will ever sell on Kobo again. I pulled my cozy mysteries from there.
I decided that my efforts would be better spent on focusing on Amazon from here on out. If it doesn't work out, I will make a different choice going forward. But I hope to remain Amazon exclusive for the foreseeable future.
Myra's Big Mistake is now available!
This book was a part of Pets in Space 7, so I'm going to assume that most of you have read it. If not, you can buy it on Amazon now or borrow it in Kindle Unlimited.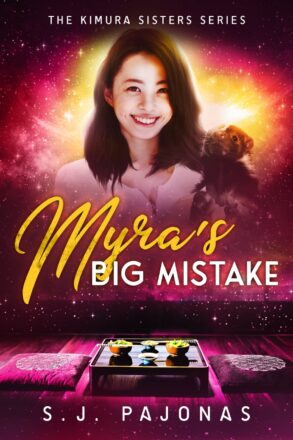 Sets are now available for the Nogiku Series and the Hikoboshi Series!
I have made book sets for both the Nogiku and Hikoboshi Series available on Amazon and Kindle Unlimited. You can find out more about them on their pages on my website.
And that's all the news I have for today! I have a newsletter going out at the end of this week which will have even more details and I will be giving away a different set of books to subscribers. If you haven't subscribed yet, what are you waiting for?