The Sunday Post is a weekly meme hosted by Kimba @ Caffeinated Book Reviewer. It's a chance to share news. A post to recap the past week, showcase books and things we have received and share news about what is coming up for the week on our blog.
---
People, where did this year go? I can't believe it's October! It feels like January was just yesterday. To be honest, I really like October as a month. I like the cooler, crisper weather with intermittent hot days. I like it when the trees change. I like fall sports and pumpkins and apple picking. June and July are favorite months, but October comes in at a close 3rd place.
This week was busy per usual. We had something going on every day!
On Sunday, I took the girls to get haircuts. We are now scheduled to go every 4 months instead of me forgetting about it and them nagging me until I make the appointment. Monday was a day off for them because of Rosh Hashanah but my youngest still had an optional field hockey practice. Then every night had either field hockey or marching band or BOTH.
This was my week off before starting on The Fate of Shin-Osaka (TFSO, for short) tomorrow so I relaxed quite a bit. I was forced to take a day off from exercise though when my previously broken leg swelled up and became painful for two days right around the plate and screws in my fibula. I don't know why exactly but I suspect it was the super intense Peloton ride I did on Monday. Anyway, I put my leg up, iced it, and rested like I was supposed to. It seems to be fine now, thankfully.
I also started on some projects I had been holding off of. I uploaded my AI audiobooks for the Flyght Series to Kobo, as they allow them now. Yay! I need to update those pages on my website today or tomorrow. I also started on AI audiobooks for my cozy mysteries. Those will take a while as the process is tedious, but I will slowly get them done and then move on to more S. J. Pajonas books.
I'm starting to play around more with AI art too. I have access now to both Midjourney and Dall-E, so I'm going in every day and playing around with it. I will share the images here as I go.
Oh! And sleep has been good. I've fallen into a pretty good bedtime routine and the trazodone is now helping since we increased the dose. I'm getting 7 hours of sleep per night with fewer wakeups. I call that a success. But like every time sleep has gotten better, I expect it to get worse again. The next two weeks in my hormone cycle will be the real test. Fingers crossed it goes okay.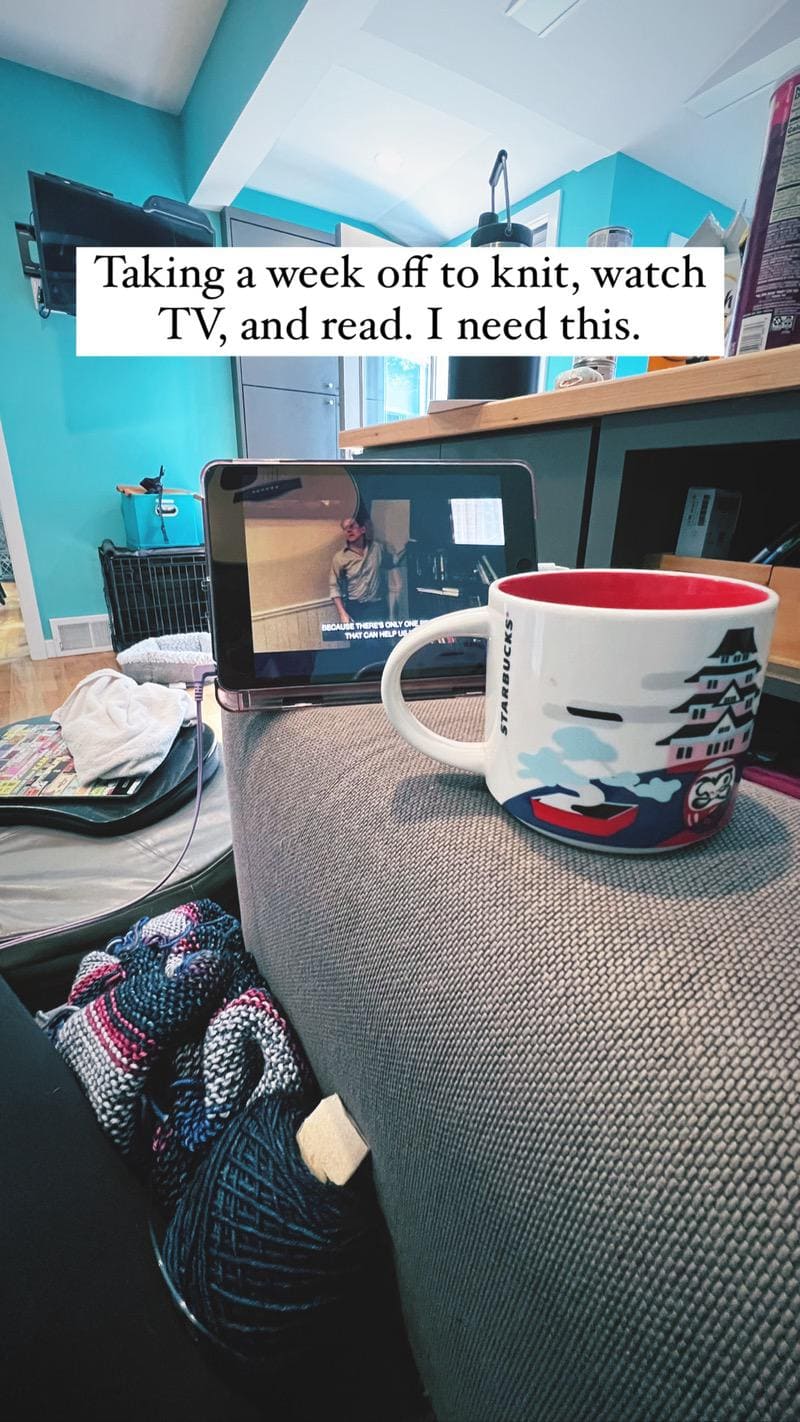 Scenes from the couch. Lol.
The park was looking lovely on Tuesday.
I iced my leg with a bag of edamame for most of the week. I can only hope it doesn't swell up again, but I know that your body is never the same once you put hardware in it.
There's always a system or a method for how I do things because if I don't have a system in place, I forget things. This is why I strongly suspect that I have ADHD and just have learned to deal with it over the years. For example, my eggs. Hard-boiled eggs go to the front and are labeled. Next going backwards are the oldest eggs and newest eggs are always last at the back. My daughter wanted to put the eggs into the carton from my grocery trip and I let her until I realized she doesn't know my system. Lol.
Lulu loves the throw pillows I bought for the couch. She will often nap on them like the Princess and the Pea.
One of my favorite treats is a loaded bowl of ramen. As much as I love Japanese ramen, though, I love Korean ramen even more. Today I took Jin Ramen (mild) and added cauliflower, broccoli, corn, a hard boiled egg, fake surimi crab, and a slice of American cheese. This was so good! And very filling. Now, I can really only do ramen twice a month, but when I do, this is what I go for. Yum. Interestingly enough, this photo and caption got some serious play on Facebook, close to 1000 impressions, which hasn't happened in a long time. People love ramen, apparently!
And finally, here is my first October AI Art Challenge image! The prompt was "Stormy" so I did the following prompt in Midjourney.
a stormy day in a japanese garden. dark clouds. rain. japanese lantern, zen garden. japanese temple. –aspect 9:16 –s 5000 –testp –upbeta
It came out great on the first try! I'm looking forward to playing around with it all each day.
Have a great week everyone! Stay safe and healthy.