Today, I'm excited to share the cover for Myra's Big Mistake, which is a part of the Pets in Space 7 anthology, launching on October 4! We're not far off now from the publication, so I thought it was a good day to share the cover and an exclusive excerpt for you.
This cover will be available with the book when I publish it solo in early 2023. Once again, Najla Qamber from Qamber Designs and Media did an amazing job. I'm so pleased with how this series is shaping up. I can't wait to write Ean's story next.
And without further ado… *plays trumpet terribly*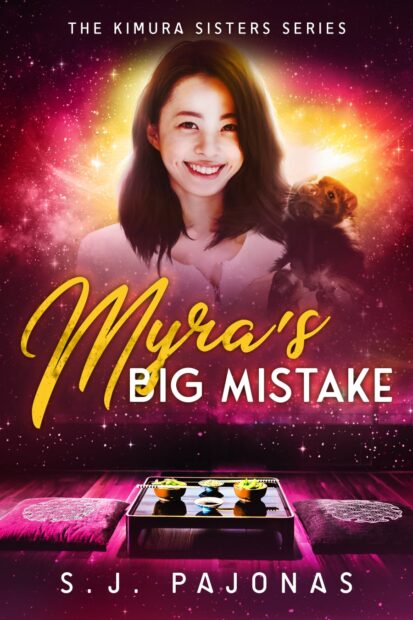 I just love seeing the animals on all these book covers! It's become my mission in life to write more animals into more books. They are so much fun. Here we have Myra and Mochi together and the bottom vignette is from a part of the story that's important — a first date. (But she doesn't know it's a date. Shhh.)
An Exclusive Excerpt…
Suddenly, this meal is more than I expected. It's not Nosuké asking me endless questions about my dad. He's interested in me. He's interested in me?
Does not compute.
"Wait," I say, rewinding through my memories. "I was dating Daren then."
This stops Nosuké. "Yes, you were. In private, right?"
"Yes." I stare down at my meal to cover the embarrassment of being someone's secret love affair. Well, it wasn't anything torrid or anything. No. It was the opposite.
Daren and I dated in secret because he was ashamed of me. I knew it, and I didn't care. This was when I was much more overweight and unhappy, and Daren didn't want to admit to dating someone like me, especially since I was a Kimura sister. He believed my father was ruthless to anyone who dated his daughters. That my father had connections that could ruin him. It was a familiar whispering among the boys at school. We were all way off-limits.
"And you knew?"
"Daren and I were friends for a while back then. We're not anymore."
I think I understand the implications here, but…
"Why?"
"Because no one should ever hide you away, Myra."
The hair on my arms rises up.
Wait. Nosuké didn't ask me here to discuss my father. He has an ulterior motive, and I'm scared to admit that it may be me. The flowers and the wagashi — I thought they were just items to butter me up. No. Those gifts now have romantic undertones I didn't see the first time. He was flirting with me the other night with the comments about how nice I would look in a ball gown and that my baking was bound to be delicious.
I don't believe it. Why me?
Because no one has ever pursued me before. Ever.
I glance across the table at him, his crisp shirt, cleanly shaven face, and perfect hair. Ruby will kill me if this is real. Is it real? Or am I reading everything wrong?
His eyes are soft on me, and the set of his shoulders is confident. I don't think I'm reading anything wrong here. I can't even believe I'm thinking this, but Nosuké Maeda likes me. Mochi was right.
"Myra?" he prompts, breaking into my thoughts. I shake my head and come back to the present. "Tell me all about your family. I have a feeling we'll all be very close soon enough."
This dinner is not what I thought it was…
It's something even better.
Don't Forget to Pre-order!
10% of pre-orders and the first month's sales will be donated to Hero Dogs, so please consider buying early so that we can gift this wonderful charity a big check.
I'll be back next week with the Astrology of Myra's Big Mistake!