I'm excited to announce that I am once again a part of the annual Pets in Space® anthology. I'm so honored to have been chosen, and I'm in great company this year too. In case you don't remember, Pets in Space® is a charity focused anthology that pairs science fiction romance with pets and the Hero Dogs organization that provides support dogs to vets. It's a fantastic organization and it's always wonderful to know that our hard work goes to people who need it. 10% of all pre-orders and the first month of sales will be donated to Hero Dogs, so I would love it if you pre-ordered today!
The Pets in Space® 7 authors are: S.E. Smith, R.J. Blain, Grace Goodwin, Skye MacKinnon, Carol Van Natta, Honey Phillips, Carysa Locke, S. J. Pajonas, JC Hay, Kyndra Hatch, Leslie Chase, Winnie Winkle, and Candace Colt.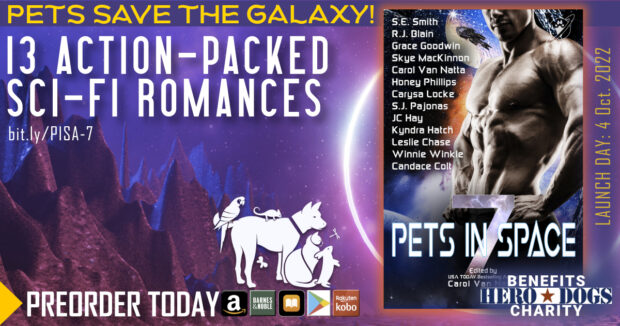 I am continuing with my tradition of including a Kimura Sisters Series book to this anthology! Myra's Big Mistake follows second daughter Myra Kimura as she works at the local izakaya with her sidekick pair, Mochi the skunk. It's at a local festival that she runs into her best friend's ex-boyfriend, and a spark is lit! But that's a complicated situation, not just because he's an ex of her best friend but also because he's a big shot casino owner and his family is "connected." Yes, that kind of connected.
This book was so much fun to write and it really cemented my desire to write about all the women (and the brother) in the Kimura family. I hope you'll be along for the ride!
Coming up soon, I'll also reveal the cover for the individual book (for when it's released from Pets in Space 7) and give you a chance to meet Mochi and the other animals in this anthology. Stay Tuned!
Here's the blurb for Myra's Big Mistake!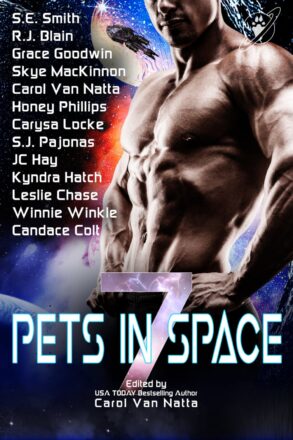 She's burdened by a lifetime of disappointment. He's been her secret admirer for years. Will a roll of the dice lead to a cosmic courtship?
Myra Kimura thinks she's hit a dead end. Failing the entrance exams for the Interstellar Agency and feeling unattractive, the perpetually single twenty-something believes no one will ever want her. And the only two good things she has are her bestie and a genetically engineered skunk companion… until a handsome millionaire asks for her help.
Casino tycoon Nosuké Maeda has almost everything. Patiently waiting to make a move on the one who's always had his eye, he's not happy when her mayor father threatens to shut down his plans for a new gambling house. But he's quick to offer the beautiful, unassuming woman a deal: If she works with him to win over her dad, he'll use his money for her heart's desire.
As Myra tries to keep her distance from the businessman who once dated her friend, her resolve crumbles under his charming attentions. And though Nosuké chips away at her walls, getting his way could be speeding them closer to an unhappily ever after ending.
Will this mismatched couple beat the odds to find love in the stars?
Myra's Big Mistake is the engaging second book in The Kimura Sisters science fiction romance series. If you like three-dimensional characters, adorably unusual pets, and a planetful of fun, then you'll adore S. J. Pajonas's outer-space romp.
Find all the purchase links right here on my website! I'd love for you to pick up this book now and support this great anthology and charity. Available October 4, 2022.