The Sunday Post is a weekly meme hosted by Kimba @ Caffeinated Book Reviewer. It's a chance to share news. A post to recap the past week, showcase books and things we have received and share news about what is coming up for the week on our blog.
---
I meant to update the blog this past week with a TV or Book Chat, but it was so hectic around here that I just didn't get to it.
My husband was away for most of the week, first at the beach house, then home for one night, and then off to D.C. for a work thing. So I was handling everything on my own. This is usually fine. I don't have a problem running the house when he's not here. My kids are older and I can usually rely on some friends and neighbors to help with car pooling. But this week, I just wasn't sleeping well. (Not a big surprise there for you all, I'm sure.) The lack of sleep and my frustration around my writing made me feel pretty low for a bit.
So, when I'm a little low, I like to organize things! This week, I cleaned out the junk drawer and organized it. I cleaned out the desk where our family computer is and made a spot to always put my purse. Then I also cleaned out the spot in our kitchen where we just dumped things like old mail and pens that didn't work. I also stored away the winter bed duvet and unpacked some boxes in the basement. Ahhh, it felt great to get those things done.
And, the good news is that my I figured out my writing conundrum. I thought I had written myself into a corner in the previous book, but it turns out I hadn't! And I had been vague enough that it is ultimately to my advantage. Then finally had an acceptable night's sleep, meaning I slept for around 6 hours. I'm doing much better now.
Today will be hectic. My oldest daughter has to cook something for her French project with her project partner at our house. The youngest has a birthday party. And then we have to attend a meeting this afternoon for my oldest daughter's trip to Italy next month. I'm going to try not to stress, but I have a lot to do.
Another tree gone on a neighbor's front lawn. :( But this one had been hacked to pieces over the years because it was dying around a bunch of electrical wires. I'm sure the town will plant another tree there. They did with us.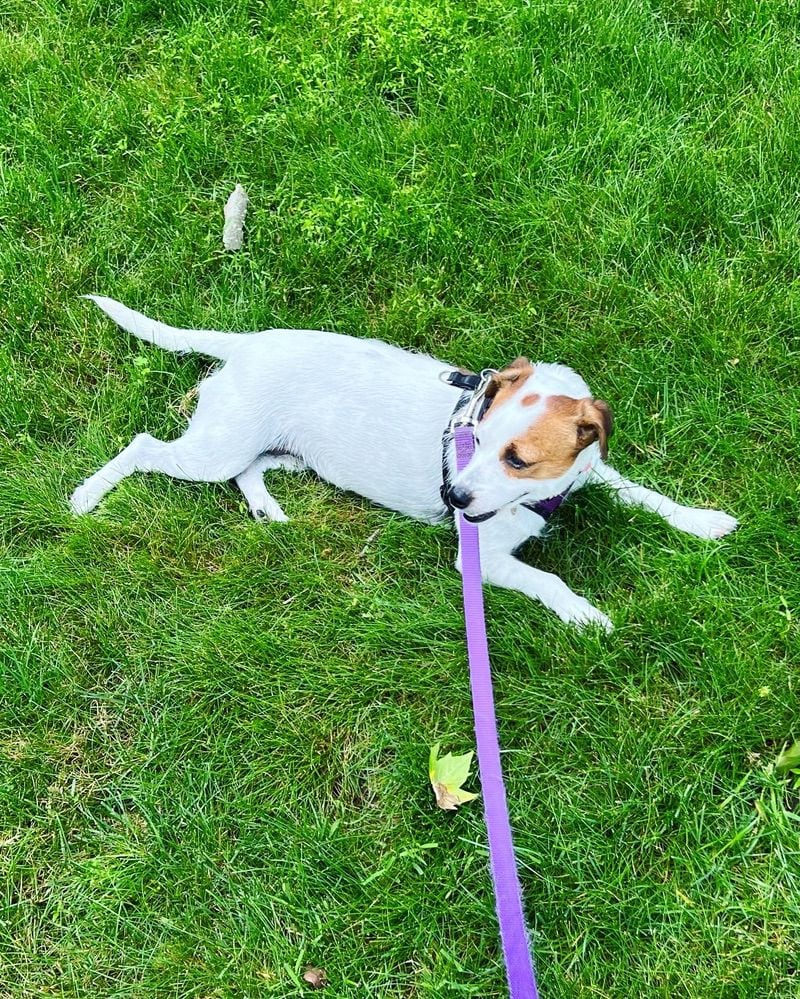 Some Lulu photos! Cooling off on our walk on someone's front lawn. Getting her morning scratchies and belly rubs. Sometimes she likes to lie down and stare at her treat (*shrugs*). And running the front desk at daycare like a boss.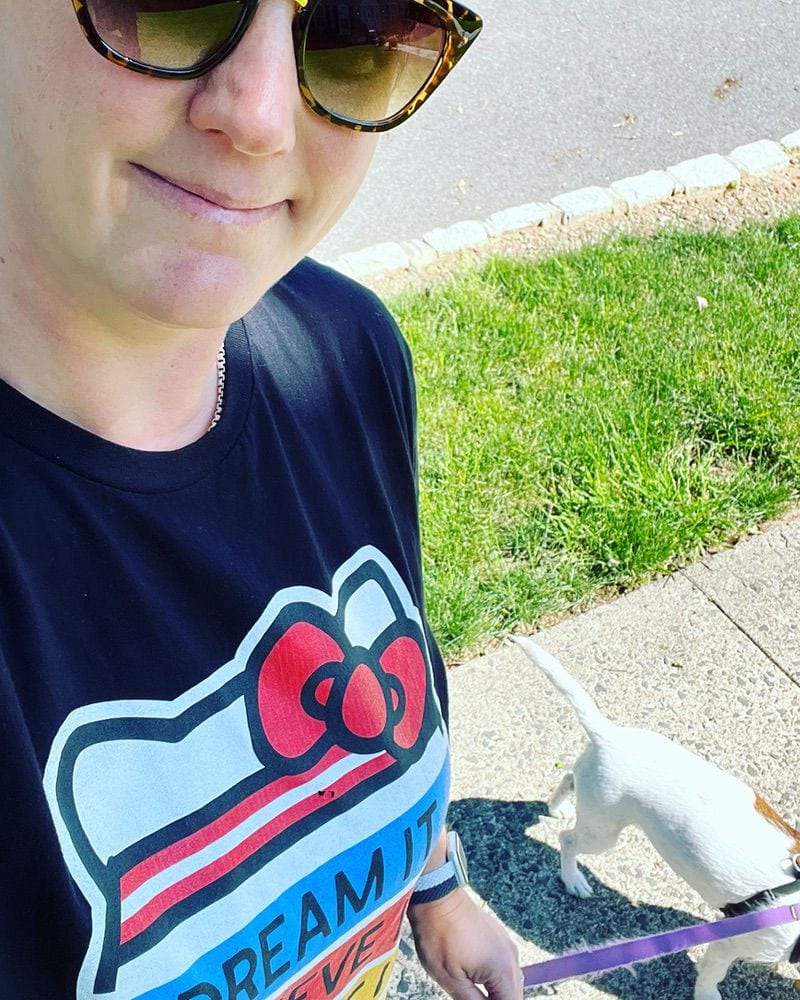 Out on a walk and I saw this gorgeous rose. I love spring and summer!
I finally figured out what "Dog Mode" is in my Tesla. I admit that there's a lot I still don't know about this car, but I drive it fine without knowing everything. Dog Mode is an always-on mode for the climate controls to keep a dog safe if you have to run into a store. The screen says, "My driver will be back soon. Don't worry. The a/c is on and set to 74ºF." Pretty neat feature. Of course, you can use this too if you need to leave another capable human in the car, like an older kid or another adult.
Since I finished both Grey's Anatomy and the last season of Call the Midwife, I have moved onto some Star Wars I missed and I'm watching Bad Batch during my lunch breaks. I'm really enjoying it so far!
Yesterday, we ate so much food at our Indian lunch that we couldn't even eat dinner!!
And finally, we had some nice weather this week, so I enjoyed it on the deck with a glass of wine and my kindle.
Have a great week everyone! Stay safe and healthy.