I have a present for you this Friday! If you didn't purchase Summon the Stars while it was on sale, and you want to start the Amagi Series for free, then you can pick up An Unforgiving Desert right now for zero dollars, euros, whatever.
My anthology partner, Carysa Locke, and I decided to pull Summon the Stars from sale early so that everyone could get their stories back and publish them. And that means you can have an adventure with Skylar and Kalvin now, and I've made it as free as possible. Some international Amazon stores haven't made it free yet, and if that affects you, please download the book direct.
Please, lovely readers, if you have read this one already, please consider leaving a review on Amazon or your store of choice. I can't buy ads for this book until it gets a few reviews and I would love to get downloads happening soon so the rest of the series can find readers too. (This will be on Goodreads soon as well. I'm getting that information done now.)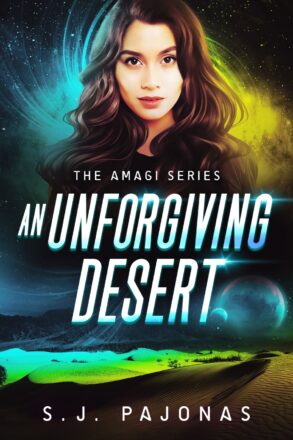 A ship hijacked. An arrogant and handsome classmate. A relentless desert.
Skylar Kawabata is so close to having her Class Three pilot's license, she can taste it. She's worked two years in isolation to get to the final exam, and nothing is going to stop her now, not even Kalvin, the class pretty boy high flyer who can't stop calling her Princess. She's going to kill him if he calls her that one more time…
When their class ship is hijacked during the final exam, and Skylar and Kalvin are marooned in the desert, they'll need more than patience and a supply of water to stay alive until rescue comes. 
Will Skylar and Kalvin make it out of the unforgiving desert in one piece? Or will they kill each other before the desert kills them? 
An Unforgiving Desert is the prequel novella to The Amagi science fiction romance series. If you like talented heroines, cocky, self-assured men, and a hot desert gamble, then you'll devour S. J. Pajonas's gutsy action-adventure. Be sure to read An Unexpected Debt after!