Lots of good news this week! A Fortunate Accident, the second book of the Amagi Series, is now available for sale.
I really enjoyed working on this book. It gave me a lot of room to explore a few things about this series that I've been thinking about a lot — a dysfunctional family and relationship network, Skylar's past and insecurities, and Rio, of course. Rio is my baby of the whole series. Lol. You may think that the characters are my focus, but I do a lot of daydreaming about this crazy planet and the creatures that inhabit it. It's been fun to write about them again.
I won't be working on the next Amagi Series book until late summer, so enjoy this one! Hopefully it'll keep you satisfied until the next book is written and released.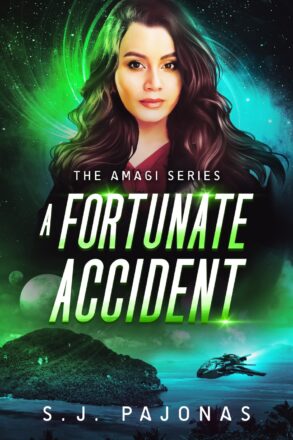 An impending lawsuit. A dangerous job. A love from her past…
Life is starting to make sense for Skylar Kawabata. She can finally see a path forward with her ship, her crew, her family, and her new suitors. Walking that path, though, is the hard part.
Skylar's mother is threatening to sue her for the ownership of the Amagi, and it leaves Skylar teetering on the edge of a cliff. She must get all her evidence in order and keep her mother's consort from harassing her crew or worse. Funds are tight, so it's a blessing she's been offered a new job in the jungles of Rio. It will be lucrative… only if she can arrive there in one piece.
When her previous flame, Kalvin, shows up out of the blue, the tenuous balance in her network disintegrates. Kalvin is a high-flying rogue pilot and his presence, while exciting, throws a wrench in Skylar's carefully crafted plans. And now that they're in the jungle together, she'll need to figure out how Kalvin will fit into her life. Will he brave both the terrifying creatures of Rio and Skylar's broken past, or will he disappear just like he did when they first met?
The pressure of holding everything together is too great, and when Skylar cracks, her confidence in her own memories is at stake. Can she hold her new job and network together long enough to fight for the Amagi? Or will she lose everything she has, including her life, to the jungles of Rio?
A Fortunate Accident is the second book in The Amagi science fiction romance series. If you like capable heroines, insanely hot men, and thrilling world-building, then you'll go crazy for S. J. Pajonas's daring action-adventure.
Purchase A Fortunate Accident Today!
I hope you enjoy this book in the Amagi Series! More to come in the future!