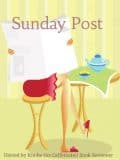 The Sunday Post is a weekly meme hosted by Kimba @ Caffeinated Book Reviewer. It's a chance to share news. A post to recap the past week, showcase books and things we have received and share news about what is coming up for the week on our blog.


---
What a week! It feels like every week around here is crazy, but I think this last week was a little less crazy than the previous one, thankfully.
First off, I need to congratulate myself on publishing another book. This year saw 4 books by me published, and that's amazing considering I was thinking of quitting. (But what else is new, right?) I published THE RISE OF SHIROI NAMI and AN UNEXPECTED DEBT, and then AN UNFORGIVING DESERT is in the SUMMON THE STARS anthology, and SURI'S SURE THING is in PETS IN SPACE 6. I know many authors who publish a book a month, so this may not seem like a lot, but to me, it is. I'm aiming to publish 3 books next year (maybe 4 again) because this is a sustainable pace for me, if I don't overwork myself.
Last Sunday was Halloween and the last day my kids are allowed to stay out past 9pm until the spring. Lol. I have had it with the late nights. I find I'm in a much better mood if I can turn out the lights before 10:30 (10pm is ideal), so my kid being out until midnight was really making me cranky and giving me chronic head congestion from lack of sleep. I'm glad that's all over for a while!
Most of this week went as planned. Monday was a chill day even though we were all sleep deprived.
Tuesday was Election Day, so the kids had a half day. I got groceries and our CSA veggies and fruit and lamented that we're almost at the end of CSA season.
Wednesday was cleaning ladies day plus I had to pick up cheesecakes from a fundraiser and get them to the people who bought them.
My kids had Thursday and Friday off of school for a statewide teachers' conference. Thursday was a chill day at home. Nothing too much happened.
Friday was a super busy day. We got in the car early in the morning, dropped Lulu off at daycare, and then drove down the shore to Cape May to look at houses! No, we're not moving. But we are looking for an investment property/summer home. We met up with our real estate agent down there and saw 6-7 houses, all in a row, from 11am to 1:30pm. Whew! It was quite the tour of town and we got to see all the neighborhoods down there. We did find a house and property that we really like that's only two blocks from the bayside beach, so we'll see what happens when we bid on it. As usual with all real estate, I don't get my hopes up until closing. But I'm already thinking about watching home improvement videos on YouTube and wondering how it will all impact my writing schedule next year if I'm also renovating a house. We shall see! We didn't get home until close to 6pm (with Lulu). But it was a good day and we saw a lot.
Saturday!! Saturday was a big day! Because my youngest daughter who is 11 got her first round of the COVID vaccine! I'm so happy for her. She was so excited and the experience was great. She barely felt it and today she's fine. We'll see how she feels in the evening since it hasn't been 24 hours yet. Fingers crossed she has no side effects.
Today, my husband is off fishing so I will be walking Lulu, catching up on a Peloton ride, and getting work done that I didn't do on Friday because we were gone all day. Usually I don't work on Sundays but I have to make an exception this week. It's all right. I'm excited to write later!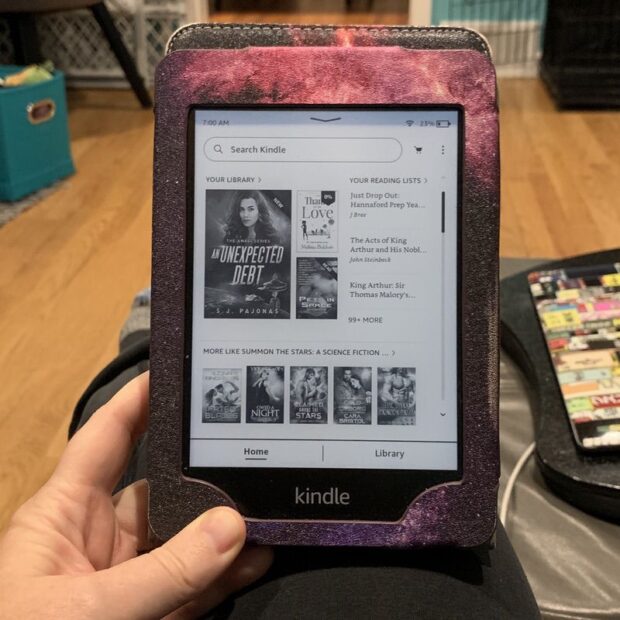 Yay! AN UNEXPECTED DEBT on my Kindle!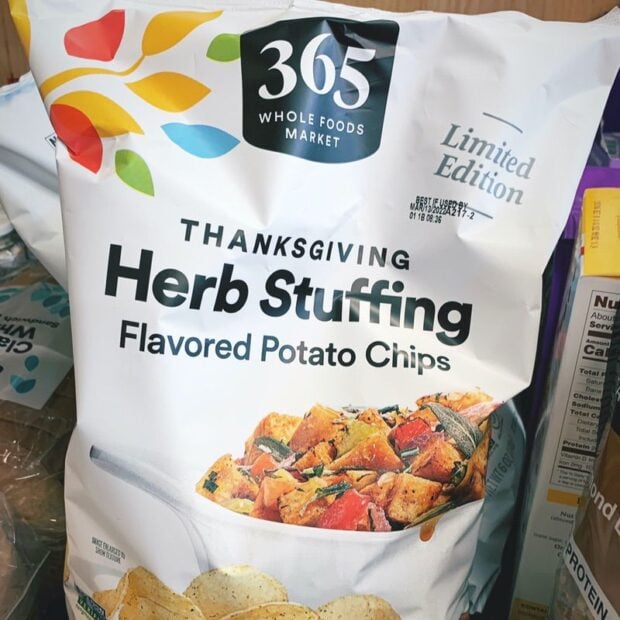 I took a chance on these potato chips and they are tasty! Maybe a bit too salty but that stops me from eating too many, so win-win.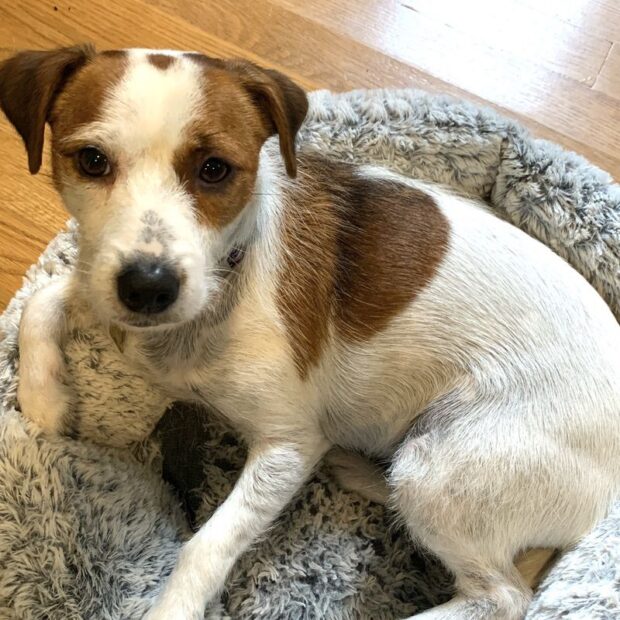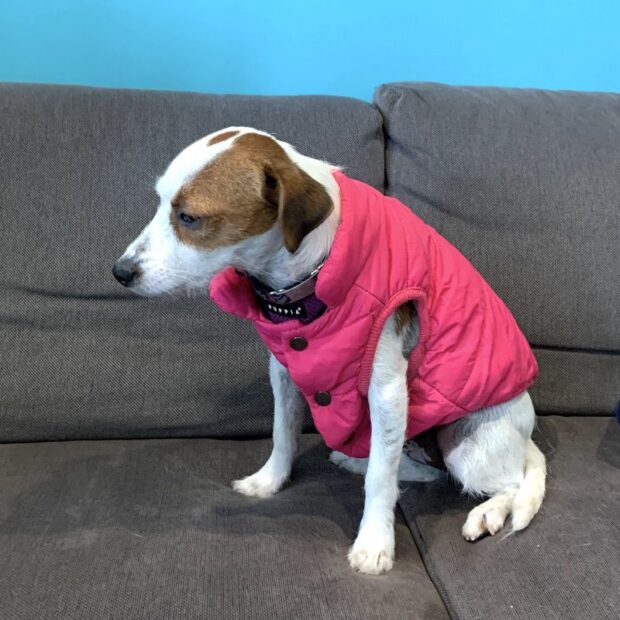 Lulu loves to be in bed! And she despises The Coat.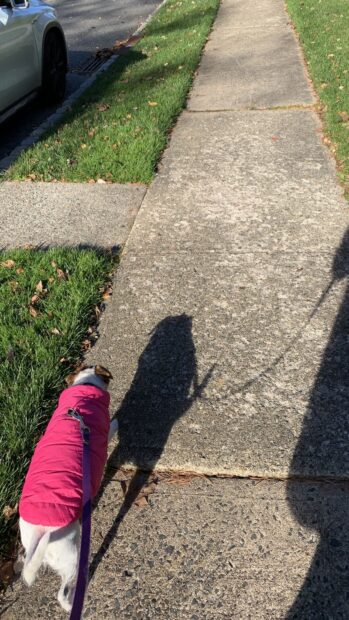 But still, I get her to walk outside with it on.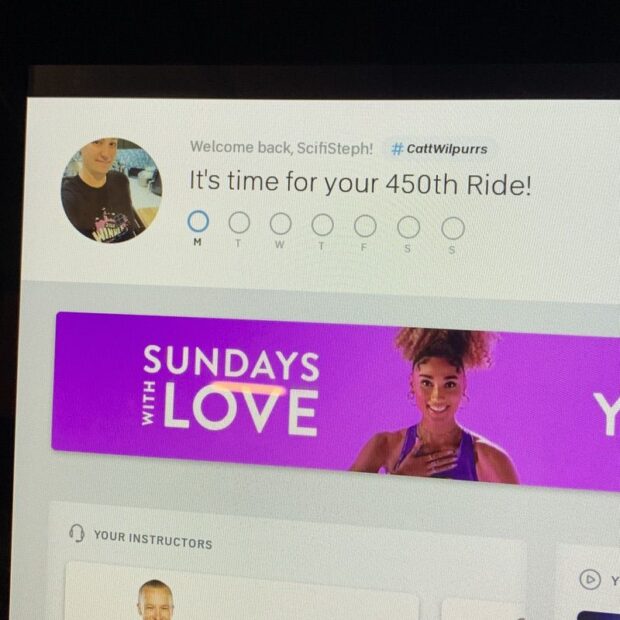 I had my 450th ride on Peloton this week!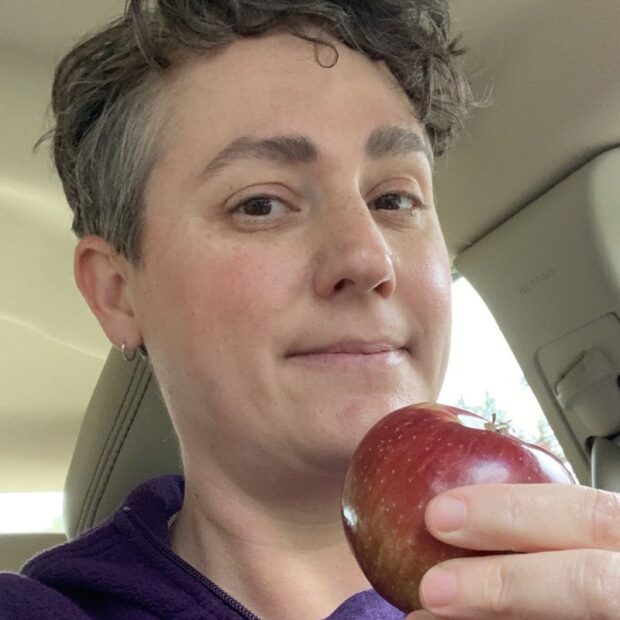 My tradition is to always eat an apple on the way home from picking up the CSA veggies and fruit.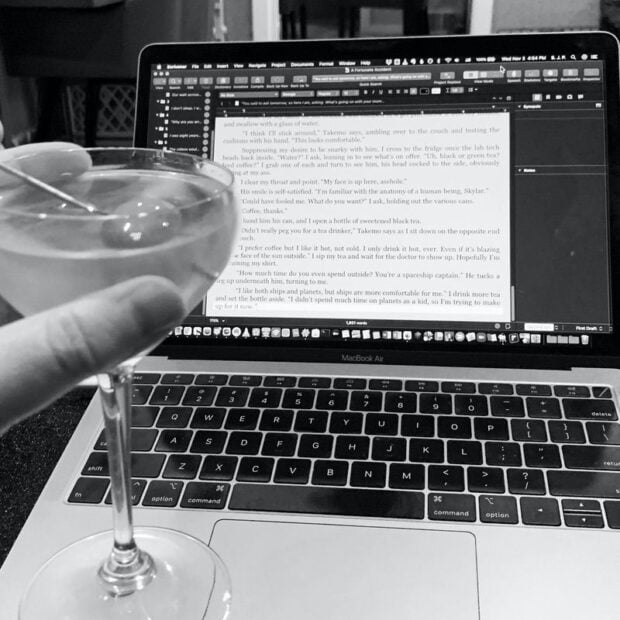 Will this martini help me write a scene between Skylar and Takemo? Let's see…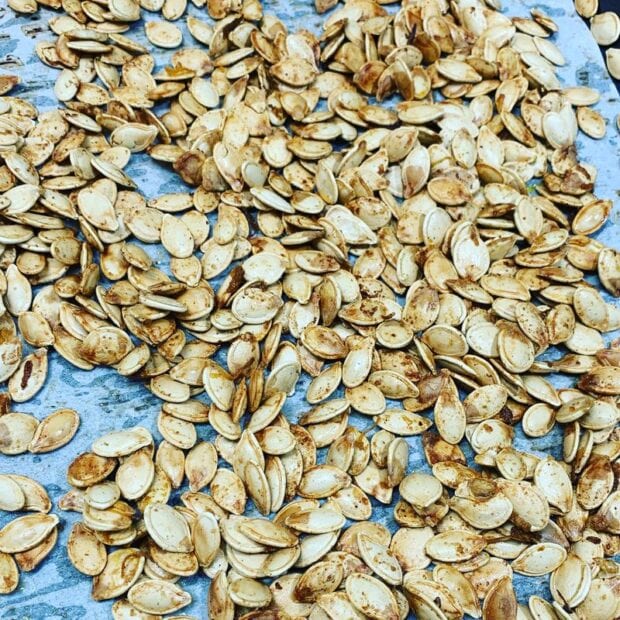 I made roasted pumpkin seeds after the kids carved their pumpkins on Halloween Eve. I ate them all within a few days.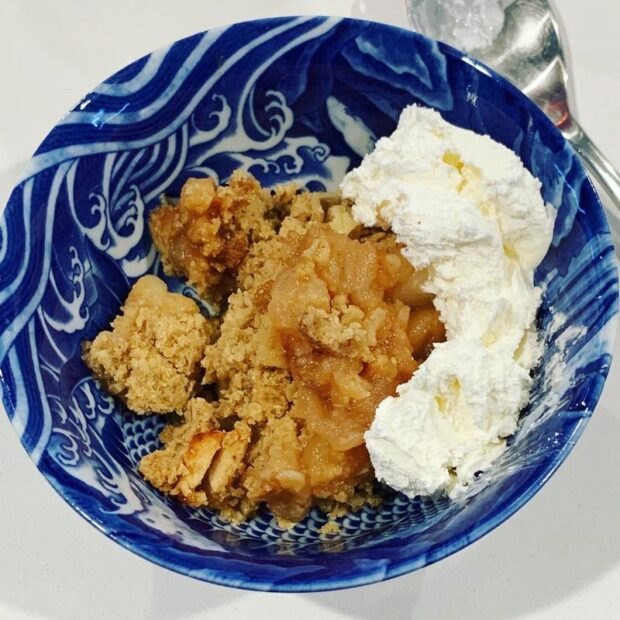 I made gluten free apple crisp and it's so good! Yay! I'm so glad I was able to make this happen so my husband can have some as well.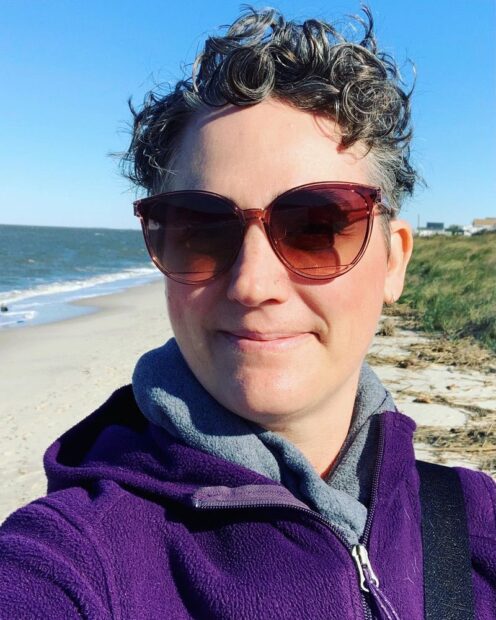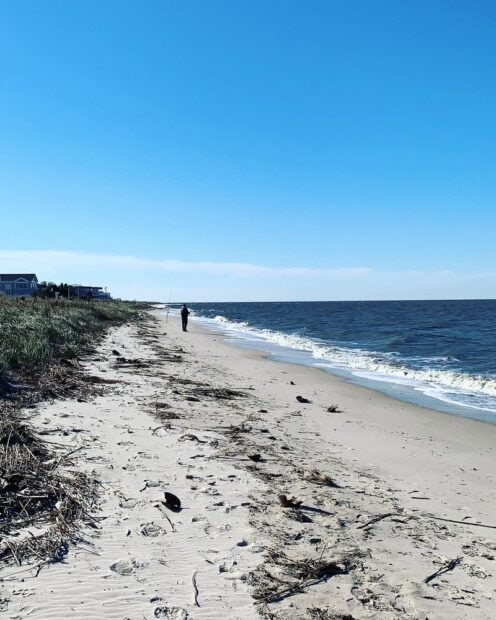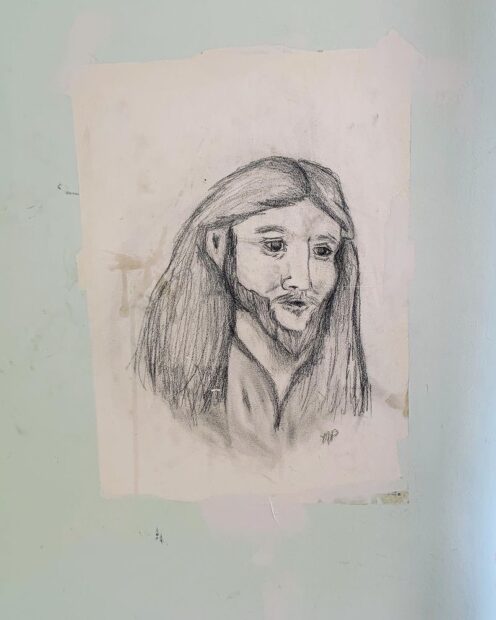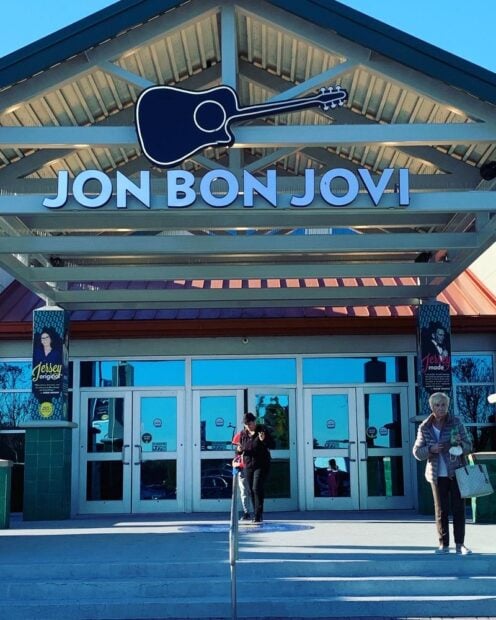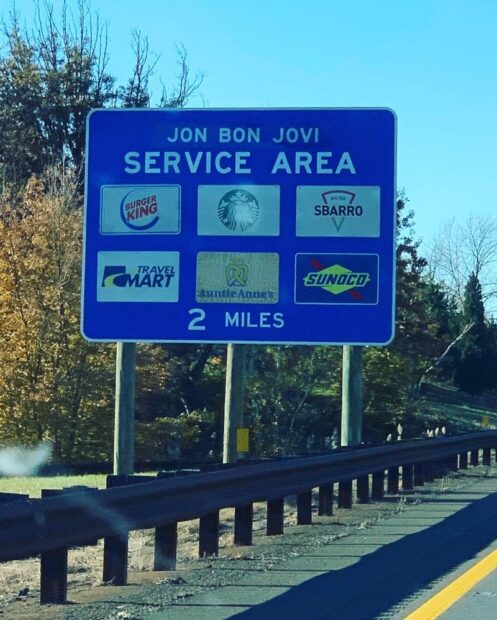 Scenes from our trip down the shore. The first two photos were taken on the bayside beach not far from the first house we saw. Then we came upon this pencil drawing in one of the houses we looked at. On the way home, I treated myself to a Choco Taco to celebrate the launch of AN UNEXPECTED DEBT. And yes, Jon Bon Jovi now has a rest area named after him, complete with his music playing constantly.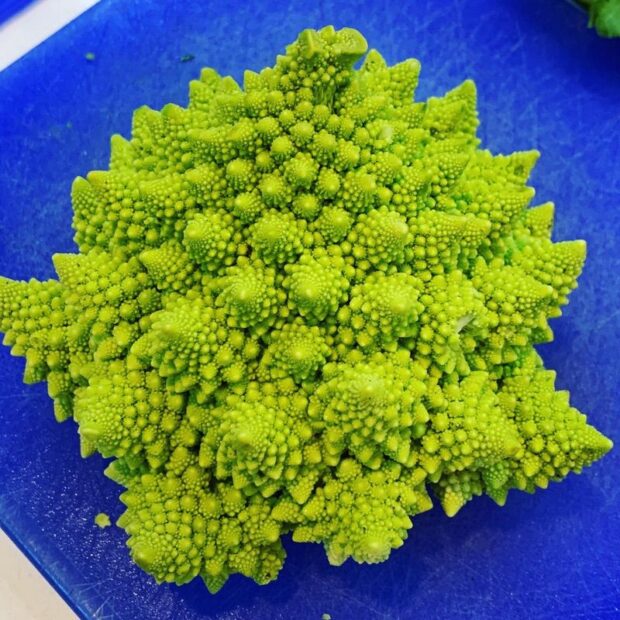 And finally, I steamed a bunch of vegetables for freezing including this cool Romanesco cauliflower we got from the CSA. I love these things. They're so interesting to look at.
Have a great week everyone! Stay safe and healthy.