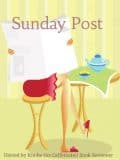 The Sunday Post is a weekly meme hosted by Kimba @ Caffeinated Book Reviewer. It's a chance to share news. A post to recap the past week, showcase books and things we have received and share news about what is coming up for the week on our blog.


---
Rough week around here. Ugh. And next week isn't looking any better. (This post explains why I didn't update the blog this week.)
After the alarm snafu last Sunday, I was worried that the lack of sleep would carry through and cause problems all week, and it did. Tuesday evening, I felt head congestion coming on, and I woke up on Wednesday morning with my head filled with cotton. I felt like absolute crap, so I took a rest/sick day, and it was probably the worst day ever to take a day off. My husband was so swamped with work, he couldn't help out. I still had to get in the car and drive everywhere, and by the time dinner rolled around, my husband was a wreck, the house was in upheaval, and the kids were a mess.
I woke up Thursday feeling exactly the same, but I couldn't take the day off after what happened the previous day. Finally, the head congestion was gone by mid-afternoon and I felt almost normal again.
Then Friday evening it came back. I had 24 hours without head congestion. This is not sinus congestion. I am breathing fine through my nose. It's head and ear congestion. So annoying. I could barely hear anything, and it just makes me feel awful.
Saturday was the town marching band competition, and everyone was to volunteer to help at it. I signed my husband and myself up for traffic control from 5-7pm. It was the dinner hour, but I figured we'd be a little more lax about eating and go out to eat after. I wasn't feeling my best due to the head congestion, but we went anyway. It was fine and a little fun, and by the time we were done, my congestion had mostly cleared up. We were stationed at our town pool, which is just up the road from the high school. All the empty school buses were being parked there, so we made sure they were in the right place. And then we used the radios to call for the school golf carts to come pick up people and take them to the event. I hope the event went well and the school raised money!
Afterward, my husband and I went out to dinner, came home to Lulu, watched some Squid Game, and then it was time to get both kids home. The youngest was at a friend's house watching movies. I got her at 10pm. Then the oldest didn't make it home until after midnight, which we were unhappy about. Her curfew for these things is midnight, and we were exhausted. My husband sent me to sleep around 11:30 and he stayed up to wait for her return at 12:30. Then the youngest woke us up at 1:45am, anxious and crying because she couldn't sleep. Then she lets me know that the field hockey scrimmage she has today was actually at 8am and NOT 8pm!! I double checked my email in the middle of the night and realized the coach didn't specify morning or night, so then I barely slept from 2am to 6am because I was wondering if I had to bring her to field hockey early. It was at 8am, and she's there now as I type this.
So basically, the one day that I get to catch up on sleep per week has been screwed now two weeks in a row. I got 5 hours of broken sleep last night. And today, there's too much going on for me to nap and try to catch up. There's another field hockey game in the afternoon. The oldest is going to the movies with her friends so I have to walk Lulu twice today. And then we have a conference call with someone at 4:30pm (I'll explain later).
If the head congestion comes back this week and I'm in a terrible mood, we'll all know why. I want to update the blog this week with my thoughts on DUNE (loved it!) and the last book I listened to, so I hope I can pull myself together to do both. Plus, I have a ton of other work that needs to be done.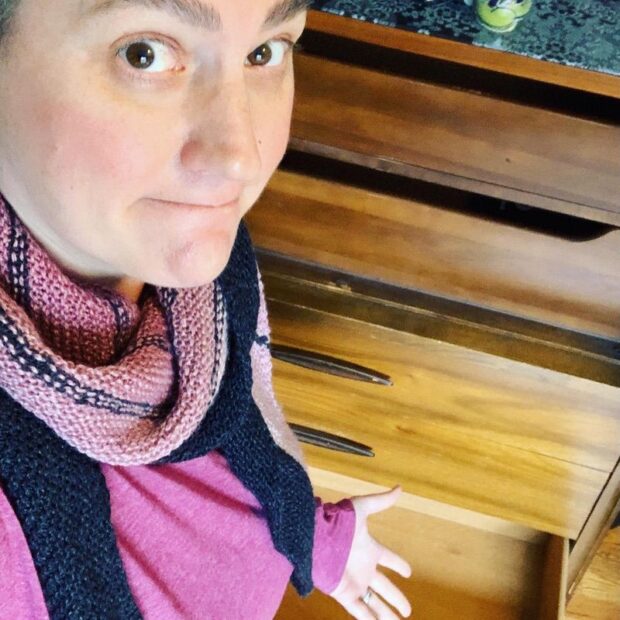 I switched over my clothes and now I have a small capsule wardrobe. 8 shirts, 8 sweater/sweatshirts, 4 black pants, 4 jeans, and then 2 nicer pants for special occasions. That's about it.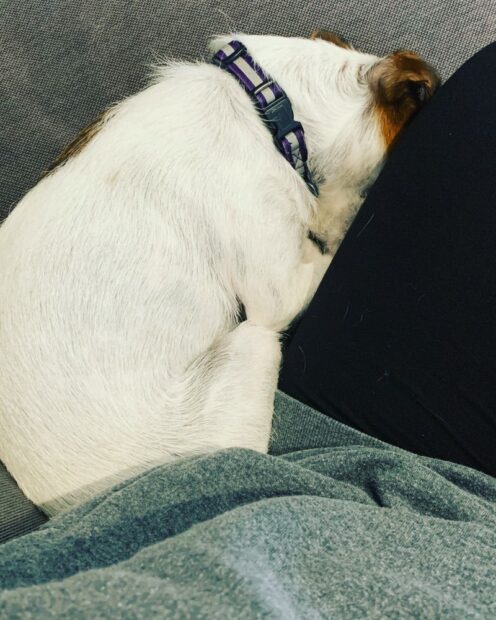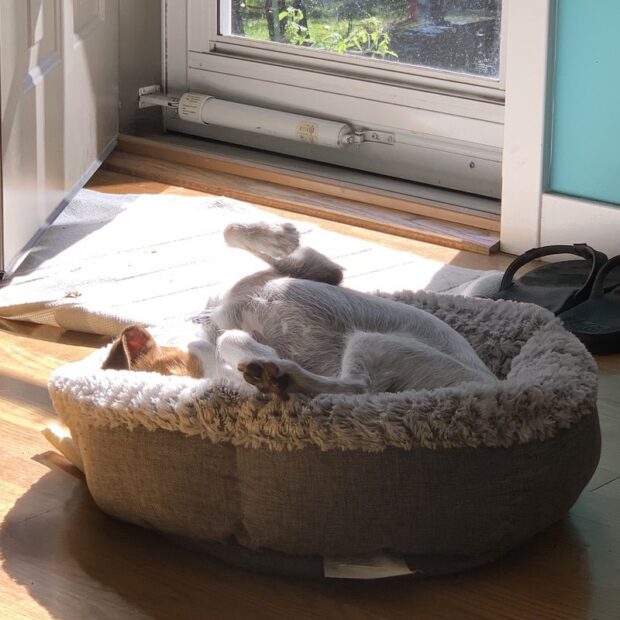 Lulu sleeping… next to me and in her bed.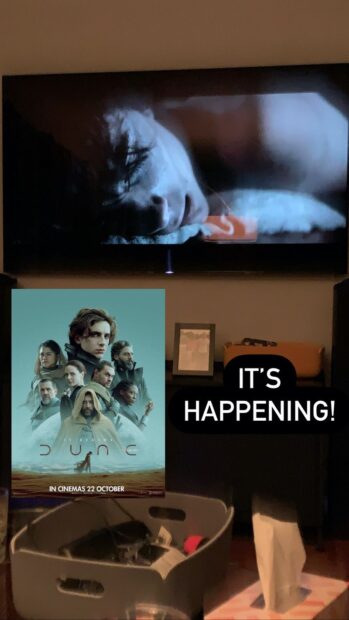 We watched DUNE on Thursday night! I loved it!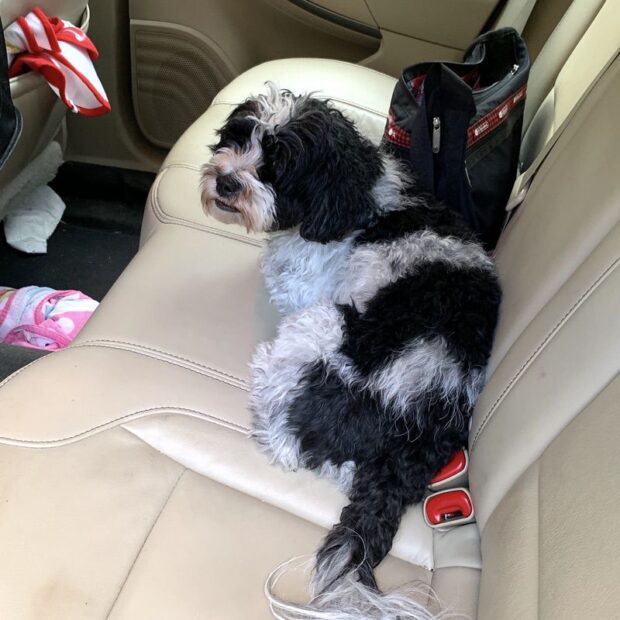 This is Cookie. She performed a jailbreak from her yard and ran up to my car as I was heading down my street. I reunited her with her family about ten minutes later.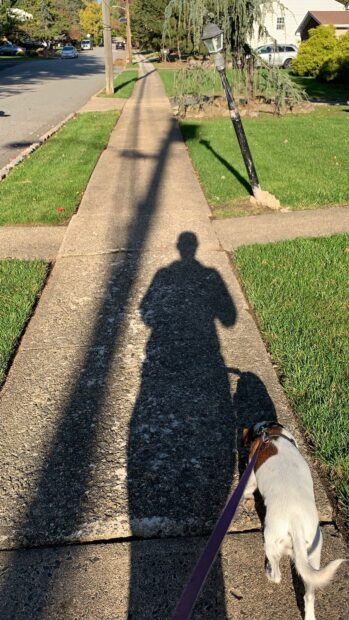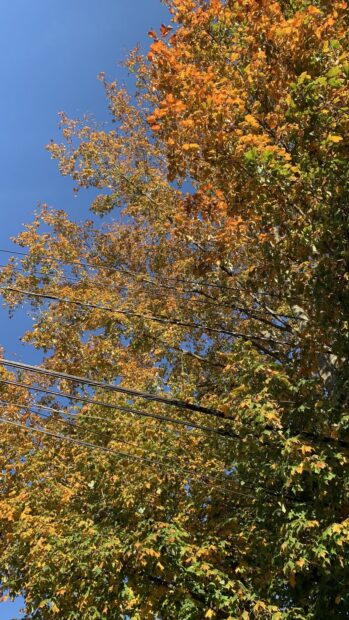 The shadows are long and the leaves are changing.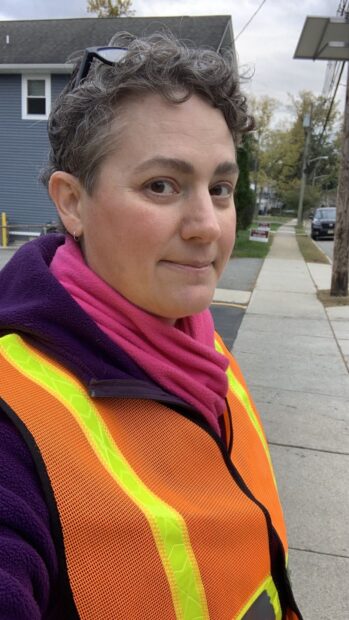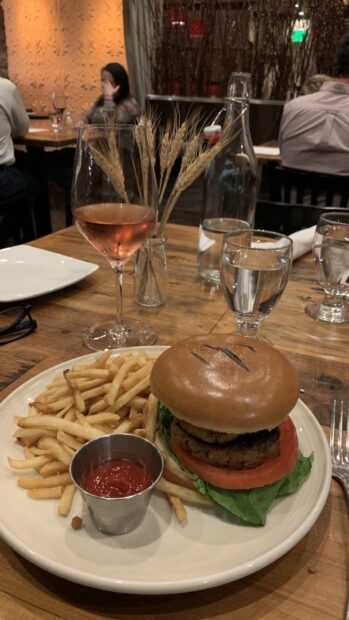 And finally, wearing my snazzy vest while directing traffic at the marching band event, and then dinner out. I had the crab cake burger with fries and a glass of rosé.
Have a great week everyone! Stay safe and healthy.