Approximately 8 years ago today, I became a published author with the release of REMOVED, the first book of the Nogiku Series. I remember it being quite the ride. Even though I had prepped for months, I still managed to screw up the paperback and I wasn't ready for the deluge of tasks ahead of me. Still, I got it done! And my first few years of being an author were full of excitement and promise of a prosperous career to come.
And I have prospered in a lot of ways. I gained a lot of good friends and readers along the way. I've learned about drafting, crafting, and revising stories and I've become a better storyteller. After trying three genres, I figured out where I love to write the best. I've now published over 25 books, and I'm super proud of them all.
But there have been many downs too. I have struggled with decisions about going wide with my books instead of using Kindle Unlimited. I opened a direct store, closed it, and opened a new one. I had a traditional newsletter and then killed it. I have gone to battle against Amazon's stupid rules and been kicked off Pinterest for "spamming." I've lost thousands of dollars in ads. I have never "made a living" at this. Most months STILL, 8 years and 25+ books in, I don't even make $100. The last anniversary post I wrote was 3 years ago, and nothing much has changed since then. (Feel free to read it, but it is brutally honest.)
As I come into the last 2 years before I hit a decade in publishing, I'm going to change a few things about my career and how I want to move forward. Starting today, I'm moving into a hybrid model of publishing that's part sales-income from my newer books, audiobooks, and paperbacks, and part donations. After 8 years, I have realized that I do this because I love writing books and I want people to read them. This is not so much a career but a super passionate hobby, and I want more people reading! So I will be shifting my oldest backlist to free books with a suggested donation. Expect this change to happen before Christmas.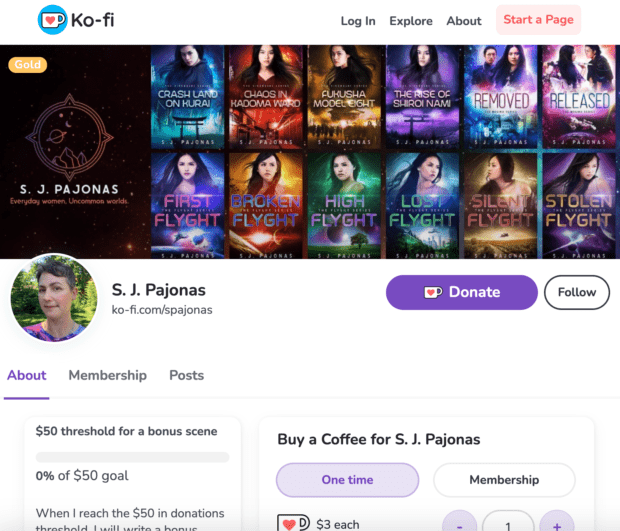 Introducing Ko-Fi!
Instead of using Patreon, I have decided to use Ko-Fi to manage my donations and membership tiers. They're a little more flexible and they don't take fees from customers. Right now, there are only two tiers of membership, Red and Orange levels, plus you can just buy me a cup of coffee. I plan to add more tiers as time goes on, and I also plan to do more bonus content there. I am setting aside ideas all the time for it! If you'd like to buy me a coffee or become a donation member head on over and check it out.
Learning to be flexible
When it comes to being an independent author, you have to be flexible. You need to watch the market and make long-term decisions. You need to diversify and be consistent. You need to market and advertise and understand that things that work for one author do not always work for other authors. I have tried a million things over the last 8 years to make this career work, and this donation system is something I've wanted to try for a long time. This gives me the chance find more readers with my free books and gives them more freedom to support me, if they like. I hope you'll join me on this new path!