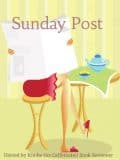 The Sunday Post is a weekly meme hosted by Kimba @ Caffeinated Book Reviewer. It's a chance to share news. A post to recap the past week, showcase books and things we have received and share news about what is coming up for the week on our blog.


---
This was a killer week, people. I wasn't sure I was going to make it to the weekend. We all managed to survive but it was crazy.
Last Sunday, we decided to check out a local open house for a hike we always admired. It was only two blocks over, in the same general neighborhood. We loved it and thought HEY we should bid on this place. So we called our agent and she got on it right away.
Monday, I had to take the kids after school for their first Covid-times well-checkup. It was stressful with lots of tears over shots and bloodwork (finger prick). Then my youngest's urine came back with proteins in it. So I was told to collect a fresh one in the morning and drive it over right away within an hour. Great. Then that evening, the youngest had softball practice then a game. The game was soooo cold and wet and long. It was absolutely miserable for everyone.
Tuesday, I got the pee sample over to the doctor, came home, and walked the dog. Then I showered and we met our agent at the house for another walk through. Yep. We wanted to bid on it. Great! She then came over to see our disaster of a house (just in case she needed to put it on the market) and we made plans to bid. Then I went and got a follow up second ultrasound to the first mammogram and ultrasound I got the week before. Everything is fine! Thankfully. Then I came home and we moved out our old couch and prepared for the delivery of the new one. In the evening, we had another softball game to go to.
Wednesday, we got the house cleaned and both my husband and I got our second Moderna Covid vaccinations. We had a fairly chill day otherwise. Not too bad. It got really cold midweek though and that was just annoying for all of us. We're done with winter!
Thursday, I was waiting for those side effects to kick in and nothing happened! My husband was not so lucky though. He was so tired. Then he developed a massive headache and nausea. He went to bed at 6:30pm and slept all the way to the next morning!
We got the bid in on the house by 3pm and by 8pm we knew we didn't get it. We bid way over asking price but the house went for even more than that. We're second on the list. I suppose the first bid could fall through but we won't count on it.
It was still brick cold on Thursday and there was supposed to be another away softball game. Thankfully it was canceled! Yay! A silver lining.
We made it to Friday alive. Telling the kids we lost the house wasn't fun. One cried. The other was accepting. But then we had a good day with better weather. Plus, I published THE RISE OF SHIROI NAMI! Which I had completely forgotten about several times during the week. I'm just glad I remembered in time to set everything up online. In the evening, I got to see my friends on Zoom after a few glasses of much-needed wine. Lol.
Through it all, I wrote! My story is really coming together now and I love it. I downloaded a pomodoro app for my computer and I'm writing in 15 min sprints. It seems to be just enough time to get my words down. If I do 4-6 of them a day, I get plenty written. Yay! I can't wait to write this week.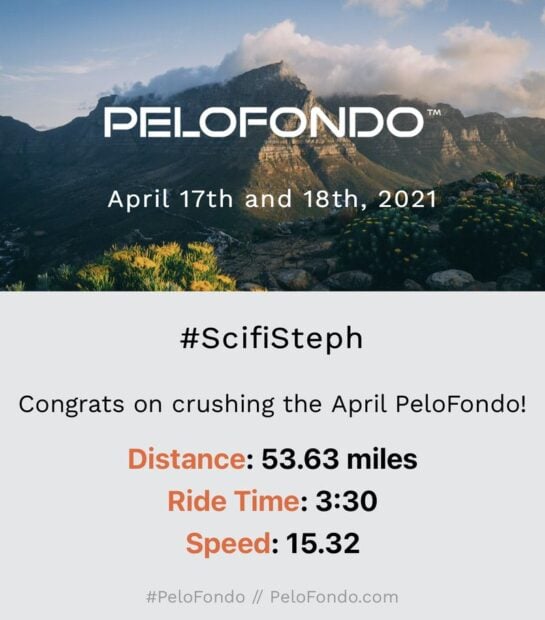 Finished Pelofondo last weekend! Hoo boy, was that brutal but fun. I'm glad I did it, and I'll probably do it again!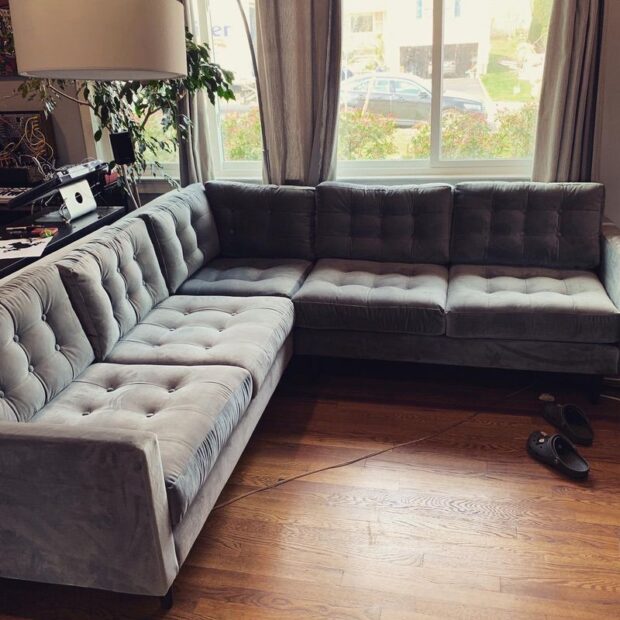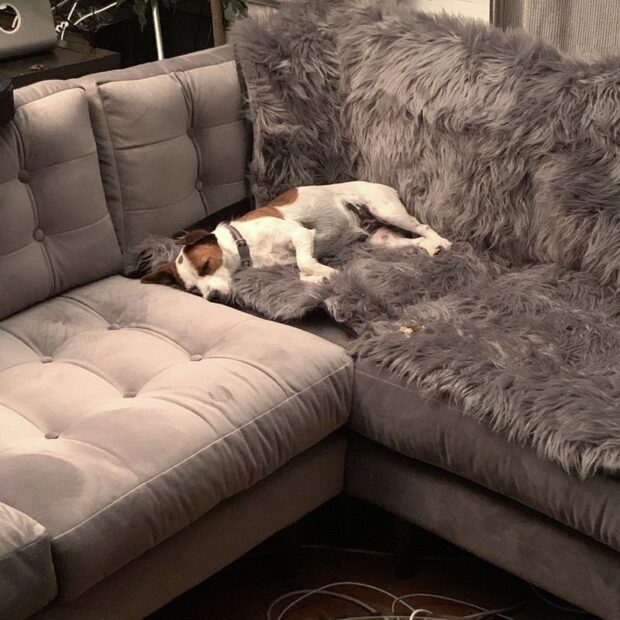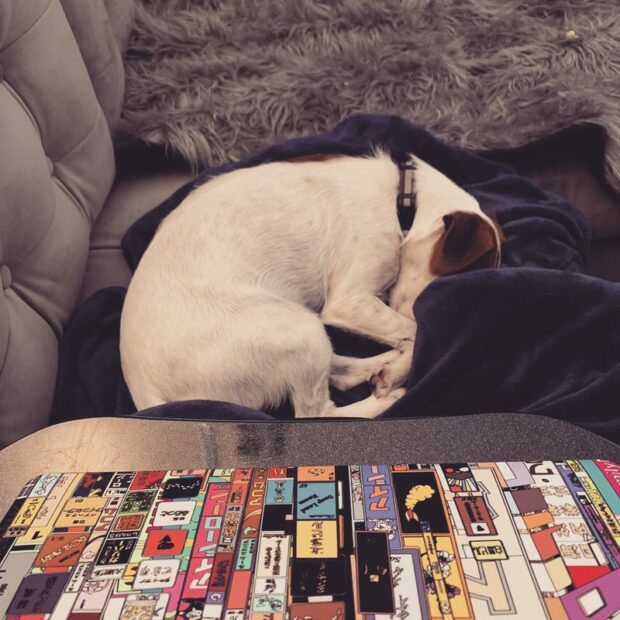 New couch is here! We got this from Joybird and we love it. So does Lulu, obviously…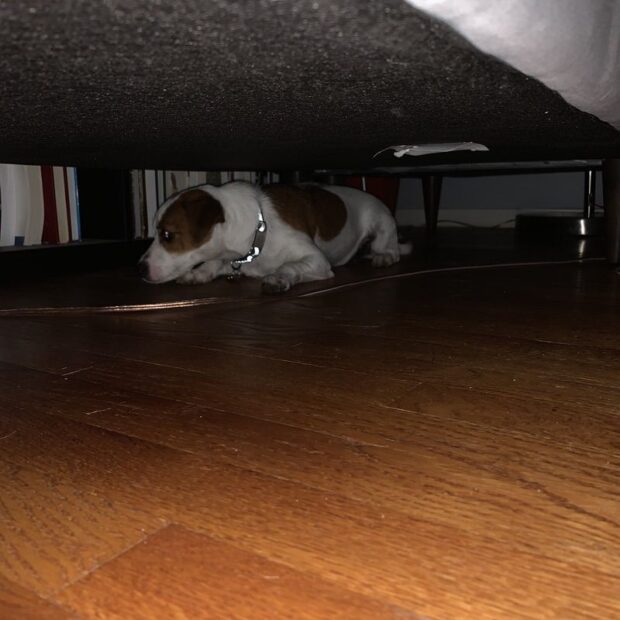 But the new couch did throw her for a loop the first day. She was all, "Do you sit under it???"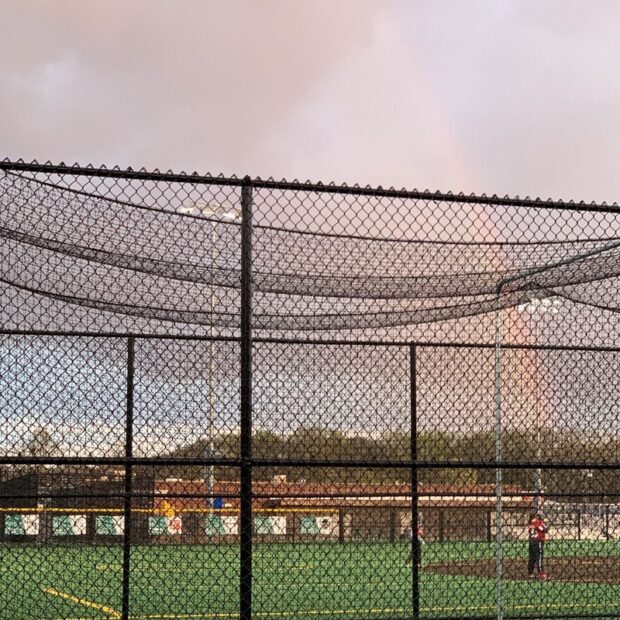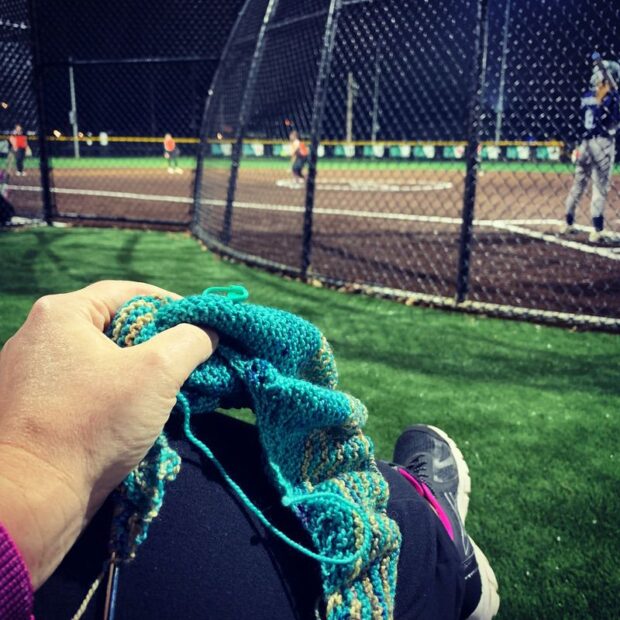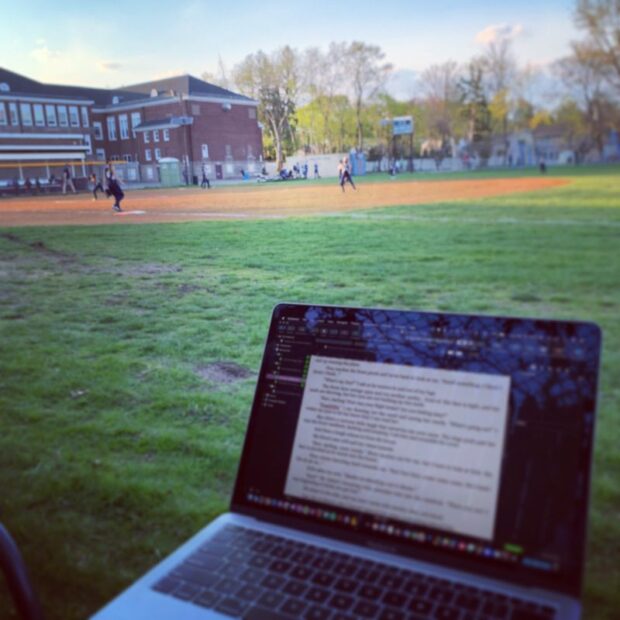 Rainbows, knitting, and writing at softball games.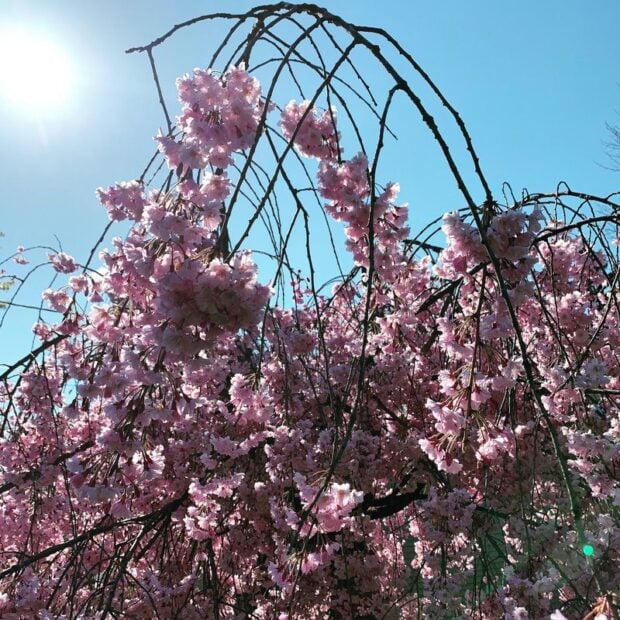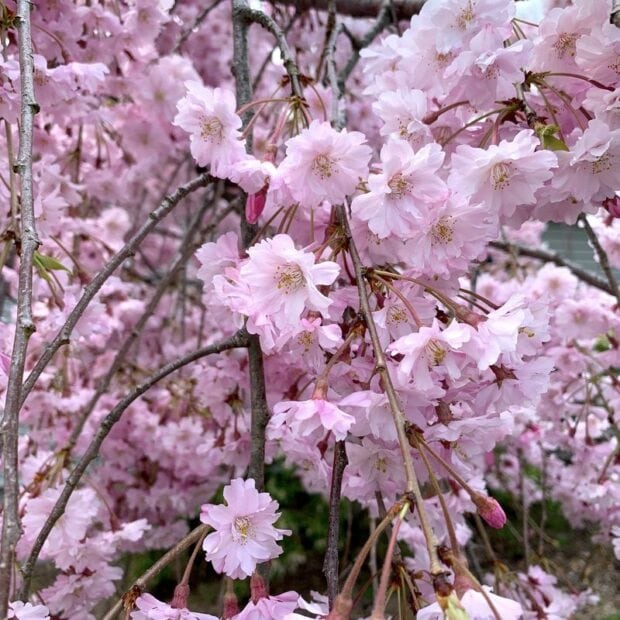 I love spring!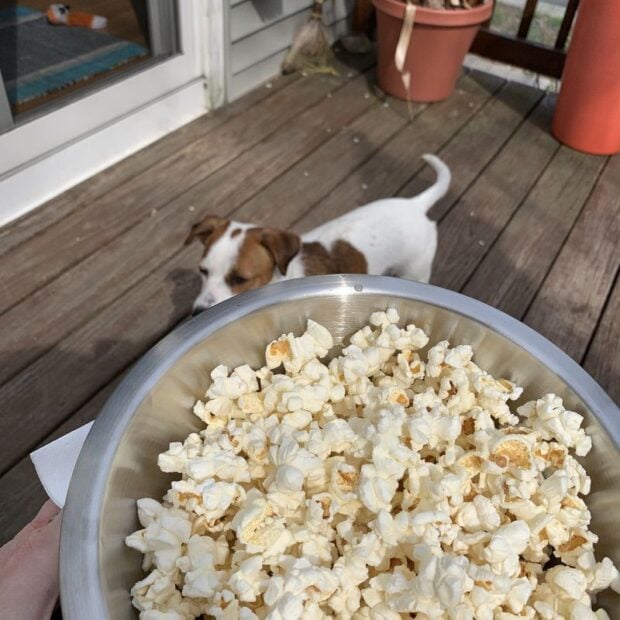 A moment for popcorn and good weather on the deck with Lulu.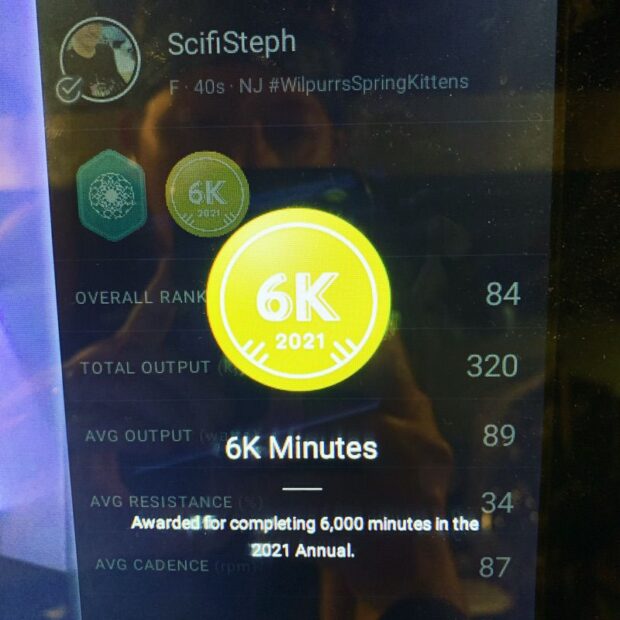 I've hit the 6000 minutes of workout time in 2021 on Peloton milestone!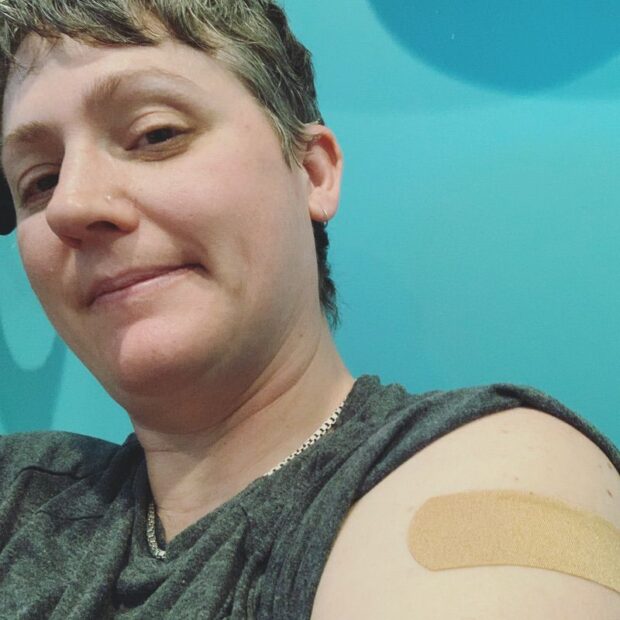 And second shot done! Thankfully, my only side effects were some fatigue (no more, really, than I usually feel), a racing heart on a few occasions, and a sore arm.
Have a great week everyone! Stay safe and healthy!