You heard, right! The fourth book in the Hikoboshi Series is now available. Don't miss the continuing adventures of Yumi and Rin on Kurai and Hikari. This is the penultimate book of the series. I fully intend to write the last book of the series later this year, probably for NaNoWriMo in November. So now is a good time to pick up the first book, CRASH LAND ON KURAI, or if you've already read the series up to now, pick up THE RISE OF SHIROI NAMI today!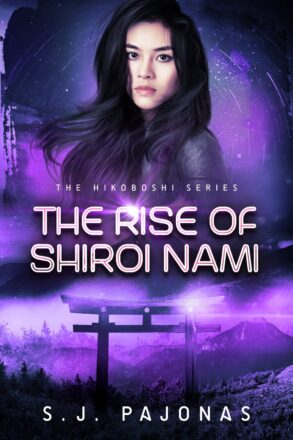 Ruthless corporate tyranny. A traitor out to destroy her. Can she defeat a mighty foe to save a desperate universe?
Yumi Minamoto will never stop fighting for freedom. Far from her homeworld, the crusader's hope for victory solidifies when she discovers a way to reprogram the oppressive android army. But Yumi and Rin's plan to infiltrate the enemy's facility goes up in smoke when their hidden base is suddenly attacked.
Suffering serious injuries, Yumi's only option to carry out the dangerous mission could be an unpredictable medical procedure. But she risks losing everything when an old adversary and his rabid genetically engineered creatures put everyone's lives at stake.
Can Yumi stand her ground without sacrificing all she loves?
The Rise of Shiroi Nami is the gripping fourth book in The Hikoboshi Series space opera romance series. If you like heroic characters, high-tech conflict, and unexpected twists and turns, then you'll thrill to S. J. Pajonas' intense science fiction saga.
Purchase The Rise of Shiroi Nami
Thank you again, everyone, for your support and patience. I know it's been a while since I've released a book, but there are a lot of them coming down the pipe in the next year. I have so many covers to show off and I'm excited about everything I plan to write. I just need 2021 to cooperate and we should be all good. Take care and stay safe!