Happy Friday everyone! It's been a long time coming, but finally, the 4th book of the Hikoboshi Series is going to be winging its way out into the world on April 23, 2021. Yes, I can hardly believe it myself. I took a break from this series for a year so that I could concentrate on the Flyght Series, and I don't regret that one bit. But it was good to be back in this world! And I feel confident that this series will have 5 books in total. I can picture the ending, and it's only one more book away after this.
THE RISE OF SHIROI NAMI continues the story of Yumi and Rin as they figure out how to handle their new partners, Shiroi Nami, a corporation that's been genetically engineering people and animals into wholly different beings. We saw them all at the end of FUKUSHA MODEL EIGHT, and we get to know them more in this book. We also get to see what happens when they rise up and come head to head with the current ruling corporation, Aoi Uma.
But nothing is easy for Yumi. She's suffered multiple concussions and a host of other injuries. She must call on her friends and family now to help. It's time to muster the troops and all work towards the same goal. Not a simple task when Aoi Uma's CEO is out to get Yumi and end her, once and for all.
I hope you enjoy the 4th book of the Hikoboshi Series! It's currently on pre-order on Amazon, Apple Books, Nook, and Kobo for publication on April 23, 2021. It'll also be available for sale on Google Play, Smashwords, and Eden Books (and available for borrowing on Scribd) once I have the final file ready.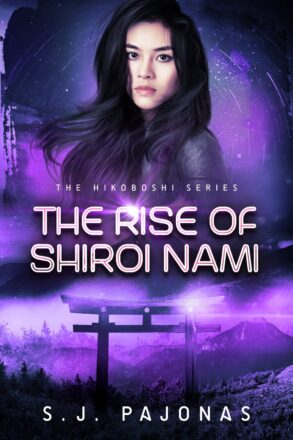 Ruthless corporate tyranny. A traitor out to destroy her. Can she defeat a mighty foe to save a desperate universe?
Yumi Minamoto will never stop fighting for freedom. Far from her homeworld, the crusader's hope for victory solidifies when she discovers a way to reprogram the oppressive android army. But Yumi and Rin's plan to infiltrate the enemy's facility goes up in smoke when their hidden base is suddenly attacked.
Suffering serious injuries, Yumi's only option to carry out the dangerous mission could be an unpredictable medical procedure. But she risks losing everything when an old adversary and his rabid genetically engineered creatures put everyone's lives at stake.
Can Yumi stand her ground without sacrificing all she loves?
The Rise of Shiroi Nami is the gripping fourth book in The Hikoboshi Series space opera romance series. If you like heroic characters, high-tech conflict, and unexpected twists and turns, then you'll thrill to S. J. Pajonas' intense science fiction saga.
Pre-order The Rise of Shiroi Nami!
Available April 23, 2021!
Thank you to everyone who's just as excited about this series as I am. I couldn't have done this without you!