Over the weekend, I got a nasty little scare when Pinterest deactivated my account for "spamming." At the time, all I could say was, "Huh?" How does pinning my blog posts twice a day and posting my Instagram photos constitute spamming? It wasn't spam, so I appealed.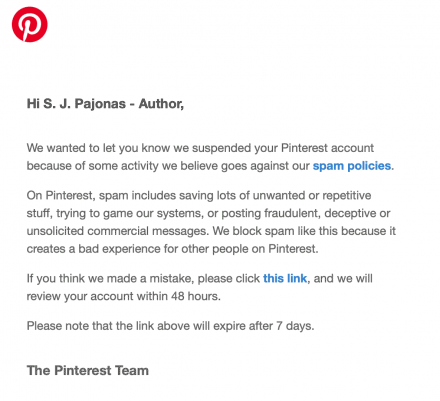 Sure, if this were 2018, maybe they could have said that. All 2018 I worked on building my Pinterest audience and I tried to use it to reach new readers by pinning just about everything I could. I stopped in 2019 because Pinterest changed its algorithms and suddenly I wasn't getting views or followers anymore. I felt like it was a breakup with an apathetic boyfriend, to be honest. Pinterest no longer wanted my business so I spent that money elsewhere. Fine by me. But I still went to Pinterest for recipe inspiration and I had a board with thousands of recipe pins. I didn't want to lose that!
This all highlighted the impermanence of social media these days. Any one of these accounts could be taken from me at any moment. Facebook especially could be gone in a blink. They've shut me down before and I could see them doing it again someday. Instagram, too, could give me a hassle if I'm not careful. Twitter, I already left that place two years ago. But most of them could be here today, gone tomorrow.
Because of the ephemeral nature of these sites, I have been rather careful about having backup plans for most of these. Every photo or story I post to Instagram gets saved to my phone and then backed up to Amazon photos. On Facebook, I have fallback people to help admin groups or my pages should I get locked out. It's important to have backup plans. This website and blog are where I've always done the majority of my updating and business because I have full control over it as long as I pay for my hosting.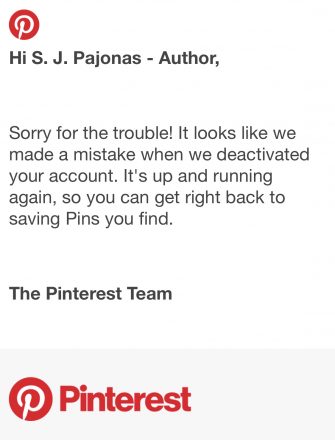 Pinterest was the only place I hadn't ever considered losing but you better believe I'll be doing something different there. They reinstated me on Monday but I no longer trust them so I have decided to stop using them. My boards will all stay there but I have removed all follow links from my website. I will be backing up recipes using an app called Paprika that came recommended. And I'll just use Pinterest for searching now, not as a place to find readers.
It's important to own your primary space in which you do business, like I do with this website and blog. Everything else is temporary and could be gone at any moment. Remember to not rely on one thing (same goes for those authors only in Kindle Select/Kindle Unlimited) and always have a backup plan.