Continuing with the Summer of SFR, I have Erin Raegan here today to tell us about her book, PLAYING CARDS WITH ALIENS!
Tell us a little about yourself, Erin…
"I'm a wife. A mother of a little boy and three fur babies. I started publishing my own stories two years ago and can't imagine doing anything else. I'm in love with writing. I've been an amazon best seller and self-publish. I move around the country frequently as my husband is in the military and that is what developed my love of science fiction romance. I fell in love with worlds outside of my own more and more with every deployment and new move."
Congratulations on your best seller status! And I'm sure many deployments mean lots of inspiration!
I asked Erin, "What is PLAYING CARDS WITH ALIENS about?"
Erin replied…
"Playing Cards with Aliens is a story about an alien lord named Kil that crashes on earth. He's stuck there for a time while they repair the damage and he meets a girl named Theo and her family. Shenanigans ensue as Kil tries to keep what he is a secret from Theo and her human family and town. He knows he can't stay but his heart makes it more difficult for him the longer he spends with her. He knows he wants to keep her and is torn over his secret and leaving her behind."
Sounds juicy!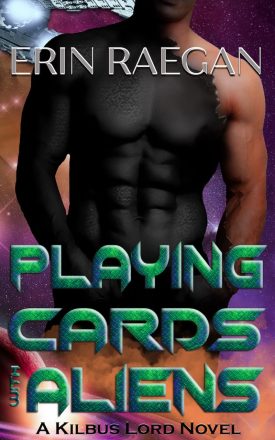 Small town. Small life. Smaller dreams.
I'm content. Happy. It might not make sense to most people but this is the life I chose for myself.
If there's a small part of me that wants to travel and see the world, I'm okay with appeasing that desire with travel magazines and planning future vacations. I want this life and a life full of adventure. I don't see why I can't have both.
I'm just fine with waiting.
But something beyond me has already decided that my contentment with life is about to change.
That change came with three new faces. Three new visitors that have suddenly—before I knew what was happening—taken over mine and my family's lives. They live with us. They eat with us. They sleep and share a bathroom with us. I don't remember inviting them. I don't remember consenting to their invasion in our lives.
I don't remember much of anything these days.
But they're here.
He's here.
And I don't think I want them to leave.
I don't want him to leave.
At least until I realize why we stopped asking questions. Why we accept their vague explanations and strange mannerisms.
Why we can't shake the headaches.
Then I can't get rid of them fast enough.
I can't get rid of him fast enough.
Even if it breaks my heart.
Check out PLAYING CARDS WITH ALIENS on Amazon via Books2Read…
Via Books2Read
---
Find This Author Online
Learn more about Erin Raegan on…
Website: http://www.erinraegan.com
Facebook: https://www.facebook.com/ErinRaeganAuthor/
Instagram: https://www.instagram.com/author.erinraegan/
BookBub: https://www.bookbub.com/authors/erin-raegan
Goodreads: https://www.goodreads.com/erinraegan
Subscribe to her Newsletter: http://eepurl.com/dIv6n1
Email: author.erinraegan@gmail.com
---