Continuing with the Summer of SFR, I have Carol Van Natta here today to tell us about her book, OVERLOAD FLUX!
Tell us a little about yourself, Carol…
Carol Van Natta is a USA TODAY bestselling and award-winning science fiction and fantasy author. Series include the Central Galactic Concordance space opera series that starts with Overload Flux and Minder Rising, and the Ice Age Shifters paranormal romance series that starts with Shifter Mate Magic and Shift of Destiny. She shares her Fort Collins, CO home with a resident mad scientist and just the right number of equally mad cats. If she ever gets to explore the stars, she's taking them all with her.
Her awards are all well-deserved! And I've seen Carol's cats. They are adorable.
I asked Carol, "What inspired you to write OVERLOAD FLUX?"
Carol replied…
"Overload Flux launches my Central Galactic Concordance space opera romance series, but it didn't start out as the first story. All my stories start with characters. Early one summer, my muse introduced me to two of them, then told me about the big damn story arc they were part of. I spent the rest of the summer outlining the plot and planning what I *thought* was the first of five or six books. Trouble was, readers would first need to know the universe and civilization to understand what was going on. Since I probably couldn't talk anyone into reading futuristic encyclopedia entries, I backed up in my timeline, created a new set of characters, and plunged into the deep end. "
Sometimes inspiration comes to us out of order! I've read OVERLOAD FLUX and really enjoyed it. Check out my Book Chat about this awesome book here.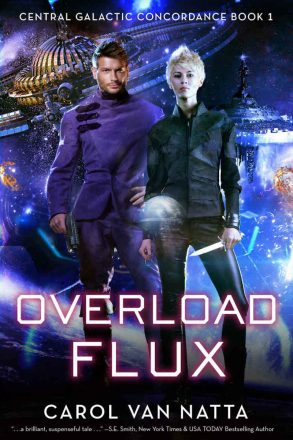 When the cure for a deadly disease is stolen, two misfits are all that stands between greed and intergalactic tragedy.
Luka Foxe can't let anyone know about his secret mental abilities. Debilitated by their influence when faced with violence, the brilliant forensic investigator now only takes assignments involving theft. But when he has to hunt down a hijacked vaccine for a galaxy-wide pandemic, the tragic first clue is his best friend's brutal murder.
Nightshift guard Mairwen Morganthur knows she must keep a low profile. The product of illegal genetic alteration, she's a lethal weapon with no social graces. But when she's tasked to protect a detective with frightening intuition, she finds herself falling for him even though he could expose her.
Racing to recover the cure for a galaxy-wide pandemic, Luka is surprised by his developing feelings for the capable-but-mysterious guard. And Mairwen may have to risk everything by revealing her identity, with deadly mercenaries hot on their tail.
Can the unlikely pair survive an interplanetary conspiracy long enough to save lives and find love?
Check out OVERLOAD FLUX on Amazon, Apple Books, Nook, Kobo, Google Play and more via Books2Read…
Via Books2Read
---
Find This Author Online
Learn more about Carol Van Natta on…
Website: https://Author.CarolVanNatta.com
Newsletter: https://bit.ly/CVN–news
Facebook: https://facebook.com/CarolVanNattaAuthor
Pinterest: https://www.pinterest.com/CarolVanNattaAuthor
Instagram: https://www.instagram.com/carol.vannatta
Bookbub: https://www.bookbub.com/authors/carol-van-natta
Goodreads: https://www.goodreads.com/author/show/3980825.Carol_Van_Natta
---