Continuing with the Summer of SFR, I have A. R. DeClerck here today to tell us about her series, AN ENDURING SUN!
Tell us a little about yourself, A. R….
Wife. Mother. Writer. Podcaster. Reading ninja. Food assassin. Self-proclaimed nerd and obvious goofball. Lover of ships, romance, SF, steampunk, anime, manga, and MUSIC.
I think I may be a food assassin as well. Lol.
I asked A. R., "Tell us about your hero in AN ENDURING SUN?"
A. R. replied…
"Determined to stay under the radar and out of enemy hands, Ren just wants a quiet drink at the bar. What he gets is a surprise visitor trying to steal his bike, and an odd urge to help her out of trouble. This is book one in the Aeon Project series, set inside the Takamo Universe. Takamo is a MMORPG SF game in development, which hosts authors who write inside game canon to gove players a more immersive gameplay experience. But Aeon Project isn't just for Takamo players, all lovers of SFR and cyborg romance will fall for Aeon Project."
It's really cool that there are stories and novels out there that are based off of games! I love the cross-overs.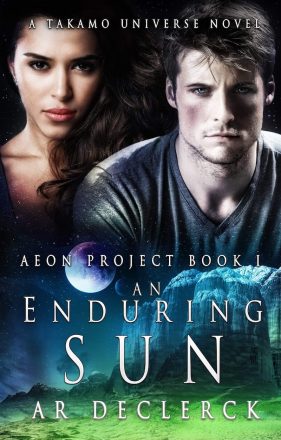 Sharyn Moran joined the Rangers to save innocent lives. Her personal vow is to never see another broken child in the ERCA Territories again. When she is caught stealing a bike on her newest mission, she's sure she is about to be turned over to her enemies. Surprisingly, a stranger offers to help her, but after an accident in the desert, they end up at his isolated home with his family.
It's clear that Ren and his brothers are hiding from something and, more than most, Sharyn knows how hard it is to keep secrets. She senses that the brothers and their father have all been through a terrible ordeal, but hesitates to invade their precious privacy. However, the longer she is with them, the more she begins to care for them. She starts to imagine a life with Ren, even if it can only be an impossible dream.
When Sharyn and Ren get sighted together through facial recognition, Ren's enemies know exactly how to flush out their quarry. They will kidnap, murder, and torture their way across the galaxy to accomplish their final goal. Ren knows the only way to stop them is to face what he is…what he was….and what he might become…. to save Sharyn and the rest of the galaxy from the rising tide of death and destruction in their wake.
Check out AN ENDURING SUN on Amazon via Books2Read…
Via Books2Read
---
Find This Author Online
Learn more about A. R. DeClerck on…
Amazon: http://www.amazon.com/author/ardeclerck
Twitter: http://www.twitter.com/ardeclerck
Instagram: http://www.instagram.com/ardeclerck
Facebook: http://www.facebook.com/authoramydeclerck
---