Continuing with the Summer of SFR, I have Ella Maven here today to tell us about her series, THE ALIEN'S RANSOM!
Tell us a little about yourself, Ella…
"As Ella Maven, I write fun and sexy Sci-Fi romance about dominant aliens who are devoted to their humans. I also write in other genres of romance as Megan Erickson and am a USA Today bestselling author."
I've known Ella/Megan for a long time now (from way back in the early New Adult Romance days), and it's great to see her writing sci-fi romance now!
I asked Ella, "What inspired you to write THE ALIEN'S RANSOM?"
Ella replied…
"I love science fiction romance and was really inspired by the fun alien romances being published by some talented authors. At the time, I was also on a motorcycle club romance kick, and I had a thought… what if I combined the two? And the Drixonian Warriors series was born, which I call 'bikers in space.' Except these are hover bikes, and the warriors are stuck planet-side…for now."
I love that she took two genres she loved, mashed them up, and wrote what she wanted! And her series is doing really well, too.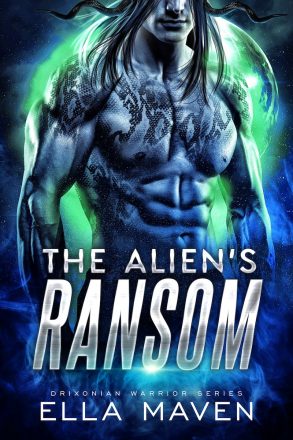 "Nothing in my life had prepared me for extraterrestrial motorcycle clubs."
Frankie: I thought alien abductions only happened in movies. But here I am on a strange planet with green soil and a gang of muscled, wicked-horned aliens on hover bikes. All I want to do is go back to Earth, but the alpha male in charge has decided I belong to him. Now I'm on the back of his bike speeding to an unknown destination and super freaked out about liking his biceps and serious scowl. Good thing I have some banked personal days, because this might take awhile…
Daz: The job is supposed to be easy. All I have to do is deliver a spaceship of living cargo to the vile Uldani and they'll release my brother. If I fail, they'll take it out on him. Except the cargo is something I've never seen before–human females. The one called Frankie is beautiful and soft, and I've already spilled blood for her. Now how am I going to save my brother? Because this human female is mine.
The Alien's Ransom is a full-length Sci-Fi romance novel featuring a snarky heroine who tries to find the humor in everything, even when kidnapped by aliens, and a possessive hero with lots of hidden weapons. Big ones.
Check out THE ALIEN'S RANSOM on Amazon via Books2Read…
Via Books2Read
Please note: This book will be on sale for 99¢ from August 12 to August 19, 2020!
---
Find This Author Online
Learn more about Ella Maven on…
Website: https://www.ellamaven.com/
Instagram: https://www.instagram.com/ellamavenwrites/
Facebook: https://www.facebook.com/EllaMavenAuthor
Email: ella@ellamaven.com
Newsletter: https://www.ellamaven.com/newsletter
Amazon: http://amazon.com/author/ellamaven
Goodreads: https://www.goodreads.com/author/show/19982850.Ella_Maven
Bookbub: https://www.bookbub.com/authors/ella-maven
Maven's Haven: https://www.facebook.com/groups/EllaMavensHaven/
---