Continuing with the Summer of SFR, I have Tamsin Ley here today to tell us about her series, RESCUED BY QAIYAAN!
Tell us a little about yourself, Tamsin…
"Once upon a time I thought I wanted to be a biomedical engineer, but experimenting on lab rats doesn't always lead to happy endings. Now I blend my nerdy infatuation of science with character-driven romance and guaranteed happily-ever-afters."
I think you got the better deal there, Tamsin!
I asked Tamsin, "What inspired you to write RESCUED BY QAIYAAN and The Galactic Bride's Series?"
Tamsin replied…
"I am addicted to B-rate sci-fi, especially if there is a romance thread! Throw in unique alien cultures and a smattering of language, and I am hooked. When I started writing my Galactic Pirate Brides series, I was working for an Alaska Native corporation and surrounded by people who spoke Yupik in the workplace. Of course, the first thing I learned was a few swear words, lol! I could never pronounce things exactly right, but I tried, and some of that language found its way into my Galactic Pirate Brides universe. The series features hot alien men gunning for revenge against an evil corporation that destroyed their females. Fans of Firefly love this series!

Book One, Rescued by Qaiyaan, introduces a crew of space pirates who accidentally save a human female carrying stolen corporate nano-tech. She is exactly the captain's type, but neither of them trust each other at first. It takes some intrigue, a space battle, and a whole lot of foreplay for them to find their happily-ever-after."
Well, I love Firefly, so I'm sold!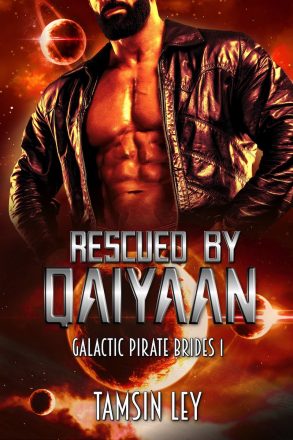 Aliens, space battles, and romance!
With no females left to repopulate his species, this alien captain never expected a human female to make him vulnerable to wicked temptations. Will one searing kiss unleash his raging desires?
Wanted by the black market cartel, Lisa has come out of hiding to find her missing twin brother. She's carrying top-secret biotechnology that has both the cartel and the law hot on her tail. An alien pirate captain with smoldering eyes and a rock-hard body is the last distraction she needs—but he's also her only hope of escape…
An evil galactic corporation destroyed Captain Qaiyaan's home world, and with no females left, his fleet has turned to piracy and revenge. The last thing he thought he'd find on a derelict passenger ship is an alluring human female carrying a solution to his race's salvation. And he definitely never expected the feisty ex-con to worm her way into his heart.
Together, they must fend off alien bounty hunters and keep their bucket-of-bolts ship from falling apart. Yet the greatest danger of all might come in the form of a single, passionate kiss. Will the very technology that allows them to be together end up ripping them apart?
Author Note: Explicit love scenes, superhero aliens, and heart-pounding action. This steamy sci-fi thriller is intended for mature audiences.
Check out RESCUED BY QAIYAAN on Amazon, Apple Books, Nook, Kobo, Google Play, and more via Books2Read…
Via Books2Read
---
Find This Author Online
Learn more about Tamsin Ley on…
Website: http://www.tamsinley.com
Facebook Page: http://www.facebook.com/TamsinLey/
Facebook Group: https://www.facebook.com/groups/tamsinley/
Bookbub: https://www.bookbub.com/authors/tamsin-ley
Amazon: http://amazon.com/author/tamsin
Goodreads: https://www.goodreads.com/tamsinley
---