Continuing with the Summer of SFR, I have Kate Rudolph here today to tell us about her series, SYNNR'S SAINT!
Tell us a little about yourself, Kate…
Kate Rudolph is a paranormal and science fiction romance author. She loves writing about kick butt heroines and the steamy heroes who love them. She's been devouring romance novels since she was too young to be reading them and had to hide her books so no one would take them away. She couldn't imagine a better job in this world than writing romances and sharing them with her fellow readers.
Kick butt heroines are the best!
I asked Kate, "What inspired you to write SYNNR'S SAINT?"
Kate replied…
"This book started off with the electrical colors of purple and blue and it took off from there. I wanted to write about aliens with glowing wings and super powers… and so the Zulir were born. There's a bit of a twist on the traditional fated mate bond that is super fun to write, and I get to explore an entirely new world filled with warring factions, space ships, and characters who kick butt!"
More epic science fiction romance! You can't go wrong with that!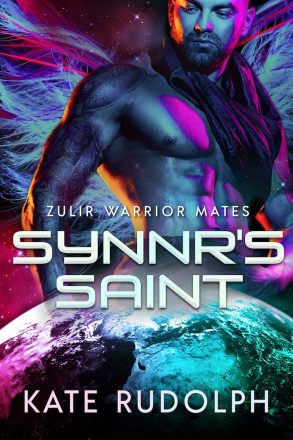 Taken from Earth and used like a lab rat…
Emily was a normal law student until she was abducted by aliens. Forced to perform death defying feats by night and undergoing medical tests by day, she doesn't know how much longer she can take it. When one alien takes particular interest in her she's afraid things have gone from bad to worse. He's got wings and fangs, and he makes her heart pound. But she can't want an alien like that… can she?
He doesn't have time to rescue a human…
Oz is on Kilrym for a reason, and it's not to rescue the ethereal performer who captivates him by night. But covert ops are impossible when his mind is on the human who could be his fated mate. War is on the horizon, but what if the only way to save his people is to sacrifice Emily?
Despite the fact that they were born light years apart, they are a perfect match. But Oz is keeping secrets, and when Emily finds out the truth she may never be able to forgive him, no matter how much she needs him to survive and escape the planet alive.
Check out SYNNR'S SAINT on Amazon, Apple Books, Nook, Kobo, Google Play, and more via Books2Read…
Via Books2Read
---
Find This Author Online
Learn more about Kate Rudolph on…
Website: https://katerudolph.net
Facebook: http://www.facebook.com/katerudolphauthor
Twitter: https://twitter.com/katerud0lph
Facebook Group: https://www.facebook.com/groups/katerudolphdetyendreamers/
Patreon: http://www.patreon.com/katerudolph
---