Onward with the Summer of SFR, I have Annalise Alexis here today to tell us about her book, UNEXPECTED!
Tell us a little about yourself, Annalise…
Annalise Alexis is a free-spirited mother of three who lives with her husband and kids in the heart of Texas. A huge fan of Firefly, Gilmore Girls, and anything with Jason Momoa, Annalise combines her love of all things sexy and strange by writing science fiction romance and paranormal romance.
Anything with Jason Momoa… Indeed, my friend. ANYTHING with him.
I asked Annalise, "Why did you write UNEXPECTED and what's your favorite thing about it?"
Annalise replied…
"Unexpected is the first installment of the Her Illusian Warrior Trilogy. It features a strong-willed heroine, an absolute alpha male alien and a cast of characters you won't soon forget. It's a high action, passionate story of two people pushed to their limits and driven to protect not only themselves but all the people they love.

Why did I write Unexpected?
Unexpected was my first published novel. Writing for me was an emotional outlet I used to cope with the death of my parents and before Unexpected, I kept what I wrote safely hidden on my computer. Ren and Jayla yelled louder than any other characters I'd written and demanded their story be heard.

My journey through grief is also what inspired the plot. The Illusians fight to survive, fight for the ones they love, and fight to right the wrongs done to their people. Unexpected is twisty, violent, and sexy. Everything about Ren and Jayla is intense and it's through their love for each other and the Illusian people they find the strength to fight.

What's my favorite thing about this series?
How hot Ren and Jayla are! Also, I really love how the side characters get little mini stories of their own. I really tried to give each of them life."
This is the second book I've featured from an author writing through grief. What an amazing thing writing is for us!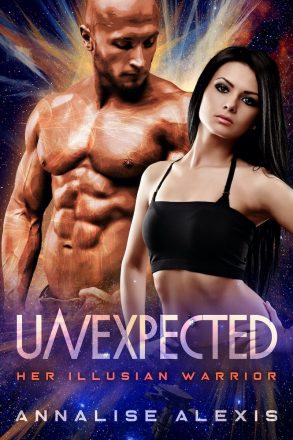 They've been missing for a century—an elusive alien species hidden somewhere in the deep expanse of space. Most of the Universe forgot they ever existed at all.
So, when a group of Illusians show up on my ship in the middle of the night demanding aid, I risk my life to let them in.
They're beautiful, violent beings. Nearly hunted into extinction by a group of psychopaths dead set on owning and selling their females. As if that weren't bad enough, now the general in charge of my station is blackmailing me, threatening to expel me—or worse—if I don't comply.
I should protect myself, follow orders, and do as he says. But how can I, when the male leading their race claims me as his?
And I let him.
In the first installment of the Her Illusian Warrior series, can Jayla and Ren survive an insidious plot to destroy the Illusian race and everything they hold dear? Including each other?
For the grown and sexy only. This book contains strong language, sexual content and mention of sexual abuse.
Check out UNEXPECTED on Amazon via Books2Read…
Via Books2Read
---
Find This Author Online
Learn more about Annalise Alexis on…
Website: http://www.annalisealexis.com
Facebook: https://www.facebook.com/annalisealexisauthor
Bookbub: https://www.bookbub.com/profile/annalise-alexis
Instagram: https://www.instagram.com/authorannalisealexis/
---