Time for another Summer of SFR Book Chat! Once again, I was hoping to have more than one book for this post but I stopped reading a second book at the 60% mark, and I have decided that it's a sign. For the rest of the Summer of SFR Book Chats, I will do single books as I complete them.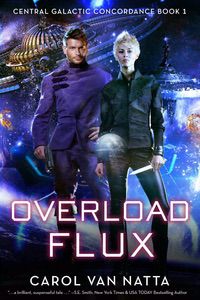 OVERLOAD FLUX by Carol Van Natta (Books2Read)
OVERLOAD FLUX was a fabulous first book in a huge sci-fi space opera romance series. Seriously, there are a lot of books in this universe! Lots to look forward to, for sure. I loved so much about this book, it was hard to narrow down my favorite parts. I especially loved the nods to many different Earth cultures. It seems that there are some planets where there are dominant Earth cultures like colonies from Iceland or China. So, for the reader, there's plenty here in this universe to draw anyone in. It was funny how Luka, the hero, was always swearing in Icelandic.
I enjoyed Luka's strength and gravitas without being an alpha a-hole. He was strong but vulnerable. Mairwen's journey to humanity was captivating. She had a lot to learn about being a full human being, and it was heartwarming to see her progress with Luka's help. Plus, there was a fabulous slow burn romance to top it off! I'll definitely be reading more from this series. Thanks to Carol Van Natta for a fantastic read!
What have you been reading lately?
---