Onward with the Summer of SFR, I have Veronica Scott here today to tell us about her book, AYDARR!
Tell us a little about yourself, Veronica…
USA Today Best Selling Author Veronica Scott is a seven time winner of the SFR Galaxy Award, as well as a National Excellence in Romance Fiction Award, Veronica is also the proud recipient of a NASA Exceptional Service Medal relating to her former day job, not her romances! She played a Star Trek Red Shirt security officer in an official audiobook.
I've known Veronica for a number of years and I love that she used to work for NASA/JPL! Though she always told us that she worked in the back office, not on rockets. Still, I'm sure it was quite an inspiring place to be every day!
I asked Veronica, "How did you come up with the idea for AYDARR?"
Veronica replied…
"I've long been a fan of the Lora Leigh Breeds series and the Laurann Dohner New Species series, both centering around genetically engineered soldiers. I can't ever get enough of those stories! So I decided to challenge myself to write my own novels with tough, genetically enhanced warriors as the heroes, set in the far future, out in space. The heroine in the first book is a Sectors woman, Jill, who served in the Special Forces. She and her entire colony have been kidnapped by the alien scientists to serve as subjects in twisted experiments. (The Sectors is my interstellar civilization which forms the background for all my scifi romances to date.)

And I've thrown in a few other elements of my own brand of scifi romance along the way…I thought the concept of these warriors created by alien scientists lent itself to a series arc I could handle and write some exciting stories for.

One other influence on me when writing Aydarr was the overall feel of the 2010 movie "Predators," where a group of tough humans wake up in an alien jungle and have to fight to survive, while trying to figure out how to get home to Earth.

If you enjoy this first book, there are now 12 more in the series, and more to come. Lots of good summer scifi romance reading!"
I love to hear about authors really enjoying their series for the long term. It's hard to immerse yourself in worlds for extended periods! Great job, Veronica!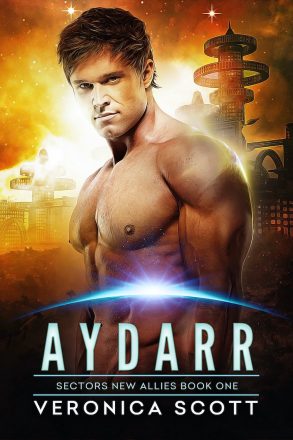 Jill Garrison, a maintenance tech at the Sectors Amarcae 7 colony, goes to sleep one night as usual only to wake up in her nightgown stranded in the middle of a forest on an unknown world. There's no time to think as she's stalked by carnivorous predators and rescued by genetically engineered warriors calling themselves the Badari. Turns out they and she, along with her whole colony, are now prisoners of the Khagrish, a ruthless race of alien scientists. Working for enemies of the Sectors, the Khagrish have created the Badari to be super soldiers.
Aydarr, the Badari Alpha, isn't sure he can trust Jill but his attraction to her is undeniable. He impulsively claims her as his mate to prevent her death at the hands of the Khagrish.
Can he continue to protect her from the experiments already underway? Will his claiming her put his pack in jeopardy from their alien masters?
As Jill searches for a way to rescue her fellow humans and get them all to safety, she finds herself falling for Aydarr, despite the secrets he's keeping. She has a few of her own.
The situation becomes dire when Aydarr and his pack are sent offplanet on a mission, leaving Jill unprotected, prey for the senior scientist. Can she escape the experiments he has in mind for her? Will she be able to thwart the Khagrish plans and liberate humans and Badari alike? How will she and Aydarr reunite?
Check out AYDRARR on Amazon, Apple Books, Nook, Kobo, Google Play, and more via Books2Read…
Via Books2Read
---
Find This Author Online
Learn more about Veronica Scott on…
Blog: https://veronicascott.wordpress.com/
Twitter: https://twitter.com/vscotttheauthor
Facebook: https://www.facebook.com/pages/Veronica-Scott/177217415659637
BookBub: https://www.bookbub.com/authors/veronica-scott
Instagram: https://www.instagram.com/veronica_scott_author/
---