Onward with the Summer of SFR, I have Octavia Kore here today to tell us about her book, ECSTASY FROM THE DEEP!
Tell us a little about yourself, Octavia…
Born in the Sunshine State, Hayley Benitez and Amanda Crawford are cousins who have come together to write under the name Octavia Kore. Both women share a love for reading, a passion for writing, and the inclination toward word vomiting when meeting new people. Ecstasy from the Deep (From the Depths anthology version) was their very first published work. Hayley and Amanda are both stay-at-home moms who squeeze in time to write when they aren't being used as jungle gyms or snack dispensers. They are both inspired by their love for mythology, science fiction, and all things extraordinary. Amanda has an unhealthy obsession with house plants, and Hayley can often be found gaming in her downtime.
Cool! I love hearing about author teams who write as one person.
I asked Octavia, "What inspired you to write the ECSTASY FROM THE DEEP?"
Octavia replied…
"I wrote this book as a dedication to my coauthor who signed on writing with me. I also wrote it to bring awareness to things I've went through that are very uncommon.

My favorite thing about this book is that the characters all have their own voice and feel to them."
I love making all of my characters distinct and different. It's a passion of mine!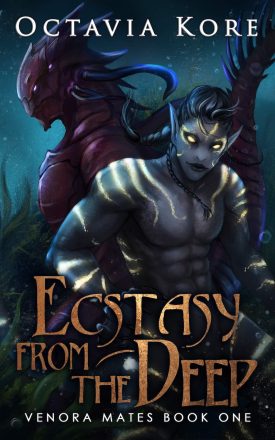 An enticing savior, an old love, and one deranged alien hell-bent on destroying it all.
The seemingly endless war with the Grutex has caused many inconveniences for Amanda, but none of those have been as bad as losing the funding for the project she is working on that is supposed to help save humanity. When she foolishly risks her life to continue her research, Amanda is thrown into the path of an alien, the likes of which she has never seen who claims she is his mate. The problem is, he isn't the only one making that claim.
As an ambassador for his people, Oshen is used to handling delicate situations, but he has never been in one quite so delicate as this. Instead of enlightening Earth's government about the existence of Galactic Law and their right to seek aid, he finds himself face to face with the one being he's waited his whole life to find; his mate. But the little human is in trouble and he needs to convince her to leave Earth or he risks losing the most important thing he has ever had.
Damned. Cursed. Gulzar has been called many things over the course of his life. Many in his tribe refuse to even look at him and who could blame them? The only light in his life has been his little goddess, the only being in the entire world who looks at him without judgment. When he gets a vision of her in distress, Gulzar knows he will do anything he can for the female he loves.
Check out ECSTASY FROM THE DEEP on Amazon via Books2Read…
Via Books2Read
---
Find This Author Online
Learn more about Octavia Kore on…
Facebook: https://www.facebook.com/groups/MatesAmongUs/
Sign Up For Our Newsletter: https://mailchi.mp/27d09665e243/matesamongusnewsletter
Instagram: https://www.instagram.com/octaviakore/?igshid=1bxhtr1snonz4
Goodreads: https://www.goodreads.com/octaviakore
Bookbub: https://www.bookbub.com/profile/octavia-kore
Amazon: https://www.amazon.com/Octavia-Kore/e/B0845YHRVS
Swag Shop: https://www.zazzle.com/store/octavia_kore_swag/products
---