Onward with the Summer of SFR, I have Tasha Black here today to tell us about her book, TOLSTOY!
Tell us a little about yourself, Tasha…
Tasha Black is a USA Today bestselling author of Paranormal and SciFi romance. She lives in a big old Victorian in a tiny college town. She loves reading anything she can get her hands on, making up stories, and sipping pumpkin spice lattes.
Lol. Everyone loves pumpkin spice lattes.
I asked Tasha, "What inspired you to write the Stargazer Alien Barbarian Brides Series?"
Tasha replied…
"I dreamed for years of writing a book set on a ship that had a forest in its center, with the climate controls glitching so that you could watch the seasons change over the course of a single day. The plot for the whole story unfolded out of that image – an abandoned luxury cruiser, a scrapper trying to loot her first ship, a barbarian shifter waking out of stasis to find her, and then the baby in the stasis pod labeled "TOLSTOY" that awakens their imaginations and fuels their determination to make it out of the doomed cruiser together."
Wow. That sounds really cool! I love the idea of a forest on a spaceship.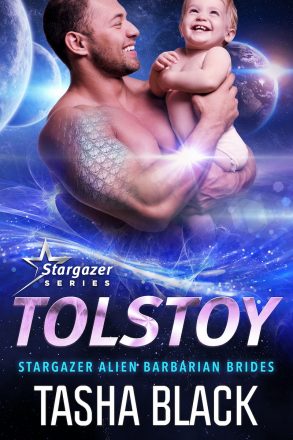 Just one glance and this lonely alien shifter instantly craves Anna for his mate. Too bad the beautiful treasure-hunter seems blind to what's truly valuable…
When space-pirate-in-training Anna Nilsson embarks on her first solo mission to plunder an abandoned luxury cruiser, she assumes she'll be all alone aboard the big, empty ship. She's hunting for treasure – the last thing she expects to find is a sinfully sexy alien who eyes her with a hunger that speaks of centuries of longing.
Leo's ancient race has suffered greatly at the hands of the strangers who invaded their planet centuries ago, leaving the barbarians without a home world. When he awakes from stasis to the scent of a blood mate, he is stunned to discover the delectable creature is human. Being close to her sets his senses on fire, but he knows the attraction can only end in misery. What human could ever love a shape-shifting barbarian?
When a third occupant of the not-so-abandoned cruiser shows itself, the two realize they must work together if they want to get out alive.
Then they uncover a baby who just might be the priceless clone of a famous cultural icon, and things really start to get interesting…
Check out TOLSTOY on Amazon, Apple Books, Nook, Kobo, Google Play, and more via Books2Read…
Via Books2Read
---
Find This Author Online
Learn more about Tasha Black on…
Facebook: https://www.facebook.com/RomanceWithBite
Twitter: https://twitter.com/RomanceWithBite
Website: http://www.tashablack.com (Claim your FREE Tasha Black Starter Library here)
Mailing list: http://eepurl.com/VysAL
---