Continuing on with the Summer of SFR, I have a recently finished book to share with you! I had hoped to have more than one book for this Book Chat, but unfortunately, I stopped reading a book at 65% the other day. Regardless, this one was worth sharing right away!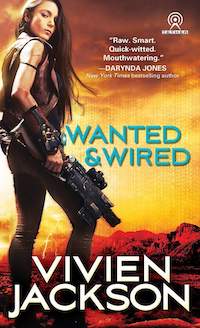 WANTED AND WIRED by Vivien Jackson (Books2Read)
I loved the post-apocalyptic setting in both the western states, in orbit, and Texas. Such an interesting world Jackson has built here. I really want to know how it all works and what people do to get by. Mari and Heron's relationship was engrossing, too. They seemed to have a give and take, a push and pull, and the tension kept the story moving at all times. There was a lot here to digest, both for the world-building and the characters, but it never felt overwhelming.
The sexy scenes were blistering hot but never went too far. There's nothing that bothers me more than sci-fi romance that skips all the heat of flirtation and goes right for the sex and/or there's sex every other chapter. I'm in it for both the world and the relationships, and WANTED AND WIRED had both. There was a fantastic twist at the end that I didn't see coming. Loved it!
I bought the second book in the series right away, and I plan to read it once my Summer of SFR is over (I'm only reading first-in-series books this summer).
What have you been reading lately?
---