Continuing with the Summer of SFR, I have Bex McLynn here today to tell us about her books.
Tell me a little about you, Bex…
"I love to read all kinds of romance: science fiction, shifter, fantasy, regency, contemporary…(Seriously, all of it!) Currently I write SFR and Fantasy/PNR. My writing style–a mixture of action, humor, tenderness, and heat–features worlds and characters that captivate my readers."
Sounds like a lot of fun! It's always smart to write what you love.
I asked Bex, "What inspired THANEMONGER?"
Bex replied…
"What would you do to get back to your child? Would you go up against an alien commander? That question prompted me as I wrote Thanemonger, my debut novel. I wanted to write about a character who was abducted from Earth and was absolutely determined to make it back home. But, I also adore the lighter side of romance, so I wrote a tenacious heroine who's giving it her all against massive aliens who are determined to keep her. What can you expect from Thanemonger? I guarantee a story filled with steamy, yet tender romance plus plenty of humor and action. Get prepared to fall in love with the men, … er aliens, from House Borac."
The lighter side of romance is my favorite! I love some good humor and fun.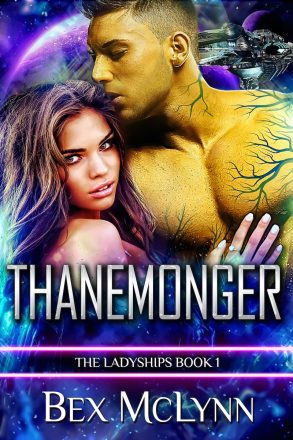 If she wanted to survive her alien abduction, then she needed to kick some alien butt.
Seph survived being abducted by aliens, and now she's determined to get home to her young son. Her plan: find a spaceship, return to Earth. Simple, but then she meets the domineering Thanemonger. He offers her sanctuary, but only if she complies with his demands. Now Seph must find a way to fall in line without falling for the sexy alien who has sworn to see her safely home.
Zver is on a rampage. A rival thane has kidnapped his son and sabotaged his work for the Dominion. But he won't fail. He won't fall. They call him Thanemonger for a reason. Not only will he retrieve his son, but he'll seize the battleship he's wanted for years and cement his superior status in the Dominion. Just as he executes his ruthless plan, an alluring human woman appears and changes everything.
Thanemonger is a science fiction romance with action elements, light humor, tender moments, and steamy close encounters. Contains explicit themes and is intended for adults only. No cheating. No cliffhangers. Characters battle for their hard-won HFN. Enjoy!
Check out THANEMONGER on Amazon via Books2Read…
Via Books2Read
---
Find This Author Online
Learn more about Bex McLynn on…
Website: https://bexmclynn.com/
Facebook: https://www.facebook.com/bexmclynnauthor/
Amazon: https://www.amazon.com/Bex-McLynn/e/B07B8NKG1Z
BookBub: https://www.bookbub.com/profile/bex-mclynn
Twitter: https://twitter.com/BexMcLynn
---