Continuing with the Summer of SFR, I have Michelle M. Pillow here today to tell us about her books.
Tell me a little about you, Michelle…
"I'm a NY Times & USA TODAY Bestselling Author of Romance, Cozy Mystery, and Paranormal Women's Fiction (PWF). One of my fan favorites is the Qurilixen World, a collection of sci fi and paranormal series."
Michelle writes cozy mysteries too! I didn't know that about her.
I asked Michelle, "What inspired HIS FROST MAIDEN?"
Michelle replied…
"HIS FROST MAIDEN is book one in my Space Lords series, and a spin off of the Dragon Lords and Lords of the Var series. They're all part of the Qurilixen World, a collection of sci fi and paranormal romance books that I've been writing in since 2004.

I honestly thought I would only write historical romances. It's how I started, and as a historian, it's what I loved to do. After my first book, a Regency ghost story romance, published (back in 2004), the editors contacted me needing authors to fill out their Sci Fi Romance list. I agreed with the idea I'd go back to historical 'my true passion.' I laugh at younger me now. Historicals are no longer my passion. Those first Sci Fi books, Dragon Lords, a futuristic dragonshifter series, grew into the Quirlixen World collection with 37+ books within 7 series installments and growing. Space Lords is part of the collection."
I feel this deep in my bones. I love sci-fi romance, but I spent a few years chasing harder sci-fi and cozy mysteries before realizing my heart is in sci-fi with romance. I'm also laughing at younger me now, just like Michelle!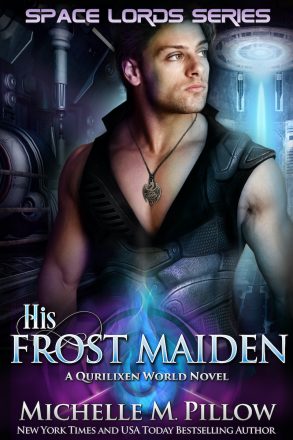 From NY Times & USA TODAY Bestselling Author, Michelle M. Pillow, a space adventure romance!
These space pirates sail the high skies looking for adventure, and a woman to end their curse.
Psychic empath and space pirate, Evan Cormier is obsessed with decoding an ominous premonition about his future. When a fellow crewman angered a spirit, the vengeful entity took her wrath out on everyone in the vicinity. Evan happened to be one of them. He's now facing a future in which he'll be forever alone.
Lady Josselyn of the House of Craven has been betrayed. With her home world on a Florencian moon under attack and her family dead, she finds herself at the mercy of the one who deceived them. There is only one thing left to do—die with honor. But before she can join her family in the afterlife, she must first avenge all that she held dear. Falling in love with a pirate was never in the plan. Evan and his thieving crewmates might have delayed her fate, but they can't stop destiny.
Check out HIS FROST MAIDEN on Amazon via Books2Read…
Via Books2Read
Note: Michelle has put these books into Kindle Unlimited for the Summer of 2020.
---
Find This Author Online
Learn more about Michelle M. Pillow on…
Website: https://michellepillow.com/
Newsletter: https://michellepillow.com/newslettersignup/
Facebook: https://www.facebook.com/AuthorMichellePillow/
Instagram: https://instagram.com/michellempillow/
Pinterest: https://www.pinterest.com/michellepillow/
Twitter: http://twitter.com/MichellePillow
BookBub: https://www.bookbub.com/profile/michelle-m-pillow
Goodreads: https://www.goodreads.com/Michelle_Pillow
---