Continuing with the Summer of SFR, I have Jade Waltz here today to tell us about her books.
Tell me a little about you, Jade…
"I live in Illinois with my husband, two sons, and three crazy cats. I love knitting, playing video games, and watching Esports. My passions include the arts, green tea and mints — all while writing and teaching marching band drill in the fall.

I have always been an avid reader of the fantasy, paranormal and sci-fi genres and wanted to create worlds I've always wanted to read."
Marching band!! Oh, I love marching band. It literally saved my sanity in high school. Jade and I are also knitters, so that's cool too.
I asked Jade, "What inspired the Project Adapt Series?"
Jade replied…
"I spent a lot of time looking for a Star Trek/Star Wars/Babylon-5-isk space opera series following a FMC on her journey of finding love… in space… with aliens.

When I couldn't find what I was looking for, I wrote it instead.

It is a sweet and steamy space opera RH that follows my FMC, Selena, throughout the galaxy gathering friends, meeting foes, and falling in love with one member at a time."
I love Star Trek and Star Wars! Such great series.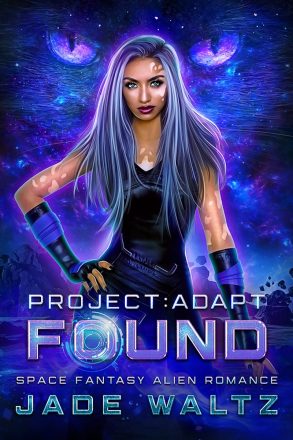 A failed human prototype. That's all she is…
Born and raised as an experiment, Selena's life has been filled with torture, betrayal, and distrust… but one night changes everything.
Sold, attacked, and on the run, Selena is picked up by a colony ship. Struggling to find her place on this ship and trying to understand the draw she feels toward two alien males, her already uncertain life becomes downright unimaginable when she learns new life is growing inside her.
Terrified her captors will find her and take her and her children back to a life of horror and captivity, she must learn to trust her saviors, and herself.
With the help of her two mates, Selena will fight for her freedom—or die trying.
Check out PROJECT: ADAPT – FOUND on Amazon via Books2Read…
Via Books2Read
---
Find This Author Online
Learn more about Jade Waltz on…
Website: http://www.jadewaltz.com
Facebook Group: https://www.facebook.com/groups/JadeWaltzLiteraryAlcove/
Facebook Page: https://www.facebook.com/AuthorJadeWaltz/
Newsletter: https://jadewaltz.com/#newsletter
Instagram: https://www.instagram.com/authorjadewaltz/
BookBub: https://www.bookbub.com/authors/jade-waltz
Twitter: https://twitter.com/authorjadewaltz
Amazon: https://www.amazon.com/Jade-Waltz/e/B07N546FGF/
---