Continuing with the Summer of SFR, I have Libby Doyle here today to tell us about her books.
Tell me a little about you, Libby…
"Libby Doyle, is the author of The Covalent Series, a romantic science fantasy in five parts. Books I and II of the series were awarded medals from the New Apple Awards for Excellence in Independent Publishing.

When not tapping away at her fiction, Libby works as an attorney and an editor. She escapes real life by writing extravagant tales, filled with sex and violence. She loves ​absurd humor, travel, punk rock, hiking, and her husband."
I love to travel too, so we definitely have something in common.
I asked Libby, "What inspired you to write The Passion Season?"
Libby replied…
"The Passion Season, Book I of the Covalent Series, germinated in my head after I heard about a terrible crime in Philadelphia where I used to live. A corpse was found with all its internal organs removed. Creepy, I know! From that incident sprouted a love story. You've got to love the human imagination. A blend of darkness and light is a hallmark of the series. Lots of violence and pain mixed with love, sensuality, and humor. As my aliens–the Covalent–would say, life is Balance! In June I published The Warlord Season, Book IV of the Covalent Series. Read book one for free. Get on the ride! It's a real ripsnorter."
Oh, that's creepy, for sure. But real life often inspires amazing stories!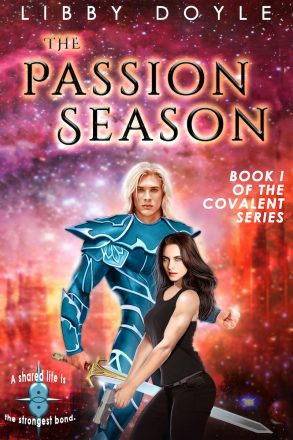 For centuries, Lucifer's son paid for the sins of his father. Now, he's had enough.
Barakiel came to accept his solitude after the rulers of his homeworld banished him to Earth. He takes solace in his duty and enjoys slaughtering the demons his father sends against him at every change of seasons.
​When someone murders a helpless man and leaves his spleen in the bushes of a Philadelphia park, Barakiel suspects his father is behind it. He offers to consult for the FBI, selling them on his knowledge of the daggers found at the crime scene. Then, Special Agent Zan O'Gara shows up at his door and everything changes.
Although Zan has put her painful experiences with men behind her, she's perfectly content to be alone. Until she meets Barakiel. She knows something's not quite right with him, but the stronger part of her thinks he's worth the gamble.
As Zan's investigation brings her closer to the truth about Barakiel, his duty compels him to protect the innocent. He'll risk his life to stop Lucifer from claiming another victim, even as Zan gives him more reasons to live than he's ever had before.
WARNING: This book contains foul language, violence, explicit sex, and sexual violence. Adults only! This is not a stand-alone novel, but the first in a five-part series. The romantic science fantasy continues in The Pain Season, Book II of the Covalent Series, available now.
Check out THE PASSION SEASON on Amazon, Nook, Apple Books, Kobo, Google Play, and more via Books2Read…
Via Books2Read
---
Find This Author Online
Learn more about Libby Doyle on…
Website: https://www.libbydoyle.com
Instagram: http://www.instagram.com/libbydoylewriter
Mailing List: https://libbydoyle.us13.list-manage.com/subscribe?u=3007fd222362f5fce7ea46486&id=c134d3886d
Twitter: https://twitter.com/LibbyDoyle9
Amazon Author Page: https://www.amazon.com/Libby-Doyle/e/B01CUPIZOU
Goodreads: https://www.goodreads.com/author/show/3492548.Libby_Doyle
BookBub Profile: https://www.bookbub.com/authors/libby-doyle
Facebook Author Page: https://www.facebook.com/thecovalent
---