Continuing with the Summer of SFR, I have Tiffany Roberts here today to tell us about their books.
Tell me a little about you, Tiffany…
"We are a husband and wife writing duo who writes science fiction, fantasy, and paranormal romance. We met online when we were around ages 16 and 17. Rob lived in New York, and I lived in Idaho, and after three years of dating online and seeing each other a couple times in person, Robert decided to move to Idaho to live with me. Crazy, huh? We've been together ever since, have three kiddos, and we're currently writing full-time, a dream we've both always had."
Oh, that's so sweet! And cool that you're a husband and wife team!
I asked Tiffany, "What inspired you to write The Infinite City Series?"
Tiffany replied…
"The Infinite City series is our blend of sci-fi and fantasy, two genres we enjoy. Fantasy was where we began, but sci-fi has become our love, so we mixed the two together, creating our own versions of elves, orcs, trolls, and more in a setting loosely inspired by Altered Carton.

We had such a blast writing Silent Lucidity, in part because the characters, Tenthil and Abella. While a little different from their original iterations, they are characters Rob and I used to roleplay years ago in a text-based fantasy RPG. They've always been favorites of ours, and we hoped to someday write their story, and we finally did! We never imagined they'd be written in sci-fi/cyberpunk type of setting (the original was fantasy), but it fit so perfectly for them. It was wonderful to revisit these characters and create them into something new."
I love hearing about authors that use RPG to roleplay their characters! This is something I've seen a lot of authors to do and it's a fascinating way to explore themes and worlds.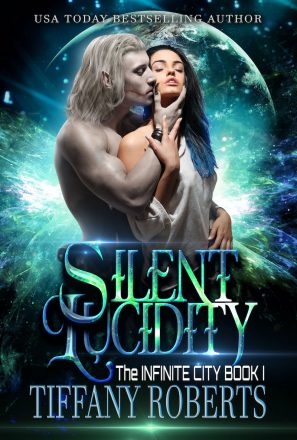 She didn't ask to be abducted. She didn't ask to be torn away from her simple, happy life on Earth. She didn't ask to become a pet to a powerful alien merchant.
Abella hasn't allowed four years of slavery to break her spirit, but after numerous failed escape attempts, the chances of making it home to her family seem bleak. That is until she shares a passionate, forbidden dance with a silent stranger. His piercing silvery eyes haunt her with a taste of hope.
Intense, mysterious, and deadly, Tenthil may be the key to Abella's freedom. But as she finds herself increasingly drawn to him, she realizes the truth—Tenthil has no intention of taking her home.
Will he be her salvation, or will she trade one master for another?
Check out SILENT LUCIDITY on Amazon via Books2Read…
Via Books2Read
---
Find This Author Online
Learn more about Tiffany Roberts on…
Facebook: https://www.facebook.com/AuthorTiffanyRoberts
Bookbub: https://www.bookbub.com/authors/tiffany-roberts
Goodreads: https://www.goodreads.com/author/show/14737283.Tiffany_Roberts
Twitter: https://twitter.com/TiffanyRobertsF
Instagram: https://www.instagram.com/authortiffanyroberts/
---