June is over! And it flew on by… Now, it's time to get to July's goals!
What Happened With June's Goals?
Launch Flyght Book 6! Done! The Flyght Series is now complete! Yay!
Continue with freelance work. We're closing in on the end of this work. I got the majority of it done in June.
Start on my branding redesign for S. J. Pajonas. All I did here was update the logo on the website and disable some plugins I felt were creating lag. Instead, I launched my pen name and now that's done.
Close out my Move Rings every day on my Apple Watch. I did great with this! I only took two rest days the whole month, yet I still closed on my Move ring every day.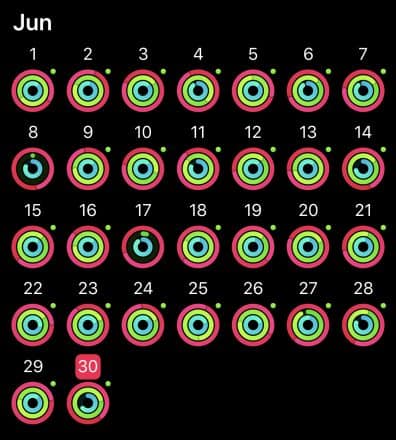 Finish off the school work for the kids. We're done with school! Yay!
Come up with a summer schedule. It's not really a schedule like I thought it would be, but each week I tell the kids to concentrate on something new from our list of activities.
Start the Summer of SFR! Off and running! I have several posts up and plenty of social media posts surrounding the event.
Read CRASH LAND ON KURAI and make edits to it. I started this task but I haven't gotten far yet. There's been a million other things to do.
Audiobooks, reading, and knitting. I've been reading and listening but not knitting. No surprise there. Sigh.
Goals For July
Read CRASH LAND ON KURAI and make edits to it. I'm going to finish this task this month, and with new covers coming for this series, I hope to have them all up and fresh by September, when I write the last book in the series.
Finish with freelance work. I suspect I'll be done with my freelance project soon. We identified the last few things that need to be done, and we're making progress to the end.
Update the Onigiri Press website. I plan to install my new theme and everything on Onigiri Press and get it up and running as my publisher website. It is up and running now, but very bare bones. I want to build a one-pager with Elementor and learn how to use that tool better.
Continue the Summer of SFR! I have lots of posts for the blog! I can't fall behind on this. I am excited by all of the authors I'm featuring.
Schedule posts for my pen name. I am moving posts about the Miso Cozy Mysteries Series to my pen name's website little by little. I'd like to put something new there every other week.
Close out my Move Rings every day on my Apple Watch. Keep going!
Continue with the bathroom renovation. This doesn't require much from me except answering questions and being here, making decisions, and possibly running a few errands. We hope to be done by August!
Audiobooks, reading, and knitting. The usual and I'll be listening and reading to SFR, of course.
Have a great July everyone! Stay home and stay safe!