Continuing with the Summer of SFR, I have Clarissa Lake here today to tell us about her books.
Tell me a little about you, Clarissa…
"I'm an Indie author and a scifi fan who grew up watching scifi reading marvel comics. My vacations often involved a science fiction convention while I was struggling to get published traditionally. I met a number of well known authors, and studied with Nancy Kress. I was writing science fiction romance before it was cool. I learned that it was selling on Amazon and discovered that I could self publish. I don't have any best sellers but I have a small following."
I've been to my fair-share of sci-fi conventions too!
I asked Clarissa, "What inspired you to write Farseek Warrior Series?"
Clarissa replied…
"The Farseek Warrior series is a spin off of the Farseek Mercenary Series which began with the Farseek Brigade returning to find their world bombed and over a million people missing. They believe the Trans-stellar Consortium betrayed them by leaving their world unprotected. In Argen's mate, Commander General Maktu reveals who was behind the attack. Roran is the story behind the discovery. After he finds his best friend brutally murdered, he makes it his mission to find who killed him.

I wanted to write a steamy romance adventure space series, and let the idea simmer in the back of my mind for a while. The opening paragraphs of Commander's Mate came to me like a bolt out of the blue. Believing their consortium betrayed them, they go rogue in search of their missing people who have been enslaved in the Sargan Empire. They end also collect other humanoid species including humans from Earth.

In this universe, humans have been seeded on various planets in the galaxy, including the Farseekans. These humans have that extra sense that lets them recognize their fated mates. I just put together a space romance series with all my favorite tropes and made it super steamy."
Getting to write your favorite tropes is always a lot of fun!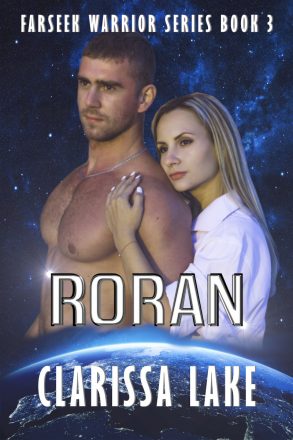 Passionate romance combines with science fiction adventure.
After the Sargans bombed his world and abducted the survivors, Roran sets out to locate his missing family. Instead he finds Becca Clayton, abducted by the Chavilians, about to be sold on the Sargan auction block as a slave.
He immediately recognizes she's his soulmate. But rescuing her means taking her with him on a dangerous mission that could get them both killed.
Emotionally wounded by their situations, they indulge in the sizzling attraction between them even though they are barely acquainted. It lets them forget the pain for a while, and the physical intimacy promotes their bonding.
As their feelings grow, Roran worries. There is nothing he fears more than losing Becca. Can he keep them alive so they can make a life together?
Check out RORAN on Amazon via Books2Read…
Via Books2Read
---
Find This Author Online
Learn more about Clarissa Lake on…
Website: http://clarissalake.authors.zone/
Facebook: https://www.facebook.com/AuthorClarissaLake/
Twitter: https://twitter.com/clarissalake1
Bookbub: https://www.bookbub.com/profile/clarissa-lake
Instagram: http://www.instagram.com/clarissa.lake.author
---