Continuing with the Summer of SFR, I have Vicky L. Holt here today to tell us about her books. I love learning about new-to-me authors!
Tell me a little about you, Vicky…
"I think Lake Michigan is heaven on Earth, but if I can't go there, I love to read to escape. Science fiction romance blends my love of technology, natural history and of course, love stories. Writing lets me share this passion with other readers."
I'm originally from Michigan so I agree that the lakes are heaven on earth!
I asked Vicky, "What inspired you to write HUNTED ON PREDATOR PLANET?"
Vicky replied…
"My childhood fantasies involved being the heroine rescuer while fighting against dinosaurs. When my idea for Predator Planet was fleshed out, I realized my dreams had come to fruition. Badass heroines who are experts in the STEM fields became personified in these science fiction romance stories. I am writing what I love and excited to share these stories with the world!"
Writing what you love is so important! I'm sure readers can tell that this is something Vicky is passionate about.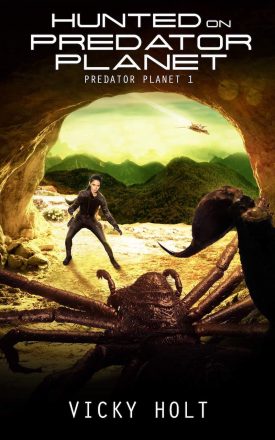 Esra Weaver, exo-geologist, is hired for the Kerberos-90 Mining expedition, but when she awakens in her Emergency Egress Pod on a tropical, uninhabited planet, she realizes her life has taken a drastic turn for the disastrous. 'Predator Planet' tries to kill her at every turn, and Esra soon discovers it also harbors a mysterious alien out for her blood. When danger and death converge on her, her hunter becomes her savior, and when her feelings for him evolve, she realizes she must battle not only Predator Planet but also her past to make room in her heart for an unexpected but passionate future.
Naraxthel Roika, Mighty Hunter of the Ikthekal race, discovers the existence of a spy on his hunting grounds planet. With blood and fury in his veins, he tracks her down, only to discover that she isn't a spy at all, but a mighty little hunter in her own right. Against centuries of tradition and physiology, Naraxthel's heart-home begins the biological changes that indicate he has discovered his mate. He tries to fight what his heart is trying to tell him, but love doesn't distinguish between star systems and it won't stop growing, even if the consequence is exile.
Together, along with Naraxthel's hunting party, they must embark on a dangerous and desperate journey to reclaim not only Naraxthel's place in his society but also find a way for them to be together.
Check out HUNTED ON PREDATOR PLANET on Amazon, Apple Books, Nook, and Kobo via Books2Read…
Via Books2Read
---
Find This Author Online
Learn more about Vicky L. Holt on…
Website: https://www.lovevickyholt.com
Instagram: http://www.instagram.com/lovevickyholt
Twitter: https://twitter.com/lovevickyholt
---